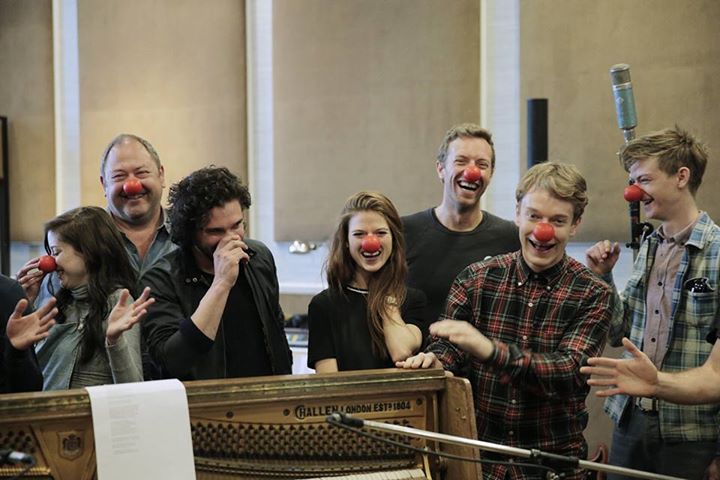 ---
Coldplay and Game of Thrones fans are in for a treat as the Paradise famed UK band and the blockbuster series have collaborated in the most unlikely of ways.

Coldplay front man Chris Martin along with his band mates joined hands with the cast of the HBO hit series to raise money for Red Nose Day USA through a video about producing a 'musical'.

Red Nose Day is a television fundraising event that unites people from all walks of life in the interest of saving and changing lives across the globe. With superstar presenters and comedians, original sketch comedy, hilarious film parodies, one-off sitcom reunions and amazing musical performances.

It's because of all the star power that the programme has been one of BBC's highest-rated Friday night shows for several years and this year, the producers have outdone themselves by nabbing two of the most loved groups : Coldplay and the cast of Game of Thrones.




Read: Snoop Dogg feels 'Game of Thrones' is real

Through personal donations and corporate partners, the live benefit will raise money for poverty-focused charities working both in the United States and around the world.

'Coldplay's Game of Thrones: The Musical' is a part musical performance/part documentary that brings together the band and the cast of the show including various favourites: Jon Snow (Kit Harrington), Tyrion Lannister (Peter Dinklage), Jamie Lannister (Nikolaj Coster-Waldau), Theon Greyjoy (Alfie Allen), Ramsay Bolton (Iwan Rheon), King Robert Baratheon (Mark Addy), Ygritte (Rose Leslie) and the Mother of Dragons Daenerys Targaryen (Emilia Clarke).




The band's Facebook page initially posted teasers of the performances, including a solo by Tyrion Lannister (Peter Dinklage) that mocks the deaths of the Starks in the show.




Later, today (Friday), the band released a full 12-minute video that featured various performances of the cast, including Jon Snow's song professing his love for a wildling.




The video pokes fun at how Jamie's ode to Cersei and King Joffrey is Coldplay's first song about incest.

Read: First 4 episodes of Game of Thrones Season 5 leaked online




Ygritte (Leslie Rose) also says her iconic line during the video. Only this time, she says: "You know nothing Chris Martin."




Towards the end of the video, Chris Martin jokes about how he spoke to the author of the series, George RR Martin about taking Game of Thrones to Broadway, but he turns him down.

The video also features a surprise cameo by Taken star Liam Neeson.

The collaboration is definitely something to light up your day, especially if you are a fan of the series and of the band that has released hits like Fix You and Charlie Brown. The only thing missing from the video is some of our other favorites from the show including Arya Stark (Maisie Williams), Sansa Stark (Sophie Turner) and the Queen Mother Cersei Lannister (Lena Headey).

Watch the video here.