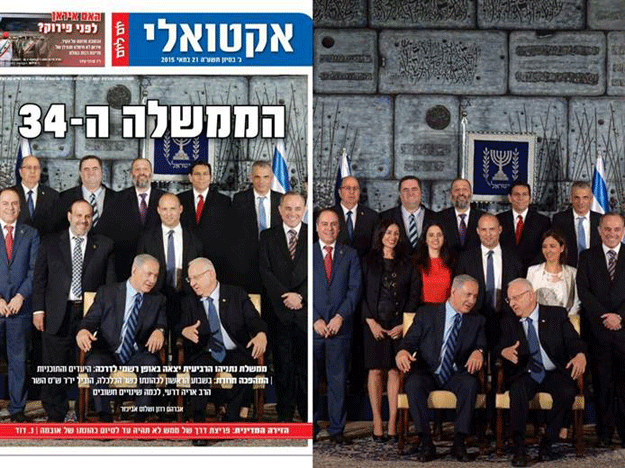 ---
JERUSALEM: Two ultra-Orthodox news outlets concealed the faces and bodies of female ministers in pictures of Israel's new cabinet Thursday, renewing public debate over the practice.

Members of the newly sworn in 34th government posed for the traditional group photo at the presidential compound in Jerusalem on Tuesday.

In the centre are three women -- Miri Regev (sports and culture), Ayelet Shaked (justice), and Gila Gamliel (minister for senior citizens) -- surrounded by 21 men.
PHOTO: AFP

Ultra-Orthodox website Behadrey Haredim, which calls itself the "world's largest Haredim (ultra-Orthodox) portal", published the picture but blurred the women's faces.

"It's sad that technologically Behadrey Haredim has reached the 21st century, but as far as excluding women (from the public domain), it's still in the Middle Ages," said Rabbi Uri Regev, whose Hiddush movement advocates "religious liberty and the liberal movements of Judaism".

The ultra-Orthodox print press sidestepped the issue on Wednesday by not publishing the picture.

READ:Anticipating a change: Candidate vows to fight for women's right

But on Thursday the weekly Yom Leyom newspaper, closely identified with the ultra-Orthodox Shas that is part of the new coalition, published it, completely deleting the women -- apart from Gamliel's feet which survived the cut.

"Shas's newspaper presents -- the transparent ones," head of the leftwing opposition Meretz party Zehava Galon wrote on Facebook, alluding to Shas declaring during campaigning it would be a voice for the oppressed and "transparent" strata of Israeli society.
PHOTO: DAILY MAIL

Behadrey Haredim editor Avi Grintsaig said the practice of deleting women from pictures did not derive from Jewish law, "and certainly doesn't reflect our opinion on the women at hand".

READ:Women empowerment: LCWU, UN-Women sign MoU

Ultra-Orthodox publications tend to avoid publishing pictures that include women on what they call grounds of modesty, but at times resort to creative solutions when the picture's general value is high.

Behadrey Haredim's competition, Kikar Hashabat, hid US reality TV star Kim Kardashian in a handout photo of her meeting with Jerusalem's mayor last month.

And in January, Haredi newspaper Hamevaser "vanished" German Chancellor Angela Merkel from a picture of world leaders marching in Paris against terrorism.
COMMENTS
Comments are moderated and generally will be posted if they are on-topic and not abusive.
For more information, please see our Comments FAQ