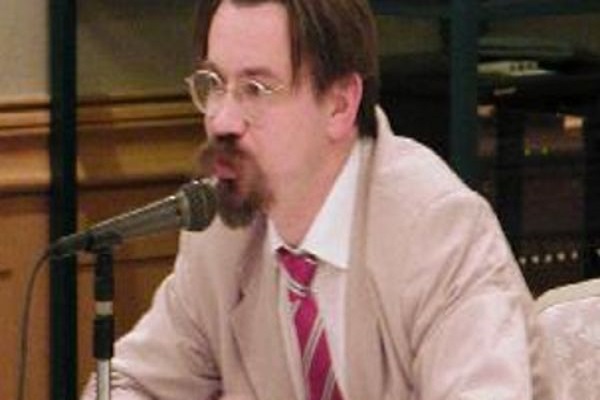 ---
KARACHI: It is a paradox that the Deobandi school of thought is playing an important role in the political secularisation of Iran as the Sunni Iranian Baloch also practice Ashura.

These were the concluding notes of a presentation by French researcher Stéphane A Dudoignon, titled 'Interactions between the Iranian and Indian World in the Religious Field in Modern Times'. He was speaking at an interactive session at Alliance Française de Karachi on Wednesday evening.

Dudoignon is a senior research fellow at the National Centre for Scientific Research (CNRS) of France. His major theme of interest is the history of modern day Islam in the former Russian Empire and the Middle East.

Dudoignan said that the Deobandi school of thought, that reached Iran via the subcontinent between 1940s and 1970s, has been put under severe pressure by Tehran in the wake of the Middle East crisis.




Commending the role of a certain Maulvi Abdul Aziz for promoting the notion of a Sunni minority in Iran, he said that it was through his efforts that Zahidan emerged as the Sunni capital of Iran. "He was a major defender of Iranian national Muslim unity," said Dudoignan. "A major Sunni vote was observed in the 1979 election."

Dudoignan then showed the results of the 2013 elections of Iran through a map. According to the map, 60 to 100 per cent regions with no Shia or Persian-speaking population, voted for the current president, Hassan Rowhani. "Abdul Aziz played a significant role in the restoration of the Sunni vote," he said.

According to Dudoignan, the efforts of Abdul Aziz resulted in the secularisation of Iran in the sense that Sunnis voted for a Shia president without considering sectarian preferences in 2013. He cited the example of the Sunni-Iranian Baloch who hold Imam Husain (RA) in reverence.

Shedding light on how the diffusion of Deobandi school of thought was possible outside the subcontinent and the Urdu-speaking world, Dudoignan said that the diversification and propagation of Deobandi thought favours homogeneity in religious teachings.

He then connected the dots of the adaptation of Sufi tradition from the subcontinent to Iran and eventually to the Soviet Union. "The Naqshbandi teachings played a key role in the propagation of Deobandi [thought] in the Persian-speaking world," he said, adding that it was later that the masters of the Rasuliya Sufi thought that penetrated through Russia. "Mujaddid heritage is preserved and revived in present-day Russia," he said.

Published in The Express Tribune, May 22nd, 2015.
COMMENTS
Comments are moderated and generally will be posted if they are on-topic and not abusive.
For more information, please see our Comments FAQ