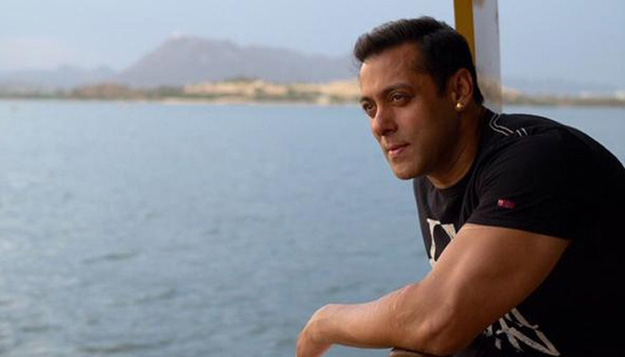 ---
Salman Khan believes that Switzerland falls flat in comparison to Kashmir. The Bollywood megastar made this claim while talking to journalists in a tourist resort in Kashmir after completing a schedule for his upcoming film Bajrangi Bhaijaan.


PHOTO: UNLIMITEDZZ

Read: 'Sonam Kapoor suffering from cough and cold, not swine flu'

"If you haven't seen Kashmir, you have seen nothing. This is my second trip to Kashmir this year. I have spent 40 days here. We will now be leaving the Valley after the successful shoot of our movie. We shot in Pahalgam and Sonamarg."

The Bollywood megastar took to Twitter to express his sentiments towards Kashmir (and Katrina):


Kashmir nahi dekha toh Kya dekha kehtey hai kahin jannat hai toh woh idharich hai idharich hai idharich hai pic.twitter.com/CaEtqs0lxz

— Salman Khan (@BeingSalmanKhan) May 19, 2015
Flood Kashmir with only tourism tourism tourism pic.twitter.com/JShlsAShjD

— Salman Khan (@BeingSalmanKhan) May 19, 2015
Kashmiri sev se sweeter hai Kashmiri bachhe pic.twitter.com/5JtWGYsdc9

— Salman Khan (@BeingSalmanKhan) May 19, 2015
KASHMIR bahut AMEER in natural beauty... Maashallah Maashallah pic.twitter.com/y6r6n78rTv

— Salman Khan (@BeingSalmanKhan) May 19, 2015
May 19, 2015
Maashallah Maashallah se yaad aya katrina kaif bhi Kashmir se hai

— Salman Khan (@BeingSalmanKhan) May 19, 2015
Wah yaar Mazza aah Gaya kamal karte ho Kashmirji pic.twitter.com/rmHMDmUFLe

— Salman Khan (@BeingSalmanKhan) May 19, 2015


PHOTO: BUSINESSOFCINEMA

The Bollywood megastar said that the people of Kashmir were "extremely gentle, beautiful, simple and well-mannered".

"I request others to come here. I had intended to come and shoot Dabangg here, but that did not happen," Salman said.




PHOTO: MID-DAY

The star said he wanted cinema theatres to re-open in the Valley.

"Everyone watches movies here. Cinema theatres should be re-opened here. We would love to premiere a film here if theatres are re-opened," he said.

Salman thanked everybody who had wished him well during the trial in the hit-and-run case.

Salman dodged a question on the Kashmir issue, saying "Ask that to your chief minister and the prime minister. I have come here to see tourism flourish in Kashmir."




PHOTO: HINDUSTANTIMES

Read: Salman Khan joins Mauka Mauka campaign 

Asked if he was prepared to act as brand ambassador for Kashmir, he said: "I would rather act as brand ambassador for the entire country."

Salman also disclosed that his family has a Kashmir connection.

"My maternal grandfather Baldev Singh Charak was from Jammu," he said.

He said that in real life, he wants to acquire a few of the good points his reel characters depict.

"Every film I do, I try to follow those characters in my personal life," he said.

Salman said that like most of his movies, Bajrangi Bhaijaan would also be released on Eid.




PHOTO: BOLLYWOODLIFE

Director Kabir Khan, who sat alongside Salman Khan during the media interaction, said a teaser of Bajrangi Bhaijaan would soon be unveiled.

"It is a larger-than-life portrayal of the political backdrop of the subcontinent. There is no negative portrayal of Kashmir in the film. It deals with the negative politics all of us are victims of," Kabir said.
COMMENTS (7)
Comments are moderated and generally will be posted if they are on-topic and not abusive.
For more information, please see our Comments FAQ