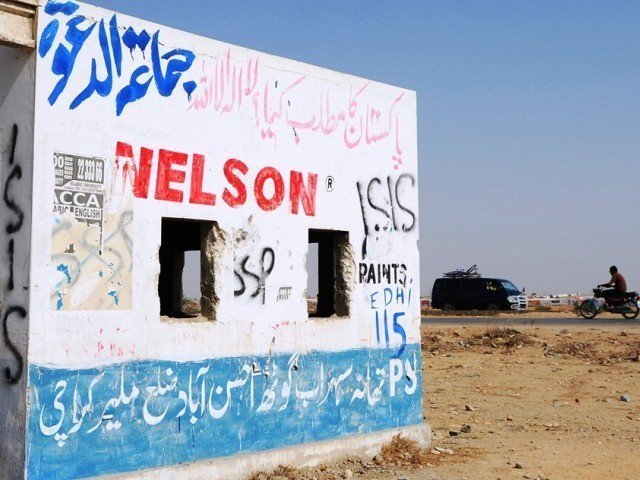 ---
PESHAWAR: Counter Terrorism Department (CTD) arrested two men late Friday night in Nothia Bazaar area of Peshawar for reportedly distributing Islamic State (IS) pamphlets.

Ghulam Muhammad and Lal Muhammad were picked up in a raid from their hideout, a CTD official told The Express Tribune.

Read: The Islamic State movement and Pakistan

The accused were shifted to an undisclosed location, police officials further said. The duo was distributing pamphlets in Pashto and Persian, urging people to join the Islamic State.

The ultra-extremist Middle Eastern terrorist group, the Islamic State, and its affiliate Jundullah claimed responsibility for the May 12 bus attack in Karachi which claimed more the 40 lives.

Read: Macabre violence: Ugly face of terror

English leaflets left in the bus were headlined "Advent of the Islamic State!" and used derogatory Arabic words, blaming the community for "barbaric atrocities … in the Levant, Iraq and Yemen".

However, Foreign Office ruled out the presence of Daish in a press briefing on May 14, backtracking on their earlier stance that the militant group poses a threat to Pakistan

Read: The Islamic State — implications for Pakistan

"The terror outfit has no footprints in Pakistan but our security forces are alert to meet any threat," Khalil said in Thursday's briefing.

Earlier in February, Foreign Office said the militant group poses a threat to the country.

Read: Islamic State poses serious threat to Pakistan: FO

"The government is on alert to the IS threat in the region," Foreign Secretary Aizaz Ahmad Chaudhry said while briefing the Senate Standing Committee on Foreign Affairs in Islamabad at Parliament.

The foreign secretary further said the government has directed all concerned authorities to ensure that no organisation or individual remain in contact with IS in the country.
COMMENTS (1)
Comments are moderated and generally will be posted if they are on-topic and not abusive.
For more information, please see our Comments FAQ