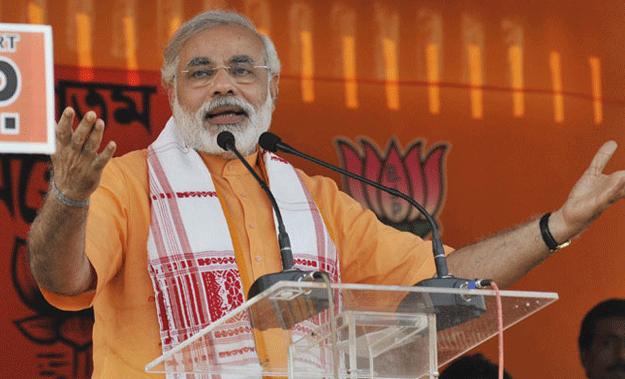 ---
NEW DELHI: Narendra Modi marks the first anniversary of his landslide election win in a bullish mood about his mission to transform India into a great power, despite doubts about the delivery of economic reforms.

A year on from his victory, the prime minister's domestic opponents are in disarray while the one-time pariah has won the respect of international peers.

But while the economy is purring along, siren voices say the delay in implementing key reforms points to trouble ahead while murmurings about his intolerance of dissent grow louder.

Hartosh Singh Bal, political editor of current affairs magazine Caravan, told AFP "the mood certainly remains upbeat on the economy".
But he added: "We've heard slogans... we have yet to see how that will translate on the ground."

After winning the first outright majority by any leader in three decades on May 16, 2014, Modi vowed "to make the 21st century India's century" and turn it into a driver of the global economy.

"You will actually see that, internationally, the whole world is, once again, excited about India and enthusiastic about India and the opportunities that India represents," he told Time magazine this month.

Figures show India's economy growing faster than China's with the IMF predicting expansion of 7.5 percent this year.

Even if smaller firms are more circumspect, big business has glowed over Modi's pledges to slash bureaucracy, streamline the tax regime and make it easier to acquire farm land.

Foreign companies, which have long despaired at levels of taxation and corruption, have welcomed his drive to make India a manufacturing hub.

Sceptics, however, say the growth rate and a fall in inflation owe more to a recalculation of data and a fall in oil prices than government policy.

They also point out that the land bill and a national goods and service tax aimed at unifying myriad levies are struggling to get through parliament.

Manoj Joshi of the Delhi-based Observer Research Foundation agreed the buoyant mood might not last.

"The economy is doing well... so one can't quibble with that," he said.
"Yet of course there are concerns that unless and until there are structural reforms -- and that's another key element of Modi's policy -- we will not be able to sustain it."

While ascendant over the enfeebled Congress party in the lower house of parliament, Modi's Bharatiya Janata Party (BJP) is in the minority in the upper house, which has blocked several bills.

The limits of what supporters call "Modi Magic" were exposed when the BJP was wiped out in Delhi's state elections in February, trounced by a fledgling anti-corruption party.

Although his personal ratings have largely held up, the Delhi result was a reminder of Modi's polarising nature.

Muslims remain wary of the Hindu nationalist who first came to international prominence when communal violence killed hundreds in Gujarat in 2002, when he was the state's chief minister.

His failure to speak out against calls by a BJP lawmaker for Hindu women to have more children to "protect" their religion has caused some dismay. And there was also unease at his delay in condemning attacks on churches.

The 2002 violence saw Modi shunned by the United States and European Union until it became clear he could become premier.
The warm reception he has received on his travels to Washington, Berlin and Paris has therefore been striking.

His first visit this week to Beijing represents a different kind of challenge as India and China jostle for Asian pre-eminence while also trying to make common cause on trade.

His invitation to South Asia's leaders to his inauguration signalled his intention to reclaim the mantle of the sub-continent's champion even if ties with Pakistan remain chilly.

"Somewhat surprisingly for a former chief minister with no prior executive experience in New Delhi, Modi has turned out to be unusually gifted at diplomacy," Sadanand Dhume of the Washington-based American Enterprise Institute told AFP.

US President Barack Obama, Modi's guest in January, has spoken of his admiration for the premier's journey from his days helping his father sell tea, saying it reflects India's potential.

But Obama's visit ended with a warning against India splintering along religious lines, while the US ambassador to India has bemoaned the "chilling effect" of a crackdown on NGOs.

Caravan's Bal said the squeeze on campaign groups such as Greenpeace pointed to a wider intolerance by Modi, who has also taken swipes at elements of the media and judiciary.

Few would accuse the prime minister of lacking energy in his first year. Tales abound of civil servants, fearful of getting on Modi's wrong side, sleeping overnight in their offices and working weekends.

"The nation's mood and confidence has been restored," said Mukhtar Abbas Naqvi, a long-time confidant who is now a minister.
COMMENTS (3)
Comments are moderated and generally will be posted if they are on-topic and not abusive.
For more information, please see our Comments FAQ