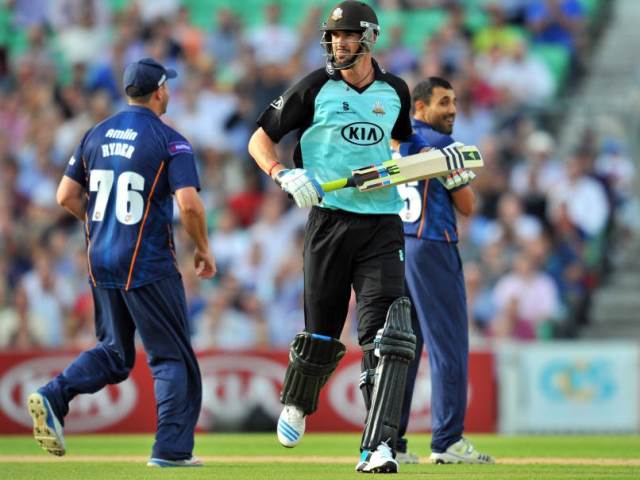 ---
LONDON: "Just pick your best available players and let's stop over complicating sport.... It's a game of Cricket .. Nothing more Nothing less," tweeted Michael Vaughan as Kevin Pietersen's international career was effectively ended for good.

Vaughan, the star batsman's first England Test captain a decade ago, posted his comment on a day in which the phrase "lack of trust" was deployed so often to justify Pietersen's ongoing exile it was as if therapists from the hospital next door had taken control of Lord's.

Pietersen, 34, England's leading all-time run-scorer across all formats, was ditched last year following the team's 5-0 Ashes thrashing in Australia.

But the South Africa-born batsman was given hope of an international recall when new England and Wales Cricket Board (ECB) chairman Colin Graves said there could be a way back if he scored enough runs in county cricket.

Yet just hours after he made his maiden first-class triple century for Surrey on Monday, Pietersen was told by Andrew Strauss, the ECB's new director of cricket, he would not be selected by England this season — and in practice that may well mean the end of Pietersen's international career.

"I am absolutely devastated that it looks like my hopes of an England recall have been brought to a close," said Pietersen in a furious attack in his column for the Daily Telegraph newspaper.

"They have used the word trust to justify not selecting me, well, trust is a two-way thing."

Strauss added to the confusion that has long engulfed the ECB in their inability to explain Pietersen's banishment, by saying that, although he had "trust issues" with the shotmaker, he'd still offered him a role as an advisor to the England one-day team.

Trust, as the ECB's numerous detractors pointed out, does not score runs, take wickets or hold catches although, in Pietersen's case it may well have been broken with the publication of an incendiary autobiography last year which damned several team-mates and members of the England management.

Nor does it do much to provide an opening batsman, genuine fast bowler and frontline spinner, three of England's team's most pressing problems ahead of their upcoming home series with New Zealand and Australia.

It was typical of Pietersen's England career that just as Strauss, who only days earlier had sacked coach Peter Moores, was announcing on Tuesday he would remain in international exile, his former team-mate and predecessor as England captain was completing an innings of 355 not out — his first first-class hundred in more than a year.

Pietersen's critics had long cited his walkouts from Natal, in protest at post-apartheid South Africa's quota selection policy, Nottinghamshire and Hampshire, as proof his England career would end in tears.

As England captain, Strauss infamously had his own issues of "trust" with Pietersen in 2012 when the star batsman sent "provocative" texts critical of his skipper to opposition South Africa players.

"No one is doubting his ability," Strauss told Sky Sports, with Pietersen's tally of 23 Test hundreds just shy of the England record of 26 held by current captain Alastair Cook.

The ECB could have employed a purely cricket argument in defence of their decision to ditch Pietersen, pointing out that as he had averaged a modest 34 in his last 10 Tests his best days were behind him, although the batsman put his poor form down to a knee injury.

But the only real sign of clarity came last year when Strauss let slip exactly what he thought of his former team-mate and predecessor as England captain with an obscenity picked up by a broadcast microphone.

When several Australia players were suspended during the 2013 'Homeworkgate' affair in India, former England captain Mike Atherton said it was always dangerous to drop someone for reasons other than form or fitness.

And Strauss, as if conscious he risked creating a new criterion for selection, said Tuesday: "I think there's a real bad assumption that teams have got to be like the Waltons and get on brilliantly together. That's not the case."

But, after what's happened to Pietersen, it's unlikely many England players will want to put the theory to the test.
COMMENTS
Comments are moderated and generally will be posted if they are on-topic and not abusive.
For more information, please see our Comments FAQ