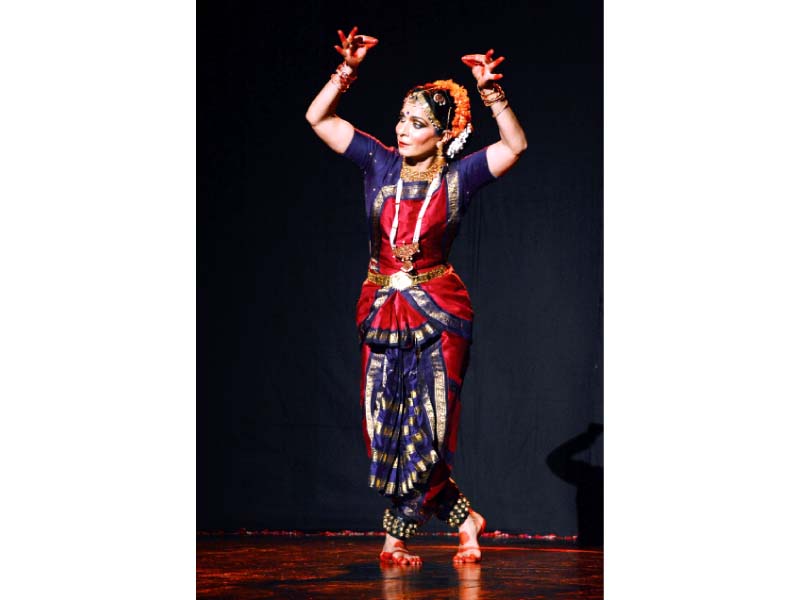 ---
ISLAMABAD:



Classically-trained dance soloist Tehreema Mitha enthralled the audience in a series of classical as well as contemporary performances at the Pakistan National Council of the Arts (PNCA) on Tuesday night.




"Raqs Revival", organised as part of efforts aimed at reviving classical dances in the country, was opened by Tehreema's mother Indu Mitha.

A number of dance aficionados who attended the event were treated to several captivating performances by Tehreema, who was wearing an impressive south Indian sari and traditional jewellery.

The first performance began without an introduction, at which point Indu clarified that "Raqs does not need an introduction".

Indu highlighted that the dances and music were synchronised for Tehreema's performances.

The second classical performance was on "main na boloongi" sung by late Ustad Sharafat Ali Khan with Ghulam Abbas on the tabla.

This followed a performance was on a "tarana", which focused more on the melody and less on the lyrics.

Tehreema has the potential to jump from classical to contemporary in literally a single jump, which she did at "Raqs Revival".

The first few classical performances were followed by a more contemporary dance performance, which featured English music in the background and a more contemporary Tehreema dressed in trousers and a plain-buttoned shirt dancing to perfection.

Tehreema's contemporary dance was unique as it carried a strong classical influence that really made for a sensational new look at how genres could be blended.

Overall the performances were a rare treat for residents of the capital and nothing less than poetry in motion.

Zara Sajid, an artist, said the performance was absolutely thought-provoking. "It was an interesting union between reality and fantasy. A treat to watch," she said.

Nabeela, a dance aficionado present at the event, told The Express Tribune that she was delighted the event was arranged in the capital. "Kudos to the organisers for bringing classical dance to Islamabad after ages. It has been years since we got to see Indu and such events should be held more often," she said.

Tehreema is the artistic director of Tehreema Mitha Dance Company in Maryland, USA. She received her training in classical dance performance from her mother. Indu, 82, presently teaches at the National College of Arts (NCA), Rawalpindi.

She even developed her own style of Bharatanatyam, a form of classical dance that originated in south India.

The event was arranged by the PNCA in collaboration with the Ministry of Information, Broadcasting and National Heritage.

Published in The Express Tribune, May 7th, 2015.
COMMENTS
Comments are moderated and generally will be posted if they are on-topic and not abusive.
For more information, please see our Comments FAQ