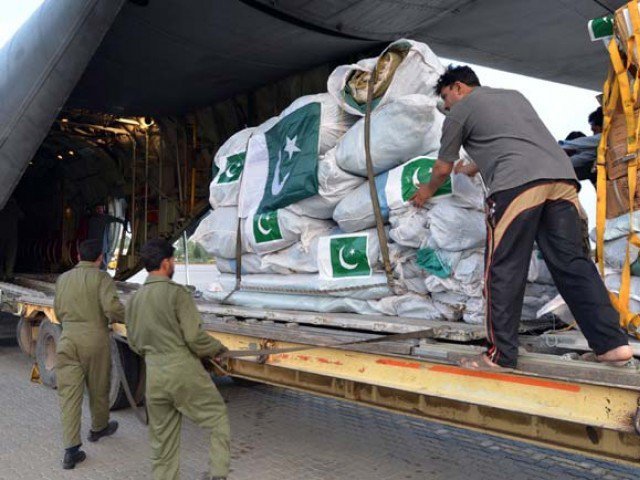 ---
KATHMANDU: As the death toll from the devastating earthquake in Nepal crosses 6,000, two more C-130 aircrafts arrived in Kathmandu on Saturday from Pakistan.

According to an Inter-Services Public Relations statement, the consignment contained fresh relief goods for quake victims, comprising 600 tents, 33 boxes of medicines and other items.

Seven Nepalese doctors studying in Pakistan also departed for Nepal earlier on Saturday morning.

Read: 'No beef content in food dispatched by Pakistan to Nepal' 

A few days earlier, Pakistan Army established a field hospital in Bakhtapur area of Nepal while army search teams started rescue operations in the capital.

Read: Army sets up field hospital in quake-hit Nepal

Pakistan on Thursday had rejected claims that it had dispatched packets of 'beef masala' to the Hindu-majority country that treats cows as sacred.

Foreign office spokesperson Tasnim Aslam said that there was no beef content in the ready to eat food dispatched by Pakistan to Nepal.

Read: Airlifted: 95 Pakistanis evacuated from quake-hit Nepal

Airlifted




Pakistan's Embassy in Kathmandu, Nepal, has evacuated 95 Pakistanis by Pakistan Air Force aircraft in the last few days in two different batches, official sources said on Friday.






The first batch of 35 Pakistanis was evacuated on April 26 and the second carrying 60 passengers was evacuated on April 28. PAF's C-130 evacuated the Pakistanis after delivering aid for the earthquake-hit nation. Most of the evacuees had camped out at the Pakistani Embassy since the quake.




Pakistan's Embassy in Kathmandu extended full cooperation to Pakistani community of 80 persons and family members of embassy personnel. They were provided light refreshments and meals, and arrangements for their night stay were also made. A strong earthquake of 7.9 magnitude hit Nepal last Saturday.


The Pakistan government quickly announced to provide relief goods and two sorties of PAF aircraft C-130 rushed to the Nepali capital on Sunday.
COMMENTS (1)
Comments are moderated and generally will be posted if they are on-topic and not abusive.
For more information, please see our Comments FAQ