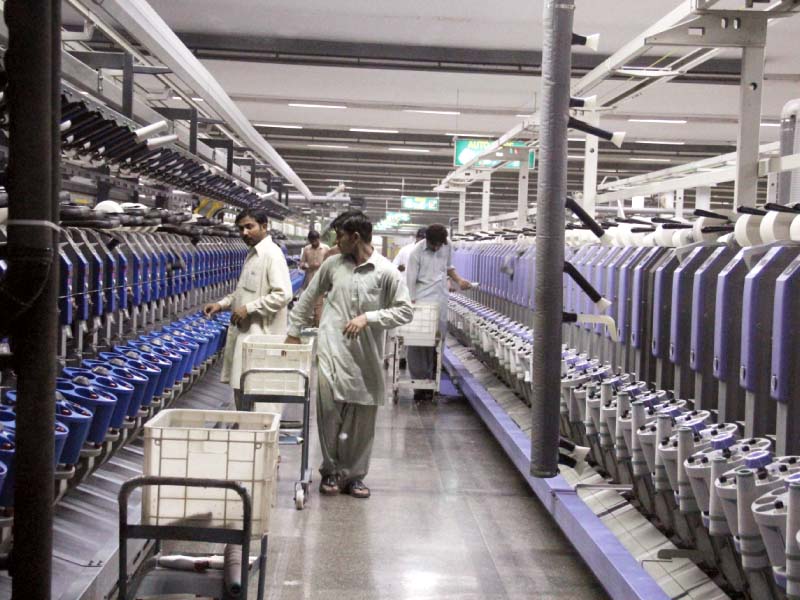 ---
FAISALABAD: As trade figures for March rolled in, the textile industry, Pakistan's largest export-oriented sector, depicted a decline of 16.23%. Countless reasons could explain the decline with the industry not shying away from voicing its concern.

For textile exporters in Faisalabad, the government is responsible for the industry's negative growth, in addition to withholding Rs50 billion refunds.

Rana Textile Mills Chief Executive Officer Rana Arif Tauseef said that cash flow problems of the industry have worsened due to the withholding of Rs50 billion tax refunds by the Federal Board of Revenue.

Tauseef added that the increasing hours of electricity load shedding were further compounding the industry's problems. "Faisalabad is subjected to eight-to-10 hours of load-shedding per day," he said. "The cost of electricity for industrial consumer is Rs12 per unit as compared to India where the price of electricity is Rs6."

He said due to the blockage of genuine refunds in the last three years, industrialists were facing working capital shortage and were borrowing from banks to meet the shortfall.

Tauseef added that this has increased the cost of doing business, making it difficult for the industry to compete with regional rivals in the international markets.

Giving details, he said that exports of cotton declined by 29.36% in value terms and 12.99% in quantity.

Similarly, cotton cloth exports also declined by 14.45% in value and 37.57% in quantity, exports of bed wear stooped by 16.94% in value and 15.15% in quantity.

"Exports of towels went down by 19.03% in value and 23.51% in quantity, exports of garments slid by 5.20% in value and 12.57% in quantity."

The only item showing positive increase was the knitting sector with 28.53% increase but a 7.41% decrease in value, said Tauseef.

The decline in textile exports occurred despite the European Union granting Pakistan the GSP Plus status.

In Faisalabad, there are approximately 2,000 weaving industries comprising of 250,000 power looms. Most of them are cottage industry and lack resources to run factories on generators, said Waheed Khaliq, a weaving industry player. Roughly, 20% of units in the city have shutdown, causing massive layoffs, he claimed.

"We have to run our factories on heavy generators and steam from coal or wood which is expensive than the steam received by gas," said Arif Tausif, a former chairman of Pakistan Textile Exporters Association.

Faisalabad Chamber of Commerce and Industry President Rizwan Ashraf said that the government should expedite the process of importing LNG so that it could be supplied to the value-added textile sector.

Published in The Express Tribune, May 2nd, 2015.

Like Business on Facebook, follow @TribuneBiz on Twitter to stay informed and join in the conversation.
COMMENTS
Comments are moderated and generally will be posted if they are on-topic and not abusive.
For more information, please see our Comments FAQ