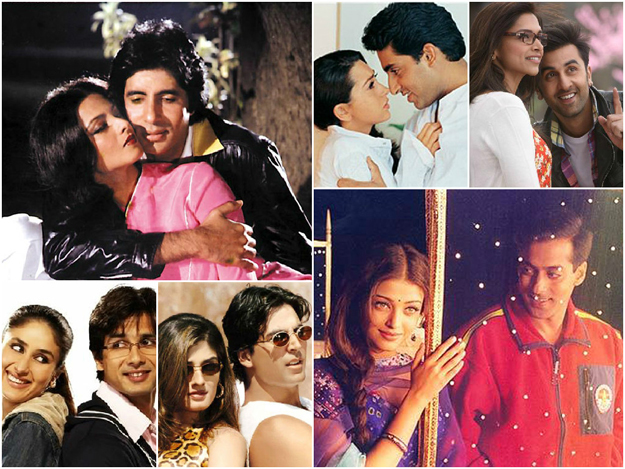 ---
Some love stories seem to have it all. Handsome prince, beautiful princess, the perfect relationship, seeming as if nothing could ever go wrong. But real life is not Disney, and not all real-life love stories can have a "happily ever after". 

These real-life Bollywood couples' love stories were no different. Some ended amicably, others ended with a lot more than just hard feelings on both sides.

1. Salman Khan and Aishwarya Rai

Salman and Ash's love story started on the sets of Sanjay Leela Bhansali's Hum Dil De Chuke Sanam. The two dated for about two years, but then the seemingly-perfect story took a very ugly turn.




PHOTO: DECCANCHRONICLE 

First rumours began to surface that Aishwarya Rai was cheating on Salman with Vivek Oberoi, although the actress never confirmed them. Ash cited "abuse (verbal, physical and emotional), infidelity and indignity" on the part of Salman as reasons for ending the relationship in a letter published in Times of India in 2003. In a 2009 Times of India interview, Salman denied ever beating her, "It's not true that I hit a woman."

Aishwarya is now married to Abhishek Bachchan, with whom she has a daughter Aaradhya. Salman flitted from one relationship to the next, including a much-publicized one with Katrina Kaif. The Hindustan Times reported that Salman Khan had beaten up Katrina Kaif on the sets of Ek Tha Tiger for wearing a dress which "showed too much cleavage" but Katrina's friends denied the reports.

2. Abhishek Bachchan and Karisma Kapoor

Karisma Kapoor dated Abhishek Bachchan for a few years and later the couple got engaged in 2002. However, the engagement that took place on Big B's birthday didn't last long and the couple parted ways in February 2003. The reason behind their break-up is still one of the biggest mysteries in Bollywood, as both the families chose to keep mum about the whole affair.




PHOTO: EMIRATES247

Abhishek Bachchan is now married to Aishwarya Rai and the two seem to be head-over-heels in love with each other. Karisma Kapoor married industrialist Sanjay Kapur in 2003, but the relationship was rocky from the start. The couple divorced in 2014, citing irreconcilable differences.

3. Akshay Kumar and Raveena Tandon 

She was the ultimate fantasy queen of men in the 90s. He was Bollywood's Khiladi. As Raveena seduced Akshay in the rain wearing her soaked yellow sari in tip tip barsa paani, so too did she manage to win him over in real life. Stories about a secret marriage surfaced but were never substantiated.

However, Raveena remained insecure about Akshay's flirtatious nature, and finally ended the relationship after the media began to speculate on Akshay's relationship with none other than Rekha after the release of Akshay-Raveena-Rekha starrer Khiladiyon ka Khiladi in 1996.




PHOTO: MASALA

Raveena began dating film distributor Anil Thadani during the making of her film Stumped in 2003, and the two were married the following year. Akshay Kumar lived up to his Khiladi label, by quickly moving on from one relationship to the next, including one with Shilpa Shetty, before finally tying the knot with Twinkle Khanna in 2001.

4. Shahid Kapoor and Kareena Kapoor 

This love story was probably one of the sweetest that Bollywood has ever seen. The two seemed to be going strong, and media and fans were fully expecting a wedding announcement, but sadly it was not to be. The reasons for the split are still unknown, but the two seem to continue to be on amicable terms.




PHOTO: ZEENEWS

Following the breakup, Kareena Kapoor began dating Tashan co-star Saif Ali Khan, with whom she tied the knot in 2012. Shahid attempted to get over the heartbreak reportedly by dating Vidya Balan, but the relationship was short-lived as it turned out that he was not yet ready to move on. He was linked with various actresses in the press, including Sonakshi Sinha, but never publicly admitted any of his relationships. He is now believed to be engaged to Delhi-based Mira Rajput, with the wedding reportedly set for June 2015. Shahid extended his congratulations at Kareena's wedding, and the actress too wishes her former beau "well".

5. Bipasha Basu And John Abraham

Bipasha Basu and John Abraham looked so good together - literally. He was the man of every girl's dreams and she was the woman every man secretly drooled over. The two dated for almost ten years before breaking up, with Bipasha citing John's unwillingness to commit as the main reason behind the split.




PHOTO: EMIRATES247

In an interview with Times of India, Bipasha stated that her biggest regret was "wasting her time" with John. She confirmed that was in a relationship with Harman Baweja in February 2014, but the two split in December of the same year. John Abraham married banker Priya Runchal in 2014.

6. Akshay Kumar and Shilpa Shetty

The lyrics of Akela hai Mr. Khiladi, Ms. Khiladi chahiye were directed to Juhi Chawla, but Shilpa Shetty was the one who responded. The two had worked on several films together, and soon things began to get serious. However, ever the Khiladi, Akshay found it difficult to commit, and soon began to cheat on Shilpa with her then-best friend Twinkle Khanna.




PHOTO: LOVEMOVIES

Before Shilpa or anyone could recover from the shock, Akshay tied the knot with Twinkle. The two seem to be happily married and now have two children together. Shilpa married business tycoon Raj Kundra in 2009 and gave birth to her first child in 2012.

7. Ranveer Singh and Anushka Sharma 

Ranveer made his Bollywood debut opposite Anushka Sharma in Band, Baaja, Baaraat, and the two hit it off behind the scenes. Probably, Ranveer's flirtatious nature got the better of him and the two split up.




PHOTO: PIXSHARK

Anushka Sharma is now in a very committed relationship with cricketer Virat Kohli and the two are expected to tie the knot at any time. Ranveer Singh was spotted with Deepika Padukone several times, sparking media reports that the two were in a relationship. Anushka and Ranveer are still on very good terms and are comfortable being "good friends".

8. Ranbir Kapoor and Deepika Padukone 

Ranbir and Deepika were first seen in Bachna ae Haseeno together, after which Deepika fell madly in love with the young superstar. For unknown reasons, the two soon broke up.




PHOTO: DIGITALSPY

Ranbir always had a flirtatious personality, so it is not clear whether this is the reason behind the split. However, Deepika took the break-up to heart and plunged further into depression. The two never let their personal life affect their professional commitments and still managed to entertain the viewers with their chemistry in Yeh Jawanai Hai Deewani and will next be seen in Imtiaz Ali's Tamasha. The actor is now in a live-in relationship with Katrina Kaif and the two are expected to tie the knot any day now.

9. Madhubala and Dilip Kumar

Pyaar kia to darna kiya! The Bollywood beauty fell in love with none other than Dilip Kumar, and were expected to get married, until Dilip Kumar surprisingly called it off.




PHOTO: NDTV

It is said that Dilip Kumar wanted Madhubala to quit movies after marriage, but she refused, leading to the break-up. Dilip Kumar later married Saira Bano, while Madhubala married playback singer Kishore Kumar, supposedly on the rebound. Madhubala died of a prolonged heart ailment at the age of 36 in 1960.

10. Amitabh and Rekha

Amitabh and Rekha were one of Bollywood's most successful on-screen couples, so it was only a matter of time before the two started getting romantically involved in real-life. Their love story began on the sets of film Do Anjaane. Amitabh Bachchan never admitted his love for the actress in public but Rekha never kept her feelings for him under wraps.


PHOTO: INDIATODAY

Amitabh married Jaya Bhaduri in 1973. He starred opposite Rekha and Jaya in Silsila in 1981, leading to rumours that this film was actually based on the real-life love triangle. Rekha and Amitabh parted ways soon after. Rekha married industrialist Mukesh Aggarwal in 1990, but he committed suicide the following year.

This article was published by Business of Cinema.