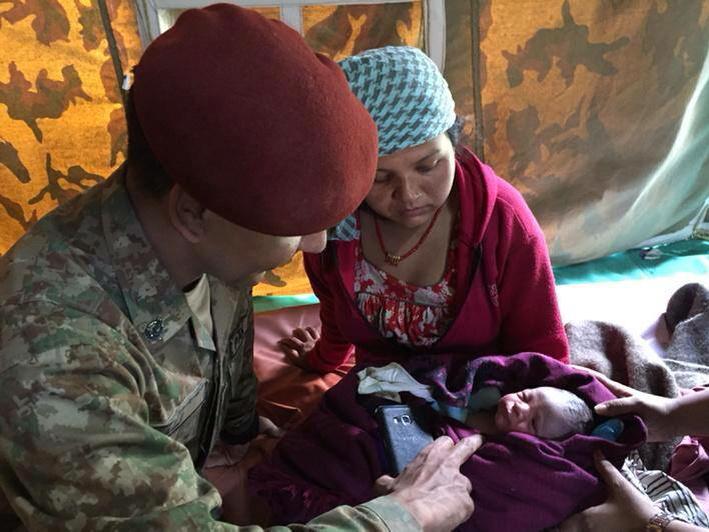 ---
The first born baby at Pakistan Army field hospital in Bakhtapur has been named after the city of Lahore, according to the Foreign Office.

This is the first child birth reported at the army field hospital.

Read: Army sets up field hospital in quake-hit Nepal

Pakistan Army established on Wednesday a field hospital in Bakhtapur area of Nepal after a devastating earthquake claimed more than 5,000 lives in the country.

Read: Rain hampers Nepal rescue teams as death toll jumps to 5,489

"Pakistan Army Field Hospital has been established at Bakhtapur, the most affected area due to earthquake in Khatmandu, Nepal," the Inter Services Public Relations said in a statement.

On Tuesday, army search teams started rescue operations in Bakhtapur and Kathmandu.

The Army sent two more C-130 aircrafts on Tuesday carrying a second consignment of relief goods for earthquake hit areas of Nepal from Noor Khan Airbase.

Read: 59 Pakistanis arrive from quake-hit Nepal

In addition to relief goods, doctors and paramedics and special engineering equipment were also transported to the earthquake-hit region.

Further, 59 Pakistanis were evacuated. Earlier on Sunday, a C-130 plane carrying 39 Pakistanis from Kathmandu arrived at the Noor Khan Airbase in Islamabad.
COMMENTS (10)
Comments are moderated and generally will be posted if they are on-topic and not abusive.
For more information, please see our Comments FAQ