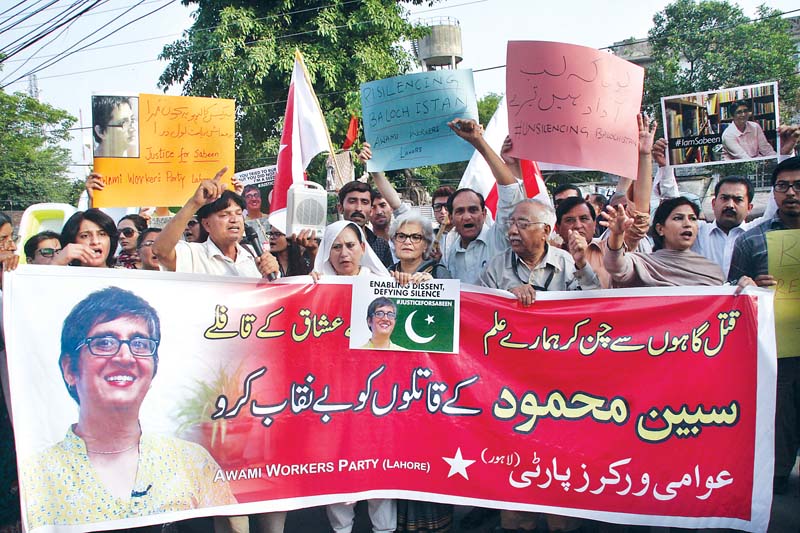 ---
LAHORE: Dozens of political and trade union activists and members of civil society organisations staged a protest demonstration in front of Lahore Press Club on Tuesday against the murder of T2F Director Sabeen Mahmud on Friday night.

The Awami Worker's Party (AWP) had organised the protest. The protesters demanded a fair and impartial investigation of Mahmud's assassination.

"By hosting the seminar on Balochistan, Mahmud had succeeded in doing what the Lahore University of Management Sciences (LUMS) had been unable to do," AWP general secretary Farooq Tariq said.

He said recent events, including the establishment of military courts, showed that civilian leaders had surrendered their authority to the military establishment. He said the most recent example of this was the passing of the Cyber Crimes Bill by a National Assembly committee.  "The proposed bill incriminates political speech and expression on the social media," he said.




AWP finance secretary Shazia Khan said Mahmud's killing was an example of the silencing of progressive voices that had dared to speak about the plight of the oppressed in Pakistan. "In the past intellectuals like Faiz Ahmed Faiz and Habib Jalib and activists like Hasan Nasir and Abdul Rehman had suffered the wrath of powers-that-be for raising their voices for democracy, freedom of expression and civil liberties."

"Sabeen was a human rights activist. We are here to ask for justice. That is not possible until the culprits are arrested," said Pakistan Worker's Confederation general secretary Aima Mehmood.

"Mahmud's murder is an attempt to suppress voices working for citizens' rights. We want people to know that we are not afraid and we will stand for the rights of the Baloch," she said.

ASR Resource Centre Director Nighat Saeed said she was disappointed to see a low turnout. "I don't see the LUMS faculty here… or a reasonable number of students," she said.

AWP's Hashim bin Rashid said that if people did not come out to fight for the freedom of speech then there was no need for people like Sabeen Mahmud, Parveen Rehman and Malala Yousfzai to be on the frontlines and be targeted one by one.

Bushra Khaliq said Mahmud's sacrifice should serve as a warning to the progressives that the struggle against the oppressive state elite required unity in their ranks. Samson Salamat and Zahid Pervaiz also spoke on the occasion.

Published in The Express Tribune, April 29th, 2015.