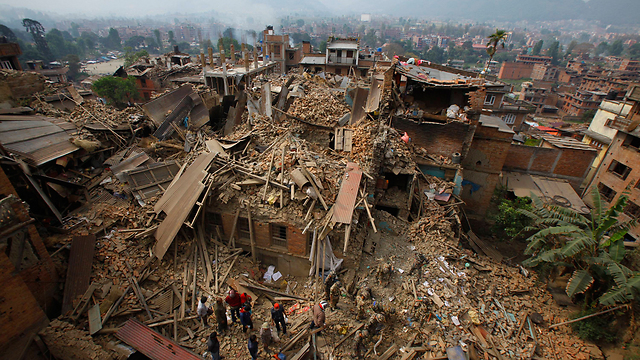 ---
KATHMANDU: Powerful aftershocks rocked Nepal on Sunday, panicking survivors of a quake that killed more than 2,500 and triggering new avalanches at Everest base camp, as mass cremations were held in the devastated capital Kathmandu.

Terrified residents, many forced to camp out in Kathmandu after Saturday's 7.8-magnitude quake reduced buildings to rubble, were jolted by a 6.7-magnitude aftershock that compounded the worst disaster to hit the impoverished Himalayan nation in more than 80 years.

Staff at overstretched hospitals were forced to flee buildings for fear of further collapses.

"Electricity has been cut off, communication systems are congested and hospitals are crowded and are running out of room for storing bodies," Oxfam Australia chief executive Helen Szoke told AFP.

Climbers reported that the aftershock caused more avalanches at Mount Everest, just after helicopters airlifted to safety those injured when a wall of snow hit base camp on Saturday, killing at least 18 people.

AFP's Nepal bureau chief Ammu Kannampilly, who was on assignment at base camp, reported that six helicopters had managed to reach the mountain on Sunday after the weather improved.

Offers of help poured in from around the world, with dozens of nations or aid groups volunteering everything from sniffer dogs to an inflatable hospital. India dispatched 13 military aircraft to Nepal loaded with tonnes of food, blankets and other aid. The European Commission on Sunday released three million euros ($3.25 million) in emergency aid for Nepal, while several dozen US aid workers headed to the country aboard a military transport plane to provide assistance after the disastrous quake.

The Kathmandu-based National Emergency Operation Centre put the toll in Nepal at 2,430 while around 6,000 more people had been injured. Officials in India said the toll there now stood at 67, while Chinese state media said 18 people had been killed in the Tibet region.

"We have deployed all our resources for search and rescues," police spokesperson Kamal Singh Bam told AFP. "Helicopters have been sent to remote areas."

Published in The Express Tribune, April 27th, 2015. 
COMMENTS (1)
Comments are moderated and generally will be posted if they are on-topic and not abusive.
For more information, please see our Comments FAQ