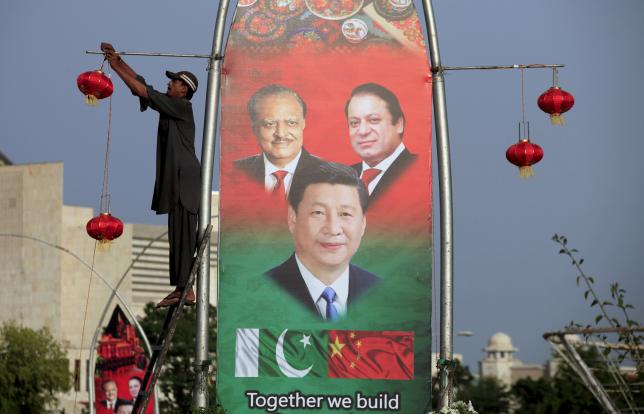 ---
ISLAMABAD:



Pakistan and China on Monday signed more than 50 agreements worth $28 billion, mostly covering commercial loans to Pakistani power generation companies, but also including financing agreements for six infrastructure projects that will set in motion work on the eastern trade corridor connecting western China with Gwadar that Beijing wants to see operational before the end of next year.




A total of 53 agreements were signed between the two countries, covering a wide range of areas of cooperation. The bulk of the money — $22 billion out of the total $28 billion — would be commercial loans from Chinese banks to Pakistani power generation companies, almost all of them privately owned. The bulk of the money will go to pay Chinese contractors selling equipment for coal-fired power generation units to Pakistani utilities.




The signing ceremony was witnessed by Chinese President Xi Jinping and Prime Minister Nawaz Sharif. There are 22 government-to-government agreements that include deals on cultural exchanges, heritage preservation and communications. Another 31 agreements involve the private sector, with the vast majority in the energy sector, according to the Planning Ministry.

Of the $6 billion to be spent on non-energy infrastructure, just over $4 billion will go towards filling the gaps in the Eastern Trade Route that will link the hinterlands of western China to Gwadar port. All of the projects will be financed with Chinese loans, offered at concessionary rates. It is unclear how much of the financing will come from the newly created Asian Infrastructure Development Bank, headquartered in and mainly financed by Beijing.

Among the transportation infrastructure projects are the $930 million expansion of the Karakoram Highway from Havelian to Thakot, the $260 million funding for the Multan-Sukkur section of the Karachi-Lahore motorway, $136 million for the Gwadar Port East Bay Expressway Project, and $230 million for Gwadar International Airport.

The four projects will be critical in meeting the September 2016 deadline set by Beijing to make the Eastern Route of the China-Pakistan Economic Corridor operational.




The Eastern Route passes through Gilgit-Baltistan, Khyber-Pakhtunkhwa, Islamabad, Punjab, and Sindh and will link to Gwadar port through the East Bay Expressway along the Makran coastline. This route cuts out the restive areas of Balochistan and K-P, and is aimed at ensuring security for Chinese convoys.  Balochistan and the rest of K-P will be included in the Western Route, to be built in the future.

The China-Pakistan Economic Corridor portfolio is a $45 billion agreement between Islamabad and Beijing to help develop transportation and energy infrastructure in Pakistan in exchange for access to Gwadar port for the economically disadvantaged areas of western China.

"The corridor will link Kashghar in Western China with the deep sea port in Gwadar through a mesh of communication networks comprising a world-class seaport, commercial sea lanes, an airport, highways, railways, fibre optic cables as well as oil and gas pipelines," said Planning Minister Ahsan Iqbal.

Energy projects

The financing agreements in the energy sector, worth approximately $22 billion, will help add the capacity to generate 8,370 megawatts of electricity, mostly in coal-fired electricity, though some will also be hydroelectric power.

The projects to be financed under those agreements include a 1,000MW solar power project, the $1.8 billion 870MW Suki Kanari hydroelectric power project in K-P, the $1.5 billion 720MW Karot hydroelectric power project in Azad Jammu & Kashmir, and three wind power projects in Thatta collectively expected to generate 200MW.

In addition, the government is expecting to use the Chinese financing agreements to make a major push for coal-fired power in Pakistan. The coal projects for which agreements were signed include a $1.8 billion 1,320 MW coal-fired power plant at Port Qasim, and a $900 million coalmine in Thar Block II, expected to generate 3.8 metric tons of coal, along with a $1.9 billion 660MW mine-mouth coal-fired power plant.

Other agreements

A commercial contract and agreement on the financing to build Lahore's Orange Line Metro Train, at a cost of $1.6 billion, was also signed by both sides.

Other agreements signed include those for provision of material for Tackling Climate Change, pro bono projects in the Port of Gwadar region, establishment of a joint Cotton Bio-Tech Laboratory, establishment of a joint Marine Research Center, Triple Party Agreement between China Central Television, PTV  and Pakistan Television Foundation on the rebroadcasting of CCTV-NEWS/CCTV-9 documentaries in Pakistan.

In addition, the two governments agreed to establish sister-city relationships between Chengdu (Sichuan province) and Lahore, Zhuhai (Guangdong province) and Gwadar, and Karamay (Xianjian Ugur province) and Gwadar.

An agreement to build a liquefied natural gas (LNG) import terminal at Gwadar and the Gwadar-Nawabshah LNG pipeline was also signed but financing details have yet to be sorted out.

A financing agreement in implementing the China-Pakistan Economic Corridor between the China Development Corporation and Habib Bank and a cooperation agreement between the Wapda and China Three Gorges Corporation were also inked.

A facility operating agreement for Dawood Wind Power project between the Industrial and Commercial Bank of China and PCC of China and HDPPL.


Published in The Express Tribune, April 21st, 2015.
COMMENTS (5)
Comments are moderated and generally will be posted if they are on-topic and not abusive.
For more information, please see our Comments FAQ