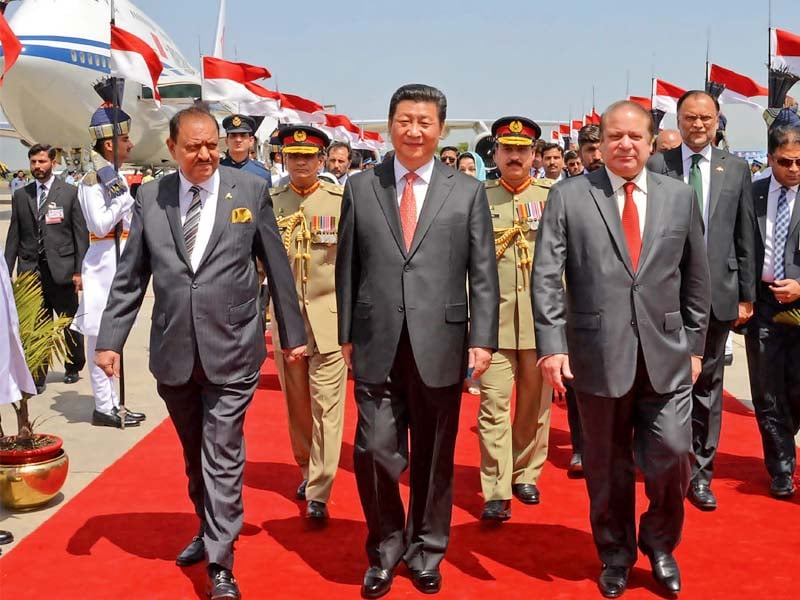 ---
ISLAMABAD:



Pakistan and China on Monday agreed to elevate their ties to 'all-weather strategic cooperation partners' as Prime Minister Nawaz Sharif hailed Chinese President Xi Jinping's landmark visit as one that will usher in a new era of friendship between the two countries.




"Today, we have decided to elevate our relationship to an all-weather strategic cooperative partnership," said Premier Nawaz at the PM House. He was addressing a joint news conference with Chinese President Xi, who arrived in Pakistan on Monday.

Earlier, the two leaders held a one-on-one meeting in addition to delegation-level talks. They also witnessed signing of a number of agreements and memorandums of understanding (MoUs) related to several areas including development projects in infrastructure, energy, and communication sectors under the ambit of the China-Pakistan economic corridor (CPEC).




The PM said the strategic partnership between Pakistan and China is without parallel in the annals of international relations. "Pakistan's relationship with China enjoys across-the-board political, institutional and popular support that is unique and sets it apart from other relationships," he said.

While noting that high-level exchanges are the hallmark of Pakistan-China relations, the PM said the landmark visit of Xi Jinping would further strengthen the all-weather friendship between the two countries.

Describing the economic corridor that will link China with the port of Gwadar as a core component of President Xi's vision for 'One Road, One Belt', the PM said the economic corridor will transform the dimension of the two countries' bilateral relationship.

"Wide-ranging cooperation conceived under the CPEC in energy, transport and infrastructure projects, will transform Pakistan's economy and have a profound impact on the lives of all Pakistanis," he said.

The PM said Pakistan acknowledges that investment by major Chinese public and private sector enterprises in Pakistan is one of the largest influxes of foreign capital in Pakistan.

Nawaz said a majority of these projects has been initiated during the tenure of the present government and are now nearing implementation and commissioning stages.

"These projects will not only hugely impact Pakistan's economy but will also boost the confidence of international investors in the entire region," he said, adding that they will create new job opportunities for Pakistan's professional and skilled workers.

Speaking at the occasion, the Chinese president said relations between China and Pakistan have developed into a strong tree having deep roots, nurtured by several generations of leadership of both the countries.




He described PM Nawaz as a senior, astute and seasoned statesman. "After coming into power your government initiated far reaching reforms which are very important for Pakistan. Your efforts against terrorism are highly appreciable," he said.

President Xi said relations between the two countries have stood the test of time and have always remained healthy and strong. He said China wants its relations with Pakistan to be a model for 'community of shared destiny'.

The Chinese president hailed the two countries' decision to upgrade their friendship into an 'all-weather strategic cooperative partnership' as a landmark moment in the rich history of their relationship.

Joint statement

A joint statement on establishing the all-weather strategic cooperative partnership was also signed during formal delegation-level talks. The PM Nawaz led Pakistan side while President Xi led Chinese delegation.

According to the 20-point joint statement, Pakistan and China agreed to elevate their relation to 'all-weather strategic cooperation partnership "enriching the Pakistan-China community of shared destiny, to ensure the perpetual continuity in friendship from generation to generation".

According to the statement, both leaders reviewed with satisfaction the historical development of Pakistan-China relations and the progress made in recent years.

The Chinese side reiterated that China has always placed its relationship with Pakistan on top of its foreign policy agenda.

China appreciated Pakistan's consistent and staunch support on issues concerning China's core interests. It reaffirmed its support and solidarity for the sovereignty, independence and territorial integrity of Pakistan.

Relations with neighbours

China appreciated Pakistan's efforts for the peaceful resolution of all outstanding issues with its neighbours.

"In fact, friendship and cooperation between Pakistan and China served the fundamental interests of the two countries and peoples, and contribute to peace, stability and development in the region and beyond," the statement said.

The two sides said cooperation between Pakistan and China is conducive to maintaining peace and stability and promoting common development and prosperity in the region. They reaffirmed their commitment to multilateral non-discriminatory arms control and non-proliferation endeavours.

Civil nuclear energy

They agreed to continue bilateral cooperation in civil nuclear energy under IAEA safeguards, in line with their respective bilateral and multilateral commitments.

China appreciated and supported steps taken by Pakistan towards its mainstreaming into the global non-proliferation regime.

In this context, China welcomed Pakistan's engagement with the Nuclear Suppliers Group, and assured that it is ready to strengthen communication and coordination with Pakistan.

Peace in Afghanistan

The two sides agreed that the evolving situation in Afghanistan has immediate implications for regional security and stability. Pakistan recognised the constructive role being played by China in regional peace and stability.

In this context, the two sides agreed to strengthen cooperation on Afghanistan, support the 'Afghan-owned and Afghan-led' peace and reconciliation process and work with the international community to promote peace and stability in Afghanistan and the region.

China said that it will extend full support to Pakistan for hosting a successful Fifth Ministerial Conference of the Istanbul Process in Islamabad in 2015.

The two sides believed that the security interests of Pakistan and China are closely interconnected, therefore, they will actively advocate the Asian security concept featuring common, comprehensive, cooperative and sustainable security.

Fight against terrorism

The two sides will continue to enhance cooperation in fighting terrorism and national defence, and strengthen coordination on international and regional security affairs.

Both sides will continue to regularly utilise their existing mechanisms of Strategic Dialogue and Counter-terrorism Consultations to further promote coordination and mutual understanding.

Defence cooperation

The two sides agreed to further enhance defence cooperation, maintain high-level visits and exchanges at various levels between relevant departments of the two armed forces, make full use of the Pakistan-China Defence and Security Consultation mechanism, deepen cooperation in areas such as joint exercises and training, personnel training and equipment and technology, and expand cooperation in defence technology and production.

Cultural exchanges

Pakistan supported China in elevating its relations with the South Asian Association for Regional Cooperation, commended the China-South Asia People-to-People and Cultural Exchanges Plan, the China-South Asia Science and Technology Partnership Plan and other initiatives put forward by the Chinese side, and is ready to participate in these initiatives actively.

China announced the establishment of the Chinese Cultural Centre in Islamabad, which was welcomed by Pakistan.

Bilateral trade

The two sides expressed satisfaction at the growing volume of bilateral trade, which has crossed $15 billion mark and agreed to make efforts to raise it to $20 billion in the next three years.

Pakistan and China decided to set up a Joint Marine Scientific Research Centre in Pakistan.

PM's banquet

In the evening the PM hosted a dinner and cultural show in honour of President Xi and his wife. The dinner was attended by federal ministers, services chiefs and political leadership, including the PPP's Co-Chairperson Asif Ali Zardari. Xi also planted a sapling at the PM House.

Published in The Express Tribune, April 21st, 2015.
COMMENTS
Comments are moderated and generally will be posted if they are on-topic and not abusive.
For more information, please see our Comments FAQ