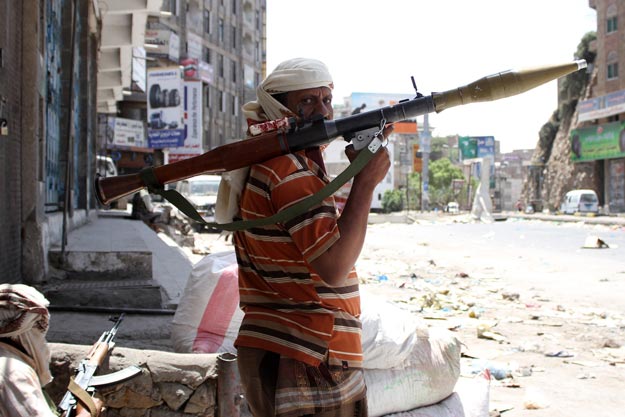 ---
ISLAMABAD:



Saudi Arabia may have failed to convince Pakistan's bicameral legislature to endorse the Gulf-backed intervention plan in Yemen, but that has not stopped the kingdom from reaching out to the country's major political and religious parties.




In its latest move, Saudi Adviser on Religious Affairs Abdul Aziz al-Amar on Sunday visited Jamia Haqqania in Akora Khattak and met its chief cleric Maulana Samiul Haq.  During the visit, he announced all kind of financial assistance to the Jamia, as well as the students studying there, sources said on Sunday.

Before meeting Jamia Haqqani chief, the Saudi adviser also met leaders of the ruling PML-N. He also held meetings with JUI-F chief Maulana Fazlur Rehman, PPP Senator Rehman Malik, Religious Affairs Minister Sardar Yousaf and other leaders. Saudi Ambassador to Pakistan Jasim Muhammad al Khaledi has also held separate meetings with representatives of political and religious parties, including Punjab Chief Minister Shahbaz Sharif, Religious Affairs Minister Sardar Yousaf and Senator Rehman Malik.

The high-powered Saudi delegation, which also met leaders of the Defence of Haramain Sharifain Movement (DHSM), is scheduled to meet various leaders of other schools of thoughts in coming weeks, officials told The Express Tribune.

Though the DHSM leaders – like Aijaz-ul-Haq of PML-Zia, MNA Jamshed Dasti, Lt Gen (retd) Hamid Gul, Sheikh Rashid of AML, Hafiz Saeed of Jamaat-ud-Dawa and other religious parties' leaders – expressed their solidarity with the Saudis, they failed to pull crowds in support of the Saudis.

Commenting on the issue, Jamaat-e-Islami's Secretary General Liaquat Baloch said the DHSM leaders are pressurising the government but their efforts remain fruitless. "We do not see any threat to Riyadh – this may be a reason why the religious group is not vigorously lobbying for their external allies," he said.

Talking to The Express Tribune, Pakistan Institute of Peace Studies' (PIPS) Aamir Rana said smaller religious groups have failed in persuading the national leadership to send troops to Yemen. "Apparently, the Saudis' public diplomacy seems to have failed in the present crisis," he said.

"Religious groups, which openly support Riyadh, do not have much control over the religious discourse. Now clerics are not in a position to dictate to the government in favour of the Saudis," Rana observed.

Talking about Pakistan's current diplomacy in the Saudi-led war in Yemen, former diplomat Masood Khan said the situation in Yemen is very fluid.  "Time for Pakistan's mediation may not be ripe yet. Pakistan has always advocated de-escalation of tensions and dialogue for peace  and reconciliation in Yemen. That is the goal we should continue to pursue," he said.

Published in The Express Tribune, April 20th, 2015. 
COMMENTS (3)
Comments are moderated and generally will be posted if they are on-topic and not abusive.
For more information, please see our Comments FAQ