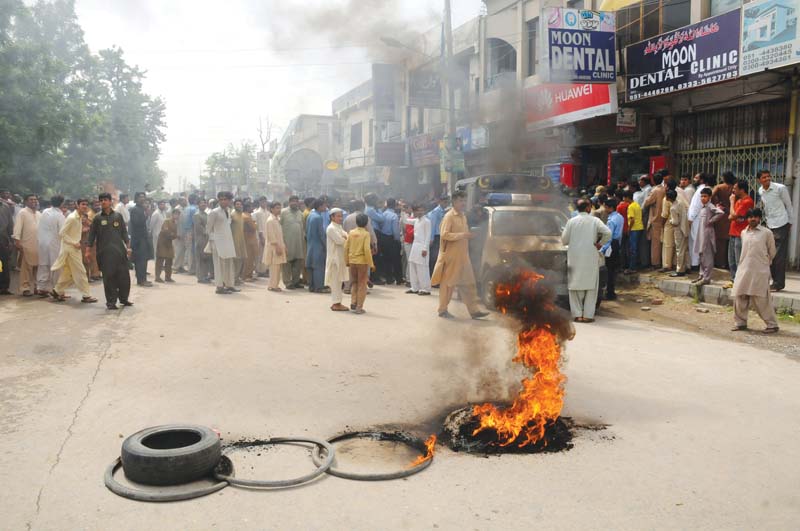 ---
ISLAMABAD: Islamabad Police on Sunday said they had arrested around 200 suspects recovering valuables amounting to over Rs19 million in the first half of April.

A spokesperson on Sunday said the police had also seized weapons and narcotics during the two weeks, claiming significant decrease in auto theft and other crimes in the city. He said enhanced checking at entry and exit points of the city had helped reduced crime rate.

The situation on the ground, however, is different. The crime rate has gone up since the incumbent IGP Tahir Alam was given acting charge in September last year. The IGP had cited the rising crime rate as a reason when he requested the Islamabad Capital Territory (ICT) Administration for three new police stations.

Citizen hero

A number of high-profile crimes have taken place in broad daylight in the city, among these tall claims of the Islamabad Police. In one such incident on Sunday, two persons were injured when gunmen tried to loot a mobile phone shop in the limits of Industrial Area Police Station.

The robbery attempt was botched when a customer, who happened to be a serving second lieutenant in the army, succeeded in overpowering one of the gunmen. The other gunman, who stayed outside the shop, opened fire but fled on the bike after he realised his accomplice had been overpowered.

The army officer got injured during the scuffle while shopkeeper Rameez suffered bullet wounds. They both were taken to the Pakistan Institute of Medical Sciences.

The suspect was handed over to the police, along with the pistol he carried.  Police identified him as Ehtesham and said he has served time in a counterfeit currency case.

The shop owner, Malik Imran, said it was the fourth robbery attempt at his shop in the last three years. The police station is located a few hundred metres from the shop.

After the incident, local traders held a demonstration and blocked the road. They said police had failed to provide them security as robbers roamed the streets freely.

Published in The Express Tribune, April 20th, 2015.