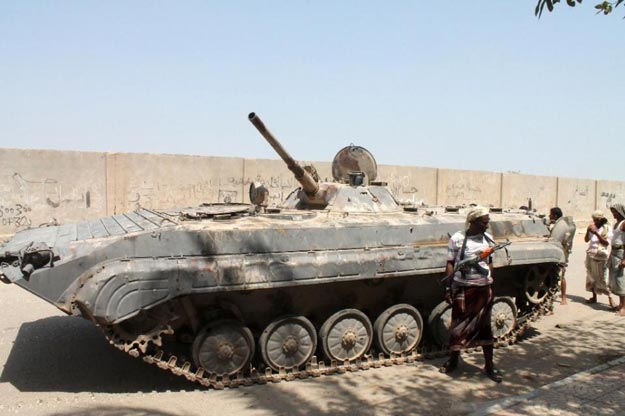 ---
ISLAMABAD:



Has Pakistan abandoned its policy of neutrality on the Yemen conflict that was approved by parliament? Whatever the truth may be, this was the sense gathered from the high-level huddle convened on the Yemen situation on Thursday.




Attended by top civil and military leadership, the meeting decided supporting the Saudi position, contrary to the parliament's resolution that called for staying neutral and playing the role of peacemaker.

Unlike its earlier position, the Pakistani government appears now to have taken a clear position when it has backed the UNSC resolution seeking an arms embargo on the Houthi rebels in the war-ravaged Yemen. It has also expressed its concerns on the reports of foreign support – a clear reference to the neighbouring Iran – to the Houthis.

The apparent U-turn has been taken after a high-powered delegation led by Punjab Chief Minister Shahbaz Sharif was told by Saudi authorities that Pakistan must be "visible" in supporting the kingdom's stance on the conflict in the Arab Peninsula.

It is believed that Shahbaz, who is fluent in Arabic, was told by Saudi Crown Prince Muqrin bin Abdulaziz that Riyadh still expected Pakistan to join the coalition of the Gulf states. The delegation, which returned on Thursday, briefed the civil and military leadership about the "unhappiness" of Saudi Arabia over Pakistan's reluctance to join its fight against the Houthis.

'UN resolution a cover'

The UNSC had adopted on Tuesday the Jordan-sponsored resolution seeking an arms embargo on the Houthis as well as a travel ban on their leaders.

The resolution called upon the Houthis to end the use of violence that undermines political transition in Yemen, to withdraw their forces from all the areas they have seized, including the capital Sana'a, and to relinquish all arms seized from military and security institutions.

Pakistan is exploring the possibility of using the UNSC resolution as a cover to extend support to Saudi Arabia, said a source. One option includes sending naval ships in aid of the kingdom and other Gulf states to deny transportation of weapons to the Houthis.

But does the UNSC resolution provide any legal cover for Pakistan to join the Saudi-led military offensive in Yemen?

"It does not provide any legal cover at all," said Ashraf Jahangir Qazi, a veteran Pakistani diplomat who has served in key capitals, including Washington, New Delhi and Damascus. He was surprised over the omission of Saudi military action in Yemen in the UNSC resolution. "This will only hurt the credibility of the world body."

But an international law expert, who is often consulted by the government on such matters, is of the view that the UNSC resolution seems to be "open-ended" and it is up to Pakistan how it will interpret it.

Published in The Express Tribune, April 17th, 2015. 
COMMENTS (8)
Comments are moderated and generally will be posted if they are on-topic and not abusive.
For more information, please see our Comments FAQ