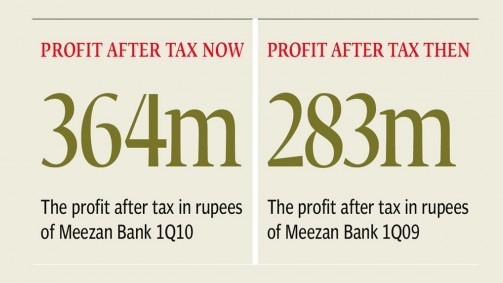 ---
KARACHI: The profit after tax of Meezan Bank increased to Rs364 million in the quarter to March as compared to Rs283 million during the corresponding period last year, reflecting an increase of 29 per cent.

Meezan Bank announced the first quarter results for 2010 at its board of directors meeting held in Dubai. The paid-up capital of the bank increased to Rs6.98 billion as 5 per cent bonus shares approved in the last board meeting were issued to the shareholders. Based on the revised share capital, earnings per share (EPS) for the first quarter amounted to Rs0.52. Gross core banking income before provisions and administrative expenses increased to Rs1.8 billion compared to Rs1.6 billion for the corresponding quarter of last year.

The bank showed improved performance in both funded and non-funded banking business segments. Deposits increased to Rs102.5 billion, which is Rs2.1 billion higher than the deposits on December 31, 2009. Sheikh Ebrahim Bin Khalifa al Khalifa, Chairman of the board who is also the housing minister of Bahrain, reiterated the commitment of the shareholders to Pakistan, saying that Pakistan represents a very important investment destination for GCC investors.