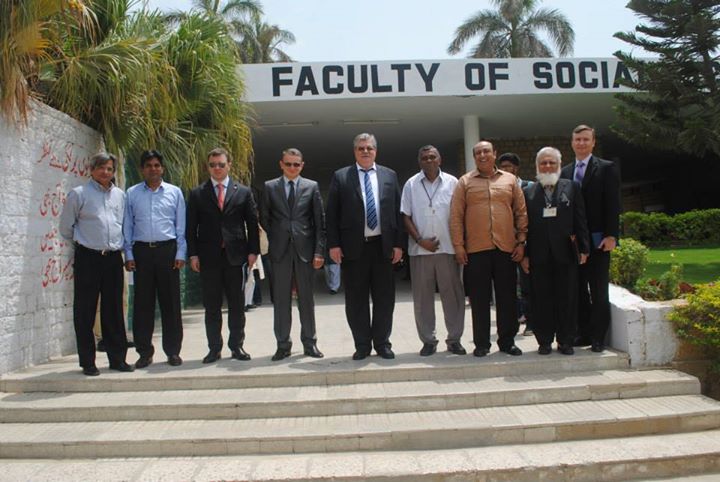 ---
KARACHI: The world needs to be guided by the force of law, not the law of force, said Russian ambassador to Pakistan HE Alexey Y Dedov on Friday.

Dedov was addressing a session titled 'New Trends in Russian Foreign Policy and Future Challenges' at Karachi University's international relations department. He said that the 'law of force that is being seen in every part of the world could be disastrous'.

Talking about the Saudi-Yemen conflict, Dedov was of the opinion that certain countries were 'enforcing the law of force in Yemen and Iraq'. "This has been happening without taking the Security Council of the United Nations on board," he pointed out. "Even the bombings in Libya happened without the approval of the United Nations."

He said that within a matter of two weeks, as many as 6,000 innocent Yemeni citizens were killed in the on-going war.




Dedov believes that the Yemen conflict is not just about the Shia-Sunni rift. "It is a much more complex issue which the world needs to address," he said, adding that Russia had already spoken to Pakistan about solving the issue peacefully.

Talking about the evacuation process in Yemen, Dedov said that Russia had successfully evacuated around 1,000 Russians from Yemen. He appreciated how Pakistan had helped evacuate Indian citizens along with Pakistanis from the troubled country.

The threats of the Islamic State

According to the Russian ambassador, the Islamic State (IS) in Iraq is a serious threat to the world. He believes that there is no precedence of cruelty and barbarism that is being shown in that territory. According to him, there is a fine difference between IS and other militant organisations. "IS is the kind of militant organisation that has its own state territory and population of more than one million," he said. "They have got oil reserves under their belt and are exporting it to the world." This, according to him, is an intensely dangerous situation for the world.

Kashmir issue

Dedov believes that the solution to the Kashmir issue still lies in the Shimla Accord and the UN resolutions. However, he dodged the question regarding Russia's stand on the dispute and said that there has to be a peaceful solution that both nations have to seek.

Afghanistan and terrorism

According to Dedov, Afghanistan was a matter of great concern to Russia. "Afghanistan is a potential hotspot for militants and drugs," he said. "The Islamic movement of Uzbekistan has been operating from Afghanistan and they also exert pressure on Central Asian countries."

Pak-Russia relations

Regarding Pakistan and Russian ties, Dedov was of the opinion that there had been several ups and downs. "Until the era of Zulfikar Ali Bhutto, we had really good ties," he said. He added he has high hopes with the incumbent government and was expecting Prime Minister Nawaz Sharif's visit to Russia this year. He further added that Russia will be providing helicopters to Pakistan in order to combat terrorism.

Published in The Express Tribune, April 11th, 2015. 
COMMENTS
Comments are moderated and generally will be posted if they are on-topic and not abusive.
For more information, please see our Comments FAQ