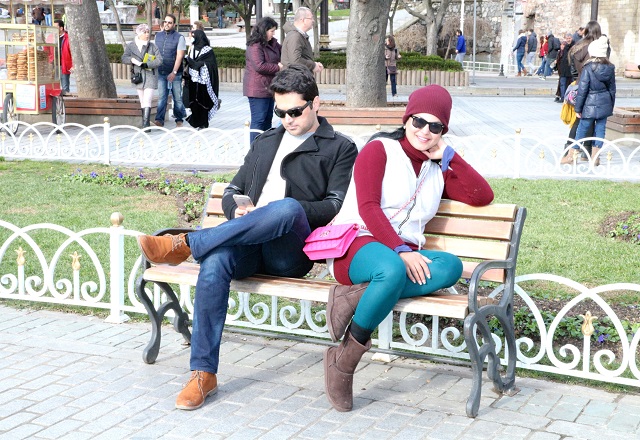 ---
KARACHI: After a break from showbiz and the media, Veena Malik is back, this time with news about her husband Asad Bashir Khan who is all set for his singing debut in Bollywood.

In a telephonic interview with The Express Tribune, the actress known for creating waves, claims her husband is making ripples in the field of music. "Asad has gotten into singing career. He will also be making a Bollywood debut," Veena said.


Veena with husband Asad Bashir Khan on a recent trip to Turkey

When the Dubai-based actress, who prior to her marriage made headlines with her controversial and provocative actions and statements, was asked about her own future plans, she replied, "Though a globe trotter, after ten days or so my husband and I will be performing Umrah with both sides of the extended family members included. Later, we plan to travel to Australia where Asad will be presenting and participating in a seminar."


Veena posing with Asad Bashir Khan

She added that she was taking advantage of her break from showbiz to focus on other aspects of her personality that the media never highlighted. "I was at one time doing showbiz, along with some charity…. but the charitable aspect of my personality never got noticed. Two things have always been closer to my heart, women empowerment and children's rights; I will now be focusing on that. In these two years, I have grown a lot, I have become a mature person who is at peace. I also have different perspective in looking into things now, these two years of my life have been most blissful and very transformative. Also, I believe, to keep the sanity intact, it was necessary to touch bottom, everything has been a blessing in disguise."


Veena Malik with husband and son Abram Khan

Later Asad Basheer Khan Khattak her husband chipped in, "We have launched Veena Asad Khan Foundation in the United Kingdom. It's an NGO that will address the issues of poverty alleviation, medical needs, women empowerment, and will offer basic necessities of life to the needy. We have just recently officially launched it in the UK. In the summers we are planning a visit Pakistan where we will focus on the growth of this NGO."


Veena with her son Abram

When asked about how it felt to settle into married life and motherhood after a life full of glitz and glamour, Veena Malik replied, "Its beautiful, it feels normal now…I led a life earlier on which was larger than life. When I first started off in the world of showbiz I was hardly 14 years old. Now I am able to lead a normal life. Asad is a loving and caring husband. Besides him my son is our top priority, he keeps me up all night, though; but that's my son for me. Life has become very engaging for me, now."


Veena and Abram Khan

She made her priorities very clear, "For me, for now my family is very important. So it has taken my vanity away from me. My son is amazing I want to give him some time---quality time."


Abram Khan

When asked about her return to showbiz Veena said, "Nach Baliye (popular Indian TV dance show) approached us. However, I couldn't do it. There are 14 couples, altogether in the show, but no visits to the families were allowed. It had to go on the floor in April. My son is still very young, just seven months old. I asked them if I could take him with me, even Asad was very concerned. Since I don't have a nanny for him. He is the first thing we see in the morning and the last before going to bed. So it was obviously a big no no. Hopefully in a year I would be back in the world of showbiz. Meanwhile, Asad has got a lot of offers from Pakistan. We are keenly family oriented people, both of us."

Veena further said, "I have been a brave and daring person, choices I have made, I have made these for my life. These are fulfilling and satisfied choices that I have made. I once had a brilliant career, but now I have a fulfilling life and a beautiful family. I am so glad that I had this phase in my life."


COMMENTS (3)
Comments are moderated and generally will be posted if they are on-topic and not abusive.
For more information, please see our Comments FAQ