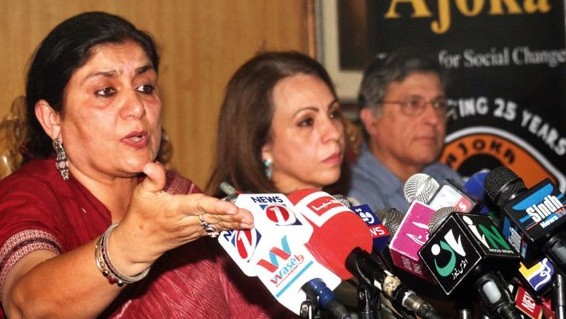 ---
ISLAMABAD: The Ajoka theatre group on Friday demanded that Tauqeer Nasir, Director General, Pakistan National Council of the Arts (PNCA), be dismissed and protested against the alleged ban on their performance.

Madeeha Gohar, Artistic Director, Ajoka, called a news conference on Friday to highlight what she called 'Taliban mindset'. "The PNCA has no authority to ban or cancel plays and cannot do so without a valid reason," Gohar said. Ajoka was scheduled to showcase its new play, 'Dara Shikoh', on Thursday night to mark Earth Day, when the PNCA cancelled their space to perform. The group has performed several times before at the PNCA.

The alleged reason for the performance being cancelled was a letter, written by Samia Raheel Qazi, addressed to Prime Minister Yousaf Raza Gilani asking that Ajoka be banned in the country. In the letter, Ms Qazi accused Ajoka of promoting "dangerous elitist and liberal ideas". The letter said the theatre group was presenting controversial dramas and singled out one of Ajoka's most acclaimed 'Burqavaganza', which dealt with issues such as extremism, terrorism and intolerance in a humorous, even if, positive way. "Ajoka has been the voice of Pakistan's conscience for nearly three decades," Gohar said.

"This one letter sent by an individual to Tauqeer Nasir has nothing to do with the institution," she said, adding this was not a solid enough reason for banning their performance. "There are no court orders or legal notices restricting Ajoka from performing, she said. "The letter was also sent to the ministry of culture and the prime minister but neither took action against the theatre group," she argued. Gohar called Nasir a fundamentalist and said, "Since the oppressive times of Zia-ul-Haq, Ajoka has been fighting such a mindset through art and will continue to do so."

She was accompanied by civil society representatives, including Tahira Abdullah, Pervez Hoodboy and Farzana Bari, who demanded that Nasir be removed immediately, and described him as unfit for the job. Bari said, "This is nobody's personal property; it is every citizen's right to acknowledge this cultural space." "Let the people decide for themselves if they want to watch Ajoka or not; the government has no right to interfere," she said. Hoodboy questioned Nasir's credentials and said, "If possible, he should be removed from the organisation." However, PNCA, in a statement issued shortly after the news conference, said it disallowed Ajoka's 'Burqavaganza' because it found the content glaringly incompatible with the religious and cultural traditions [of Pakistan].

ActionAid agreed to the suggestion to stage the famous drama, 'Kala Maindha Bhes' in March and confirmed it with PNCA, according to the statement. However, Ajoka defied the agreement between ActionAid and PNCA. Ajoka announced on stage that it would show 'Burqavaganza' instead, the statement said. PNCA maintained that theatre-goers objected and criticised the group for ridiculing the country's cultural and religious sensitivities.
COMMENTS
Comments are moderated and generally will be posted if they are on-topic and not abusive.
For more information, please see our Comments FAQ