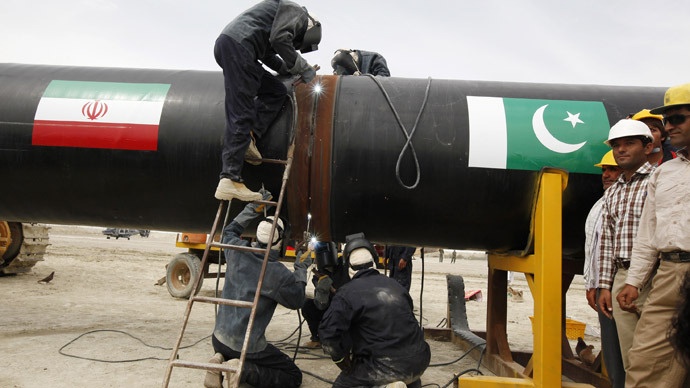 ---
ISLAMABAD: In an attempt to curtail Pakistan's severe energy shortage, China has agreed to build a pipeline bringing natural gas from Iran to Pakistan. The final deal is to be signed during the long-sought visit of the Chinese President Xi Jinping to Islamabad in April, Pakistani officials said.  

Where most countries are unwilling to invest in Pakistan given the current situation, this deal is expected to mark China's commitment towards the development of infrastructure in ally Pakistan.

The pipeline would amount to a premature profit for both Pakistan and Iran due to the agreement between Tehran and the US and other world powers to prevent Iran from developing nuclear weapons.

Pakistan had previously been threatened with sanctions by the US if it carried on with the project.

Read: Netanyahu warns nuclear deal would free Iran to build arms

Named the "Peace Pipeline," the project will further strengthen ties between Pakistan and Iran.

"We're building it," Petroleum Minister Shahid Khaqan Abbasi told The Wall Street Journal, referring to the pipeline. "The process has started."

Due to a shortage of fuel for its power-generation plants, Pakistan is currently suffering from a critical electricity deficit. The pipeline however, is expected to bring the required gas to Pakistan.

According to reports, Pakistan has been in a constant struggle to convince China to build Pakistan's portion of the pipeline, giving an estimate of $2 billion.

Tehran says that its 900 kilometer part of the pipeline from an Iranian gas field is complete. Iran has long pressed Pakistan to build its half of the scheme.




                                    PHOTO: WALL STREET JOURNAL 

Pakistan however, has not yet begun construction because of the susceptible sanctions from the US for trading with Iran. In order to avoid the consequences, Islamabad had been trying to work with China, asking them to construct the pipeline but not yet connect it to the Iranian portion.

The upcoming Iran nuclear agreement has given Islamabad further incentive to clear the project as the deal is expected to ease the sanctions once the deal is completed. If the framework is followed, prohibitions on Iranian energy exports would be among the first restrictions to be lifted.

"This [Iran nuclear agreement] will help us in getting a few things which were coming into the way of the Iran-Pakistan gas pipeline to be cleared and we will move forward," Pakistan's ambassador to Iran, Noor Muhammad Jadmani, said Sunday in Tehran, according a report on IRNA, the official Iranian news agency.

Pakistan is negotiating with China Petroleum Pipeline Bureau, a subsidiary of Chinese energy giant China National Petroleum Corporation, to build 700 kilometers of pipeline from Gwadar in Balochistan to Nawabshah in Sindh, where it will connect to Pakistan's existing gas-distribution pipeline network.

China Petroleum Pipeline Bureau referred questions to CNPC, which didn't respond to a request for comment.





PHOTO: AFP


The estimated cost is $1.5 billion to $1.8 billion for the pipeline, or $2 billion if an optional LNG terminal at Gwadar is included in the scheme. According to the deal, 85% of the financing will be provided by a Chinese loan, with Pakistan coming up with the rest.

It is, however, Pakistan's responsibility to complete the remaining 80 kilometers from Gwadar to the Iranian border.

The pipeline will take approximately two years to build, after which it will supply Pakistan with enough gas to fuel 4,500 megawatts of electricity generation – which sums up to the country's entire current electricity deficit.

Islamabad believes the Iranian gas is the cheapest and simplest energy supply option for Pakistan.

In future, Pakistan will also take LNG from Qatar, and it remains in protracted multicountry negotiations over a pipeline that would bring gas from Turkmenistan through Afghanistan to supply Pakistan and India.

Sources say, other than threatening Pakistan with sanctions, the US had also been urging it to invest in the Turkmenistan pipeline instead of the Iranian one.

The Chinese president's visit to Pakistan, which has been postponed at least twice before, is now expected on or around April 19.

Pakistan has had a close strategic alliance with China for decades — aimed mostly against common foe India — but now Beijing is seeking to add an economic dimension to the relationship.

Read: Economic corridor: Pakistan, China to step up work on framework accord

Islamabad and Beijing plan an "economic corridor" linking Gwadar, which is under Chinese management, to southwestern China with road and rail connections.

This article originally appeared on The Wall Street Journal
COMMENTS (10)
Comments are moderated and generally will be posted if they are on-topic and not abusive.
For more information, please see our Comments FAQ