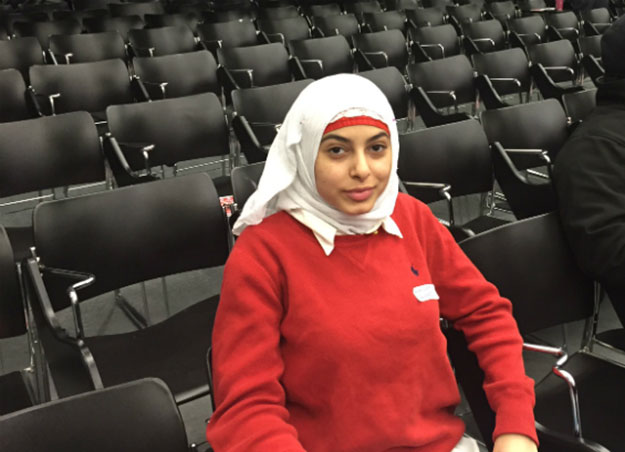 ---
NEW YORK: An eighteen-year-old Muslim girl of Yemeni descent is determined to become a New York City firefighter at just five feet tall and weighing just 105 pounds. 

Despite the many physical challenges she could face, Ahlam Ahmed, is committed to join the force.

Ahmed attended the Fire Department New York's (FDNY) first-ever Women's History Month Female Outreach Event which was created to help inspire more women to join the department.

Read: US justices show support for Muslim woman denied job due to hijab

She has also taken the most recent examination organised by the department.





PHOTO: IRENE CHIDINMA NWOYE


"I want to see what the FDNY has to offer," Ahmed said in a private interview.

She signed up for the event last year and at first she was reluctant due to her strict parents and being a girl as well as her petite frame.

There are more than 10,400 firefighters in the FDNY with only 44 of them women.

Read: Pregnant Muslim woman in France attacked for wearing headscarf

Ahmed said that she was concerned when she learned there were no Muslim female firefighters in the ranks. Greater concern was attributed to the uniform and dress code as Ahmed always likes to be covered, she revealed.

"We try to accommodate religious practices," said Elisheva Zakheim, an FDNY press officer who added that the department had never had an 'observant Muslim' in its ranks.





PHOTO: IRENE CHIDINMA NWOYE


Of the long hours of training and the strenuous exercises that Ahmed would undergo to join the ranks of FDNY, she said she was determined to continue as she wants to save the lives of people. Her only concern would now be to convince her parents.

Many New Yorker's took to Twitter in support of the young teen and her aspirations to become New York's first Muslim firefighter.

https://twitter.com/nyc_oz/status/583641673227489280

https://twitter.com/newyorkolizer/status/583341625109274625


This teenager from Queens is determined to become the @FDNY's first Muslim female firefighter. http://t.co/nMZpKaShbI

— Metro New York (@metronewyork) April 2, 2015
This article originally appeared on Metro
COMMENTS (2)
Comments are moderated and generally will be posted if they are on-topic and not abusive.
For more information, please see our Comments FAQ