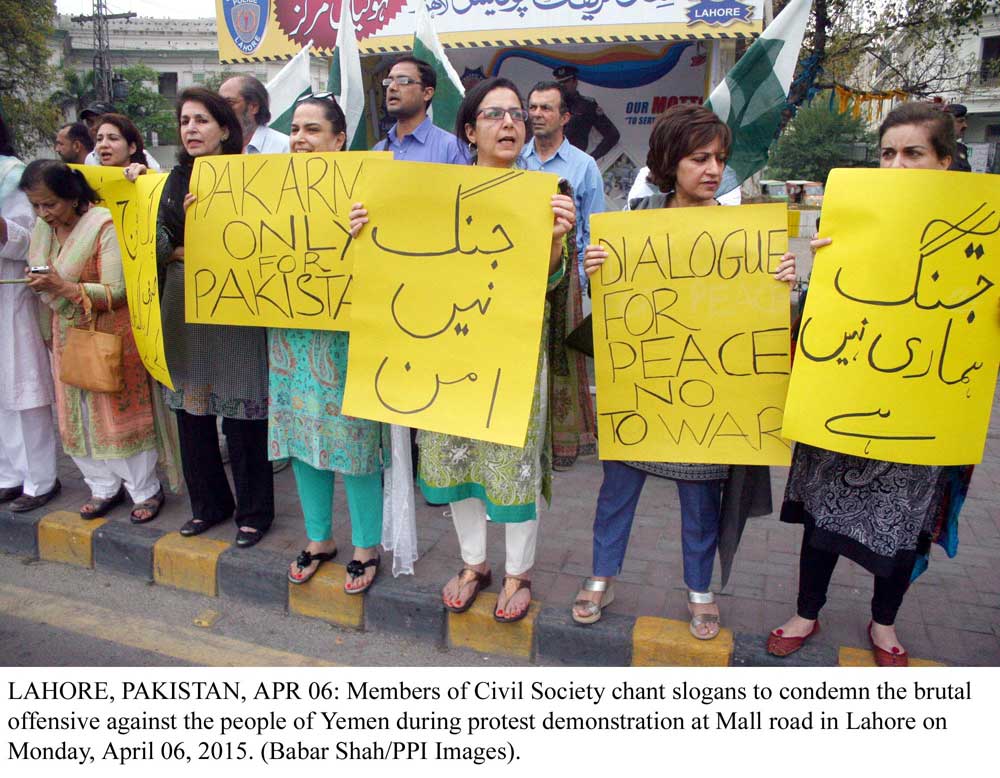 ---
ISLAMABAD:



Civil society organisations and rights activists on Monday protested against what they said the government's decision to send the troops to fight along the Saudi-led coalition against Houthi rebels in Yemen.




Carrying placards reading: "Pakistan Army is not for rent" and "we condemn Saudi Arabia's strikes on Yemen", they held a protest outside the National Press Club as the National Assembly debated Pakistan's role in the Yemen crisis.

"We are still suffering from our involvement in Afghan war in the 80s," said rights activist Farzana Bari. She said taking sides in the conflict could add to the sectarian tension in the country.

Sibte Hassan, another protester, said Pakistan should play a conciliatory role in the conflict.

A joint declaration issued by eight civil society bodies and 21 rights activists, said the government should set its own house in order instead of getting entangled in others' wars.

The statement said: "We demand that Pakistan not compromise its armed forces into a mercenary force up for rent… we should deal with our own problems rather than seeking new conflicts in distant lands and taking sides in a complex situation.

"Killing Yemenis is inhuman, immoral, and a plainly visible disaster in the offing, which will push Pakistan and the entire region hundreds of years back."

The statement termed support for joining the conflict as "fabricating false narratives".

"Pakistan is bending over backwards to comply with the self-seeking desires of the House of Saud. We are also fabricating false narratives that outdo those in George Orwell's "1984"," the statement said.

The statement was endorsed by following organisations: Joint Action Committee, Lahore; Women's Action Forum; Shirkatgah; Sachet Islamabad, Islamabad Debates; and the Progressive Youth Forum.

Published in The Express Tribune, April 7th, 2015.