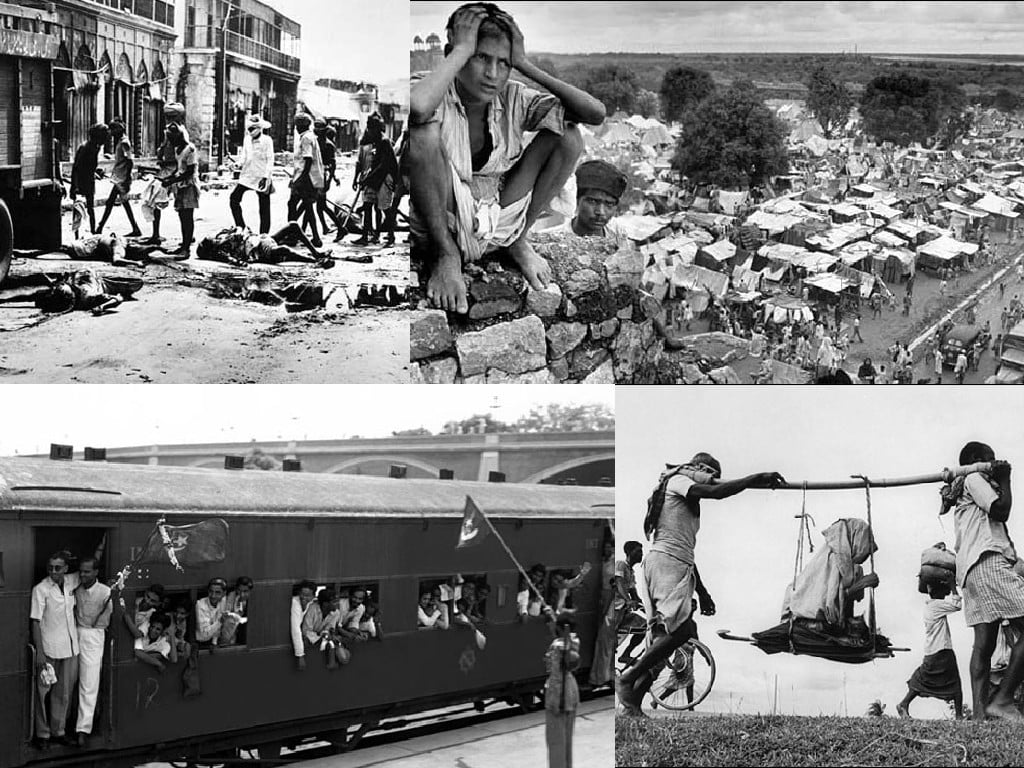 ---
In 1947, the Subcontinent was divided into two parts: India and Pakistan. Countless people living on both sides of the border were displaced and began to flee from one side to the other. During this massive immigration, several riots broke out and rivalry soared to new heights between Hindus and Muslims.

During the horrific period of partition in 1947, an American documentary photographer, Margaret Bourke-White, captured some of the crucial moments of that time that sum up what partition was like and how it affected millions of lives.

Bourke-White was the first American female war photojournalist, and the first female photographer for Henry Luce's Life magazine.

The following photographs that Bourke-White took appeared in Indian novelist Khushwant Singh's book Train to Pakistan:



*WARNING: Some images contain graphic content.



1. Several people board the train to the other side of the border in search of a new life. PHOTO: MARGARET BOURKE-WHITE
2. A train leaving for Pakistan being given a warm send-off. PHOTO: MARGARET BOURKE-WHITE
3. Over 10 million people were displaced from their homeland and travelled on foot, bullock carts and trains to their promised new home. PHOTO: MARGARET BOURKE-WHITE
4. An elderly, abandoned Muslim couple and their grandchildren sit by the roadside. "The old man is dying of exhaustion. The caravan has gone on," wrote Bourke-White. PHOTO: MARGARET BOURKE-WHITE
5. During the summer of 1947, over a million people were slaughtered on both sides in the riots. These are the bodies of the victims being picked up from a city street. PHOTO: MARGARET BOURKE-WHITE
6. Two men carry an elderly woman on a makeshift stretcher. PHOTO: MARGARET BOURKE-WHITE
7. "The street was short and narrow. Lying like the garbage across the street and in its open gutters were bodies of the dead," writes Bourke-White's biographer Vicki Goldberg of this scene. PHOTO: MARGARET BOURKE-WHITE
8. A young refugee sits on the walls of Purana Qila, transformed into a vast refugee camp in Delhi. PHOTO: MARGARET BOURKE-WHITE
9. Men, women and children who died in the rioting were cremated on a mass scale. Villagers even used oil and kerosene when wood was scarce. PHOTO: MARGARET BOURKE-WHITE
10. The migration was a "massive exercise in human misery," wrote Bourke-White later. PHOTO: MARGARET BOURKE-WHITE
11. Women were left to fend for themselves after their husbands were killed in riots. PHOTO: MARGARET BOURKE-WHITE
A slideshow of these pictures originally appeared on BBC News. 
COMMENTS (32)
Comments are moderated and generally will be posted if they are on-topic and not abusive.
For more information, please see our Comments FAQ