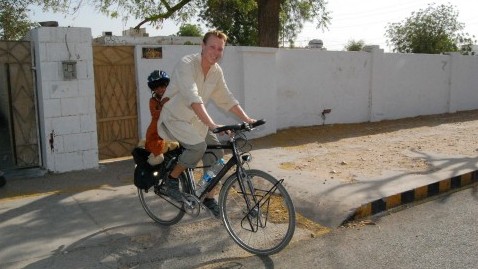 ---
KARACHI: Koen Roovers, a professional Dutch cyclist, will never forget his stay in Pakistan.

Roovers, who was on a tour of nine countries and is stopping over at Hyderabad, found that his 'precious' cycle was stolen from Civil hospital on Friday.

He began his journey on July 25 from Belgium and cycled all the way from Germany, Poland, Ukraine, Russia, Kyrgyzstan, Uzbekistan, Turkmenistan and Iran. His bicycle stayed safe in all the countries.

He cycled into Pakistan on March 15, by entering through Quetta and whizzed through to reach Hyderabad. During his stay, he started teaching disabled children at a school in Defence.

On Friday, the international cyclist and now the generous social worker, took one of his paralysed students, Shazia, on his bicycle to Civil hospital for physiotherapy. But when he came out of the hospital after Shazia's treatment, his precious bike which had taken him halfway across the world and made him a winner of several races, was gone.

Roovers told Express News that he had filed an FIR against the theft, however, if he does not find it soon, he would not be able to go to China after three months to complete his tour.
COMMENTS (2)
Comments are moderated and generally will be posted if they are on-topic and not abusive.
For more information, please see our Comments FAQ