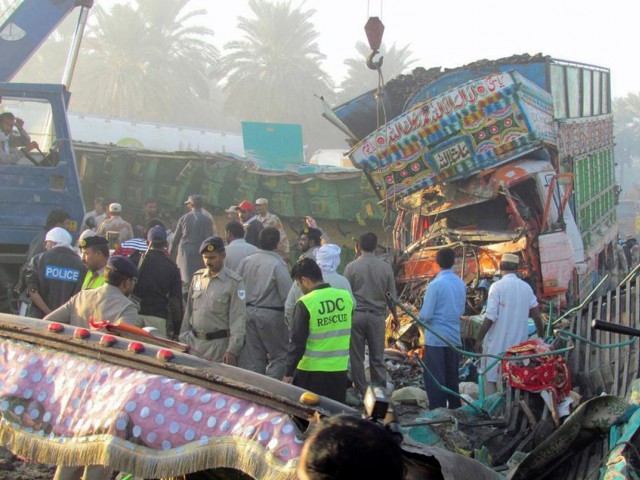 ---
SUKKUR: The death toll from Wednesday's deadly road accident near Khairpur has risen to 16 as two more injured people succumbed to their injuries.

The accident took place early on Wednesday morning when a Karachi-bound passenger coach collided head-on with a truck on Mehran Highway.

The injured victims, Tayyab Ali and Aziz Ahmed, died at Thari Mir Wah hospital a day after they were brought in with severe injuries. Among the dead is the coach driver, Attaullah, whose body was identified by his relatives.

Some witnesses claimed that a large number of nearby residents rushed to the accident site and started the rescue operation on their own. However, there were some people who stole the belongings of the passengers, a witness said. Setharja police station's assistant head constable Naimatullah ruled out, however, this possibility.

"We reached the site of the accident within 10 minutes and saw that the villagers had shifted some of the injured people to the hospital," he said. Meanwhile, the Sukkur commissioner, Khairpur deputy commissioner, Thari Mir Wah SP and Kot Diji's assistant commissioner also reached the spot and supervised the rescue operation, he added. The case of the road accident has yet to be registered.

According to Thari Mir Wah SP Sajid Khokhar, Mehran Highway has been completely closed for heavy traffic since Wednesday's attack. "To make the ban effective, six more police posts have been established at different places," he told The Express Tribune.

The passenger coach entered Mehran Highway at around 5:15am, which is the time when the night shift changes at the police post, he explained. The officials for the day shift take around 10 minutes to reach and the bus managed to enter the highway in the short window in which there was no policeman manning the check post, he added.

Khokhar said that there is nothing wrong with the highway except a few engineering faults. "There are several villages on both sides of the highway and sometime slow-moving motorcycles and donkey carts come onto the highway," he said. "Speeding buses then have to take sharp turns to avoid them and end up colliding with other vehicles."

Published in The Express Tribune, March 27th, 2015.