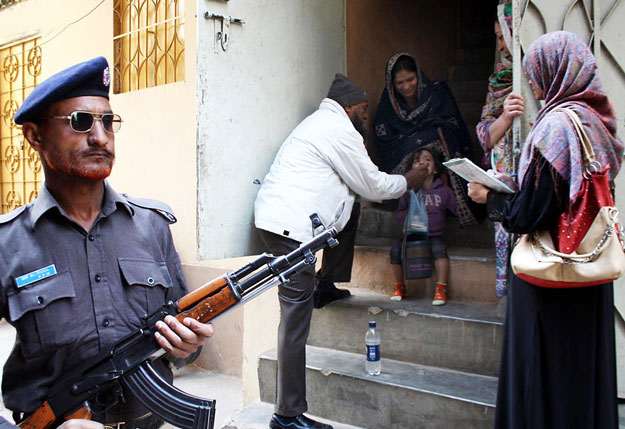 ---
The vicious attacks on polio workers remind us of the militants' determination to enforce their vision of Pakistan through brute force. The anti-polio campaign is in deep trouble: last week, two polio workers and their police guard were killed while administering the polio vaccine to children in Mansehra, leading to the suspension of the anti-polio drive in the high-risk area. A day later, a polio worker was killed and another wounded in Bajaur. While the polio campaign has been a target of extremists since the days of Mullah Fazlullah's poisonous broadcasts in Swat, it is after the Osama bin Laden raid that attacks on polio workers have grown more deadly. Opinion has consolidated that the programme is a front for espionage and since 2012, over 76 polio workers — who go door-to-door to protect our children from the crippling disease — have been slain. In this regard, the federal government's recent suggestions given to provincial governments are welcome although their effectiveness remains to be seen. The government's suggestion to cordon off areas for anti-polio drives in coordination with law-enforcement agencies may be a step in the right direction. Also, as the federal government has suggested, all provincial governments should consider intelligence reports before launching anti-polio campaigns.

All governments need to re-think their strategy on eliminating polio. With polio cases on the rise, Pakistan presents the threat of transmitting the virus to other countries, and for the sake of our children's health and our international standing, serious efforts need be made to eradicate the disease. At this point, however, the polio immunisation drives are more than just a health issue. The lawlessness which has resulted in the killing of polio workers poses a challenge to the writ of the state. The polio campaign has become another arena of war and must be treated as such. Providing guards to polio workers has not proved to be enough since drives are carried out without adequate, if any, intelligence, and both workers and their protectors have continued to be killed. Certainly, the fight against polio must be carried out on a war footing and any additional security resources deployed for it are being put to good use. The health of our children, after all, is of the utmost importance.

Published in The Express Tribune, March  23rd,  2015.

Like Opinion & Editorial on Facebook, follow @ETOpEd on Twitter to receive all updates on all our daily pieces.