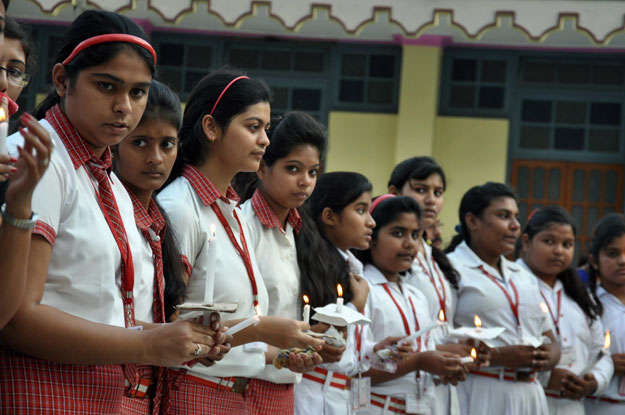 ---
KOLKATA: Prayers were said at churches across India Sunday for an elderly nun who was gang-raped at a convent in an attack that has intensified anger over sexual violence and fuelled fears among beleaguered Christians.

The assault on the 71-year-old is the latest in a string of high-profile rapes in India and comes amid a spate of attacks on churches that prompted Hindu nationalist Prime Minister Narendra Modi to promise a crackdown on religious violence.



The nun was attacked late Friday after a gang of half a dozen robbers broke into a convent school in eastern West Bengal state and ransacked the premises, police said.

The robbers gagged a security guard before assaulting the nun. They then entered the principal's room and stole cash, a laptop and a mobile phone, according to police.

Four of the six attackers have been identified through CCTV footage and a reward of 100,000 rupees (around $1,500) is on offer for any leads on the suspects.




This closed circuit television image captured on March 14, 2015 at the Convent of Jesus and Mary in Ranaghat, 70 kilometres north of Kolkata, and released by West Bengal Police shows three suspects in the gang-rape of a 71-year-old nun at the convent.  PHOTO: AFP

Eight others have been detained for questioning, but a breakthrough has proved elusive so far.

Arnab Ghosh, a police superintendent who visited the convent near the town of Ranaghat, said the robbery appeared to have been carefully planned.

"CCTV footage showed that six men, aged between 20 and 30, scaled the boundary wall around 11.40 pm (1810 GMT) and entered the school and disconnected the telephone lines," he told AFP.
"At least two of them were armed and the rest were carrying burglary tools. In the chapel, a holy scripture was found torn and... a bust of Jesus was broken," Ghosh said.

Prayers were held Sunday in churches in West Bengal for the nun, who is recuperating at a hospital in Ranaghat, some 70 kilometres (45 miles) from the state capital Kolkata.

"In our Sunday Mass, we prayed for the sister to recover quickly from trauma, fear and her physical injuries," Thomas D'Souza, the archbishop of Kolkata, told AFP.




Indian activists from the Communist Party of India Marxist (CPIM) holds banners reading "Protest against rape of nun" during a rally in Siliguri on March 15, 2015. PHOTO: AFP

"They not only committed a heinous crime, but they also vandalized the chapel... This is the first time such an attack has happened in India."

Christian leaders in state capital Kolkata said they were planning to hold a candlelight vigil on Monday followed by a solidarity rally in support of the victim.

"We are shocked that a thing like this has happened in our state. We want the culprits to be arrested and brought to justice swiftly," Father Saroj Biswas told the NDTV news network.

Late Sunday, a church under construction in northern Haryana state was vandalised and the cross replaced by an idol of Hindu god Hanuman, the Press Trust of India news agency reported.

Senior police officer Saurabh Singh told PTI a case has been registered against 14 people.




Christians nuns stand next to the Convent of Jesus and Mary in Ranaghat, 70 kilometres north of Kolkata, as investigations continued into the gang-rape of a 71-year-old nun at the convent. PHOTO: AFP

In the western state of Goa, which has a sizeable Christian population, the attack on the nun was condemned during the morning mass while there were also prayers for her in the national capital New Delhi.

The gang-rape has added to the sense of fear and dismay among the country's Christian minority, which has been deeply upset by attacks on churches.



Read: India's Modi orders crackdown on attacks on Christian buildings



Modi had been heavily criticised for not speaking out earlier against religious violence and has also faced flak for remaining silent about a spate of mass "re-conversions" of Christians and Muslims to Hinduism.

"Even if you call (the rape) an isolated incident, the background and the atmosphere for such an attack had already been there, so you cannot simply ignore it as a one-off incident," Father Savarimuthu Sankar, a spokesman for the Delhi diocese, told AFP.

The incident also adds to a grim record of horrifying sexual assaults in India, which last week banned a documentary about a December 2012 gang-rape that sparked domestic and international outrage.



Read: A girl is far more responsible for rape than a boy, says Delhi bus rapist



The deadly assault on the young physiotherapy student highlighted the frightening level of violence against women in the world's second most-populous country and triggered mass protests.

It led to a major reform of India's rape laws, speeding up trials and increasing penalties, although many campaigners say little has changed for women on the ground.
COMMENTS (9)
Comments are moderated and generally will be posted if they are on-topic and not abusive.
For more information, please see our Comments FAQ