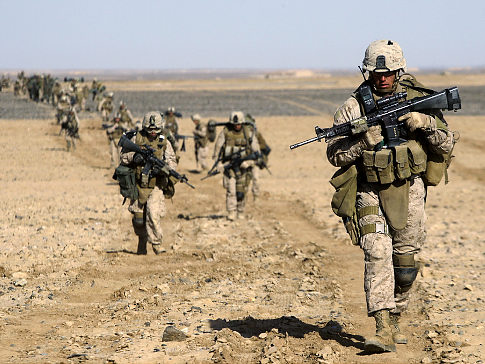 ---
TALLINN: Secretary of State Hillary Clinton and her Nato allies planned on Friday to discuss ways to ensure strong civilian support to Afghanistan beyond July 2011 when US forces start winding down their mission.

Clinton and Nato chief Anders Fogh Rasmussen will also continue to urge the 28-member alliance to help find 450 new trainers to help build up the Afghan army and police to take responsibility for national security on their own.

"We want to continue to empower the Afghans, and gradually hand over to them greater responsibility for the security of their own country when conditions permit," Rasmussen told Nato foreign ministers in Estonia on Thursday. "This means that we must continue to train and educate Afghan soldiers and Afghan police.

And it is why I will continue to urge all allies and partners to contribute to our Nato training mission in Afghanistan," he said in a speech. "This, as well, is very much a matter of solidarity. Because the more that we, together, invest in transition now, the sooner the Afghans can take over themselves," he said.

In Brussels, earlier this week, he said 450 trainers were needed. Rasmussen said the ministers would also seek to agree "on the principles and decision-making framework" for security duties to be handed from Nato and US-led forces to the Afghans next year.

Nato leads a force of some 90,000 troops drawn from more than 40 nations and whose aim is to restore stability and democracy to Afghanistan in the face of a virulent insurgency. A senior State Department official travelling with Clinton said the chief US diplomat will on Friday "cover the whole gamut of issues, with the emphasis on the civilian side: where things stand, where they need to go." Her talks will also include those with Afghan Foreign Minister Zalmai Rassoul.

"It won't be limited to police training," the official told reporters on the condition of anonymity, adding "the secretary will give more impetus to closing that shortfall." Asked if she would urge other members to match US efforts to deploy more agriculture, legal and other experts to Afghanistan, he replied: "It's not just about bodies on tho ground." It will be about "how to maintain a long-term civilian commitment there, not just us but the entire coalition of nations that are involved, as well as non-troop contributing countries like Japan and others," he said.

She will focus on "really understanding what the next year looks like going into July 2011 and then what we expect the beginning of the transition to look like." In announcing his revamped strategy for Afghanistan in December, President Barack Obama ordered the deployment of 30,000 new troops to the war-torn country and named July 2011 as the date for their drawdown to begin.

But he has repeated that the speed of the US drawdown and departure from Afghanistan of US and allied troops would be dictated by how successful they were in stabilising the country.

Rasmussen meanwhile called for fairer ways of sharing the cost-burden in Afghanistan. "When it comes to operations, the basic principle is that 'costs lie where they fall,'" he said "Which means that Estonia pays for the deployment of Estonian troops to Afghanistan, just as the United States, Poland and all the other allies pay for their own contribution," the former Danish prime minister said. "To my mind, this is not the best incentive for allies to participate," Rasmussen said. "I personally would like to see a much greater use of common funding to finance our alliance and our operations."
COMMENTS
Comments are moderated and generally will be posted if they are on-topic and not abusive.
For more information, please see our Comments FAQ