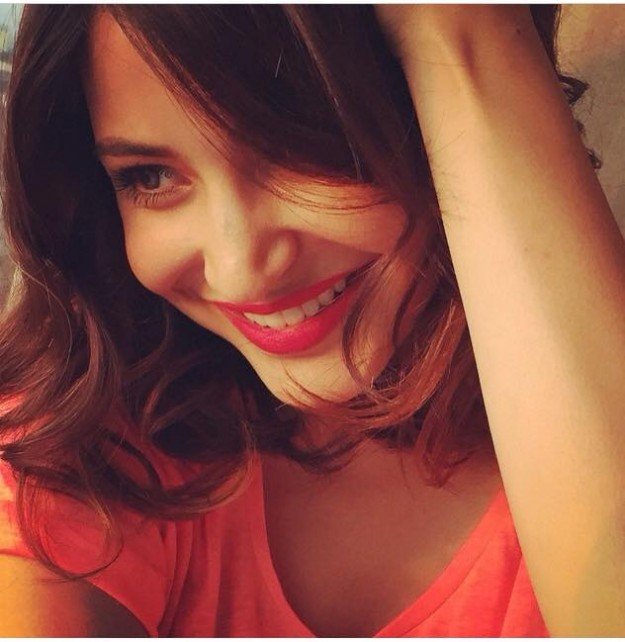 ---
One of Bollywood's most sought after actors, Anushka Sharma is all set to entertain her fans with her thriller film NH10. The starlet, who is currently dating Indian cricketer Virat Kohli, recently told The Express Tribune in an interview that she receives a lot of love from Pakistan and would love to work in a Pakistani film if given a chance.

There is no denying Anushka is hugely popular on this side of the border. Here are 10 fun facts about her, courtesy Times of India, which you probably didn't know:






1. Born on 1st May, 1988, in Bangalore, Anushka Sharma belongs to an army family and even went to an army school. Her parents are originally from Uttrakhand and while her father Col. Ajay Kumar Sharma is an Army officer, her elder brother Karnesh is in the Merchant Navy. Prior to that, he played state level cricket. Graduating from Mount Carmel College, Bangalore, it was Anushka's dream to become a model. The leggy lass walked the ramp for Wendell Rodricks and has appeared in a number of campaigns. She came to Mumbai, the city of dreams, to pursue her modelling career further. According to a report on indiatoday.in, the actress was even contemplating a career in journalism.






2. According to a report on Bollywoodlife.com, Ranbir Kapoor made Anushka Sharma cry on the sets of Bombay Velvet. While Anushka is apparently a very private person, Ranbir reportedly loves fooling around with his co-stars. During one such episode, Ranbir Kapoor had allegedly irritated the actress so much that Anushka started crying. However, Anushka maintains that Ranbir is a good actor and that she respects him.




3. Interestingly, though Anushka was highly appreciated for her performances in films like Band Baaja Baraat and Rab Ne Bana Di Jodi, she never won a Filmfare award for the two films, in spite of being nominated. Talking about how she felt, Anushka said in an interview to idiva.com, "I cried on my way back home because I felt I deserved it. I was naive. Attending an award function was like going for a college award show, the feeling was that Sab ko mila mujhko nahi mila kind. That year, all the newcomers were given a scroll and I didn't get even that. I felt like sh*t. I thought I'd get the Filmfare trophy because I had done my calculations. I thought since Asin had already got the Best Actress Award at the Filmfare (South) Awards, she wouldn't be given a debut award up North. So I wept in the car. My mum was like, what is wrong with you? At another award function, I was backstage. I didn't get an award there either. I met Mr Amitabh Bachchan and he addressed me by my name. I was surprised. He said he'd seen the film and it was a fabulous performance. He said, 'Bahut samay ke baad I've seen such raw talent.' That's when Asin passed by with her award. And I told him, I've got my award. These were signs from God that everything would be fine. And it is."




4. Anushka had a big Bollywood debut with Rab Ne Bana Di Jodi and while the movie was a huge hit with audiences and Anushka was well appreciated, she had her own set of struggles. According to India Today, she took a day to prepare for her screen test for YRF's Rab Ne Bana Di Jodi and refused to do an impromptu one. She was even told by Aditya Chopra that she was not the most good-looking girl around but that she was talented, as per her interview on idiva.com. But she proved herself and Anushka bid adieu to her modelling career. In her interview to TOI.com, Anushka did not consider herself to be a good model. "I don't think I was a good model. I think I was born to emote and act. I would walk down the ramp and smile and they used to say, 'give us a blank look.' It was really difficult, not to smile," she said.




5. Anushka has also gone on record to say that she loves attention. According to her interview on indiatoday.in, she was candid about it. "I am not spoilt as I was brought up in an army background. But every actor is an attention-seeker. It is an occupational hazard for us. If I don't seek attention, I will not be doing my work well." Reportedly, her favourite actor is none other than her Rab Ne Bana Di Jodi co-star Shah Rukh Khan. According to reports on TOI.com, Anushka was very nervous shooting the first scene of her debut film opposite the king of Bollywood. But the actor apparently calmed her down by telling her she was a good actress and that he did not need to act with her but just react. Not only that, Anushka was also intimidated by veteran actor Pankaj Kapur while shooting for Vishal Bhardwaj's Matru Ki Bijlee Ka Mandola. "I was intimidated by him. He doesn't talk much so you are always on tenterhooks around him. But it is such a pleasure seeing him act. He doesn't drink and he has played an alcoholic," said Anushka in her interview to India Today.




6. Anushka however, considers every actress to be competition. "Every actress today is competition for me. I will not make a statement like 'I am competing with myself and need to make myself better' etc because everyone here is dying to get the best roles." This of course includes Katrina Kaif. "Of course. Katrina is a beautiful face and she has a great body of work behind her. You can never argue with that. And she has tremendously grown as an actor. We all know that a beautiful face is an important aspect of an actor's personality if he or she wants to make it big in Bollywood," said Anushka in her interview to TOI.com.




7. Anushka's performance in Band Baaja Baraat was highly lauded and the pretty actress even won the Dadasaheb Phalke Academy Awards for this film. Interestingly, she has been nominated 19 different times for film awards and of those 19 nominations she's won 10 of them, according to reports on Bollywoodhungama.com. But she has not been so lucky with the 'Black Lady' (Filmfare). Anushka has only won the Filmfare Award for Best Supporting Actress for her role in Jab Tak Hain Jaan. She had once said in her interview to idiva.com that it is difficult to date an actor. Anushka was rumoured to have dated her Band Baaja Baraat co-star Ranveer Singh but the rumours soon died down.




8. In her free time, the actress reportedly loves to catch up with her friends and also catch up on sleep. She loves reading and her favourite movies include The Shawshank Redemption, Life Is Beautiful, In the Mood for Love, Fish Tank, Jab We Met, Dilwale Dulhania Le Jayenge, Chak De! India and Dil Se to name a few. She is also a fan of romantic movies. Anushka is also pursuing her Masters in Economics through correspondence. Reportedly, her favourite colour is black. In her interview with Tehleka.com, the actress revealed that she bought the three things she had promised herself - a designer bag, a house and a Range Rover.




9. In her interview to glamsham.com, Anushka mentioned that she was friends with director Maneesh Sharma for three years who was instrumental in her bagging the lead role in Rab Ne Bana Di Jodi. The two first when she came to audition for the same film. Considers herself to be one of the boys. In her interview on anushkasharmaweb.com, the leggy lass was quoted saying, "Well, I don't know if this makes sense, but I have always been one of the boys. I always get along better with the guys. They have a lot more in their conversations and I like that. I am not judging anyone, just stating what I am comfortable with." She has officially made her debut on Facebook where she will have her official page. Anushka is already on twitter with a fan following of 3.6 million.




10. Anushka believes the size zero trend is a myth. "I have been like this only. This size zero thing is a big myth because the size is actually meant for babies. How will I fit into a baby's attire? On a serious note, I work for 17-18 hours everyday and sleep for very few hours so do you really feel I can survive being so thin? If I were not fit I would have been hospitalised. I work out everyday and eat consciously. I am just right!" she said in an interview to TOI. For her role in PK, the actress even requested director Rajkumar Hirani and Aamir Khan if she could have the transistor as a memento. The transistor plays a pivotal role in the movie and seems to have caught Anushka's fancy.



   
COMMENTS
Comments are moderated and generally will be posted if they are on-topic and not abusive.
For more information, please see our Comments FAQ