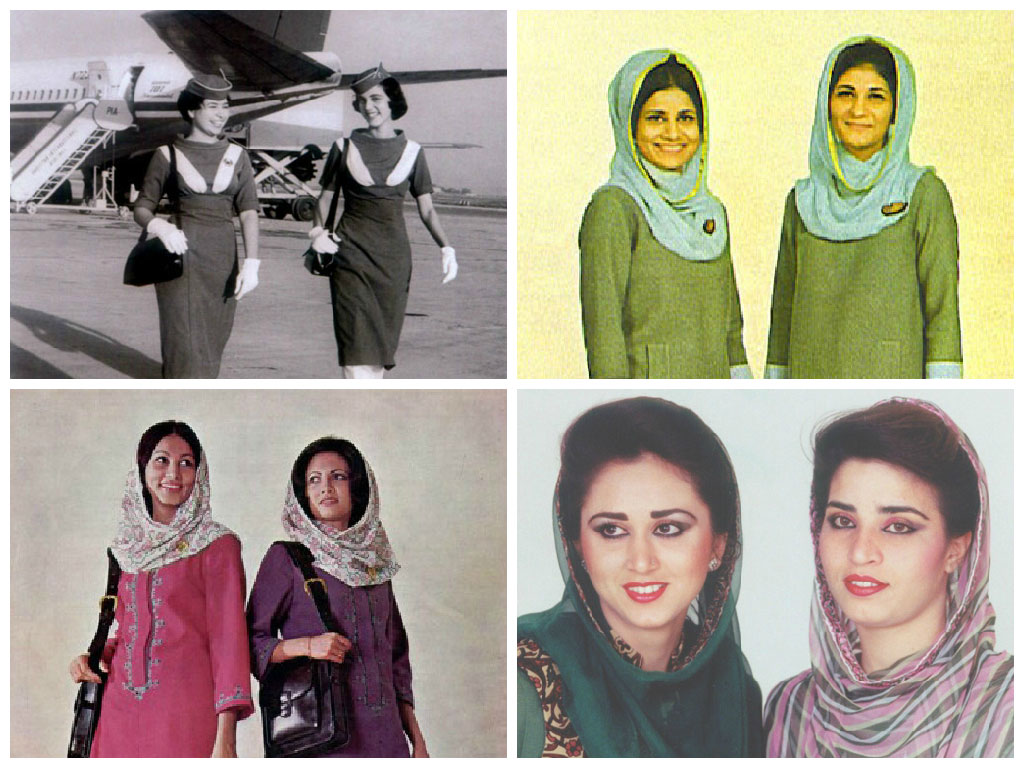 ---
KARACHI: National flag carrier Pakistan International Airlines (PIA) has been through its fair share of ups and downs. It has gone from being the pride of a nation to being the subject of regular ridicule. And while the Privatisation Commission moves ahead with its agenda to sell-off the airline, The Express Tribune has learnt about a less controversial and welcome development regarding the airline.

In an effort to preserve its illustrious history while also keeping up with the times, PIA has hired the country's top designers to design the airline's uniforms.

The designers include: Maheen Khan, Shamaeel Ansari, Sonya Batla, Amir Adnan, Nida Azwer, Ismail Farid, Omer Farooq, Fahad Hussayn, Maheen Karim, Misha Lakhani, Sania Maskatiya, Yasmeen Sheikh, Shamoon Sultan of Khaadi, Ali Xeeshan and HSY.

A panel of seven independent judges will select the winning design and PIA is expected to debut the uniforms by June this year.

Speaking to The Express Tribune, organiser of the event and CEO of Spectrum Group Shahnoor Ahmed said, "The key inspiration comes from Bunto Kazmi who has collected 16 designers working free of charge and in national spirit."

Kazmi was initially offered to solely design the uniforms herself, but she instead chose to approach 16 designers to do the job, The Express Tribune learnt.

"It should be smart, convey a professional image, be functional in use and reflect Pakistan," Shahnoor said, when asked what the designers would be working towards when it came to the design of the new uniforms.

"We will have to wait and see what the vision of the designers is; however, they have been briefed to reflect our identity," he added.

Further, Misha Lakhani, one of the designers chosen for the challenge said, "The uniforms will be representative of Pakistan and who we are rather than our brand itself."

Misha said she is designing two male uniforms and three female uniforms.



http://instagram.com/p/z5NOSHzJtH/



Meanwhile, Sania Maskatiya said, "The challenge is to give the national carrier a new image; so, it has to be something practical, something simple. It cannot be funky so air hostesses do not look out of character and like models."

"Our uniforms are a blend of East and West," she added.

The contemporary designers will be revealing their designs at a fashion show held by Catwalk Event Management & Productions on March 16.



Going back in time 

Breaking away from traditions, PIA was the first airline in the world to incorporate local attire as its uniform as other airlines, including Air India, British Overseas Airways Corporation (BOAC) and Malaysia-Singapore Airlines (MSA) followed suit.

Ever since PIA took to the skies, all eyes have been on what the crew are wearing. From tweed jackets and skirts to a plain shalwar kameez and floral dupatta, over the years PIA has come up with some iconic looks to style the attendants.

While some uniforms went from glam to drab, high-end style is sure to return to the airline as the country's top fashion houses have stepped up to the challenge.

Before PIA debuts their new uniform, we take a look at the airline's uniforms throughout the years:



1954-1966






Ever-stylish, during this period, the female crew donned a grey tweed jacket, a skirt, a blouse and a matching cap, representing threads of history and monarchy.



1956-1960






Jointly designed by renowned designer Laila Shahzada and Chausie Fountainer, the uniform was true to the colours of Pakistan's flag and the national dress exuded style. A white shalwar and dupatta was set off by a green shirt with white cuffs and collar. The look was paired with a green cap, black shoes and bags for the hostesses.

Founatiner, an American woman of French descent, was a cabin crew trainer with PIA on a five-year deputation from Pan American World Airways.



1960-1966






Tweaking the uniform a little, Pakistani fashion dilettante Feroze Cowasji abbreviated the slim folded dupatta.



1966-1975






Next in line, renowned fashion designer Pierre Cardin took the mantle and designed a legendary fawn uniform for summer and moss green uniform for winter.

The uniform then consisted of a short, easy fitting "A" line tunic, slim-line trousers and a folded dupatta.

The uniform became an instant hit, the slim-line trousers immediately dubbed 'PIA Pyjamas'.




1975-1986




In 1975, the uniform was updated by Sir Hardy Amies, best known for being the royal dress maker to Her Majesty Queen Elizabeth II of United Kingdom.

The purple and magenta shirts had embroidered fronts, with green shalwars and pretty printed dupattas inspired by the folk wear of Pakistani village women.








Teamed with black bags and smartly-styled comfortable black leather sandals, these bright uniforms introduced a cheerful note on board.



1986-2003






In 1986, switching to seasonal colours as introduced by Pierre Cardin, Pakistani designer Nahid Azfar introduced moss green and gold rose for summer and burgundy and green for winter.








The winter uniform was worn with a traditional Moghul sleeveless waistcoat with flowery trailing vine pattern in green and maroon on a beige background. Both outfits came with matching dupattas trimmed with a braid. The summer outfits were teamed with striped chiffon dupattas trimmed with green and pink floral patterned braid. The braid was also sewn on the sleeve edges and the side slit of the kameez. The bags and shoes were in burgundy, and for the winter there was a burgundy coloured overcoat.








Current design

The current uniform designed by Riffat comes in three colours mustard, sea green and rust paired with a floral printed dupatta. A braid with floral patterns is sewn on the kameez and edges of the sleeves.








Fun fact

America's Next Top model's judge, noted fashion photographer, author, spokesperson, filmmaker, and former model Nigel Barker's mother modeled for PIA.

In an Instagram post, Barker wrote:

"At 18, she used the money she earned from posing for Pakistan International Airlines and Ceylon Woman magazine, from swimsuit modeling, and from acting in films such as The Bridge on the River Kwai to bring her mother and sister over to England with her when she emigrated in 1961."



http://instagram.com/p/zkcaKAPNBa/?modal=true
COMMENTS (13)
Comments are moderated and generally will be posted if they are on-topic and not abusive.
For more information, please see our Comments FAQ