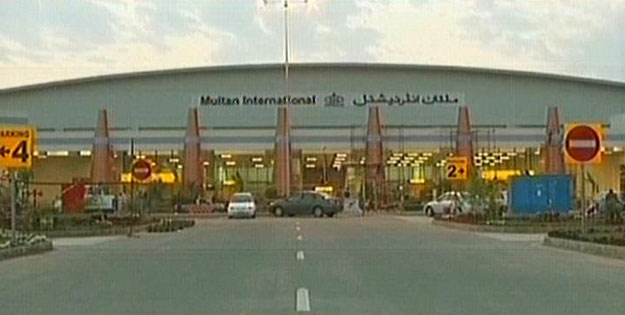 ---
MULTAN: Prime Minister Nawaz Sharif inaugurated a new terminal of the Multan International Airport, five years after its completion, Radio Pakistan reported. 

The project has been completed at the cost of Rs9 billion and is aimed at providing modern facilities to passengers.

Initiated to expand the existing airport, the new terminal has enabled wide-bodied aircraft to land and take off for direct international passenger and cargo flights.







AN EXPRESS NEWS SCREEN GRAB


International cargo flights from Multan will boost the exports of fruits, particularly mango.

In addition, a cargo complex has also been built with the storage capacity of 10,000 tons and preservation of perishable vegetables and fruits.

The Civil Aviation Authority (CAA) officials say a number of international airlines have applied for operating direct flights to and from Multan.



Speaking at the inauguration, the premier said that many would reap the benefits of the new terminal at the airport.

"The new facilities at the airport are on par with international standards," the PM said adding that "the new terminal will boost our imports and exports."

He marked the importance of Multan and southern Punjab to the whole country and regretted that south Punjab was neglected in the past.

"I like the quality and the look of the airport and I can now say that Multan airport is my favourite in the country," PM Nawaz stated.

He lauded the efforts of the CAA and the work that was put in to create the new terminal and facilities. He also added the importance of maintaining the airport.

Commenting on the Pak-China economic corridor, the premier said that the progress is coming along well.

"The government is working day and night to ensure infrastructure projects are underway across the country," he said, noting that "no country can move ahead economically without the elimination of terrorism."

Read: Work on Lahore-Karachi motorway to begin soon: PM 

PM Nawaz Sharif also made comments pertaining to the end of the energy crisis in Pakistan and informed that the government would be bringing an additional 10,000 MW of electricity to aid with the crisis.

Read: Qatar helping Pakistan overcome energy crisis, says CM

The PM assured that the electricity crisis would end in his tenure and that the country was on its way to growth and the benefits would be visible to everyone across the nation.


COMMENTS (11)
Comments are moderated and generally will be posted if they are on-topic and not abusive.
For more information, please see our Comments FAQ