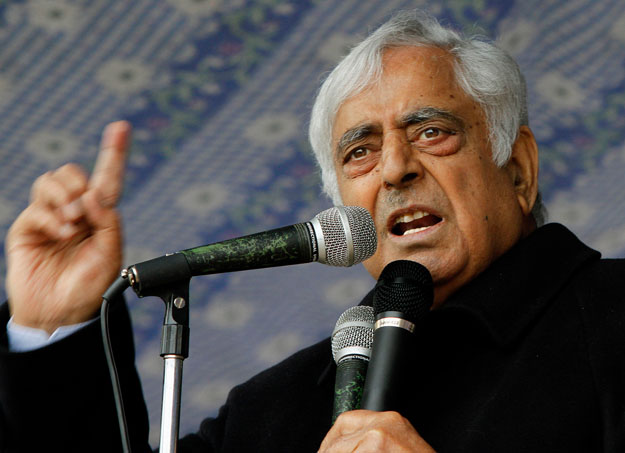 ---
NEW DELHI: On his first day as Chief Minister of Indian-administered Kashmir Mufti Muhammed Sayeed praised Pakistan, Hurriyat leaders, and other outfits for the conduct of peaceful assembly elections, The Economic Times reported.


"I want to say this on record and I have told this to the Prime Minister (also) that we must credit Hurriyat, Pakistan, militant outfits for the conduct of assembly elections," Sayeed said at his maiden news conference as chief minister.

"People from across the border made the atmosphere conducive," he said. "They also allowed the democratic process to continue in the state. This gives us hope."

Read: India's ruling Hindu party forms coalition in mainly Muslim Kashmir

Sayeed said any subversive activity could have affected electoral participation, especially in Srinagar.

"I am proud that Srinagar, the heart of Kashmir also came forward and voted," he said.

Former chief minister Omar Abdullah reacted to Sayeed's comment. He tweeted: "Dear @BJP4India Please explain roll of security forces & polling staff considering your CM just said "Pakistan allowed elections in J&K".

Meanwhile, the Indian government dissociated itself with Sayeed's statement, NDTV reported.

Indian Home Minister Rajnath Singh said his government and Bharatiya Janata Party (BJP) distances itself from the Sayeed's remarks in Lok Sabha, where opposition parties shouted demands for an explanation from the government.

"The credit for conducive environment for polls in Jammu and Kashmir goes to the Election Commission, our armed forces and people of Jammu and Kashmir," Singh said.

Read: India's Modi meets incoming Kashmir leader after deal

The home minister said he was making the statement after discussing it with the Prime Minister.

The Congress questioned why Indian Prime Minister Narendra Modi did not raise objections to Mufti's comment and walk out of Lok Sabha.
COMMENTS (25)
Comments are moderated and generally will be posted if they are on-topic and not abusive.
For more information, please see our Comments FAQ