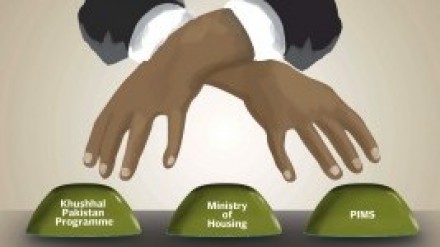 ---
ISLAMABAD: The Public Accounts Committee has sought an explanation from the Prime Minister's Secretariat about an "irregular" transfer of Rs15 million and "authorising" the secretary health to use taxpayer money according to his wish. In a meeting of the PAC on Thursday, Director General Federal Audit Syed Gulzar Hussain revealed that Prime Minister Yousaf Raza Gilani on June 28, 2008 directed to withdraw Rs15 million from the Khushhal Pakistan Programme account and deposit the same in a non-lapsable fund of the Ministry of Housing and Works aimed at utilising it in the next financial year.

"It is a very serious irregularity and amounts to misappropriation," remarked PAC Chairman Chaudhry Nisar Ali Khan. In his testimony to the PAC, Secretary Health Khusnud Akhtar Lashari said "out of the Khushhal Pakistan Programme, Rs15 million had been given to PIMS (Pakistan Institute of Medical Sciences) without telling us the purpose."

Later, he said, the PM Secretariat told the ministry that "our parliamentary secretary will guide us how to spend the money." The PAC sought explanation from the PM Secretariat as to why the particular person was given the responsibility for utilisation of funds and why the money in violation of rules and regulations was transferred to a non-lapsable account of the Ministry of Housing and Works. "The PAC takes a very serious view the way public money is being handled by the PM Secretariat," said the committee chairman. In order to check misuse of official vehicles, the PAC constituted a special committee.

The body will be headed by Khawaja Muhammad Asif of PML-N and comprise Nadeem Afzal Chun of PPP, Haider Abbas Rizvi of MQM and Sardar Bahadur Ahmed Sehar of PML-Q. The committee has been assigned the task to give a comprehensive report on the misuse of cars in all government ministries, divisions and attached departments and submit a report in one month. The committee also grilled the secretary health for financial mismanagement. The office of the Accountant General of Pakistan Revenue told the PAC that the ministry despite having billions of rupees could not initiate development schemes. Khusnud Lashari said that about Rs4 billion could not be spent in 2008 as the finance ministry released the funds in the last quarter of the financial year.

He disclosed that so far the finance ministry has only released 51 per cent of the Rs23 billion health budget and expecting the health ministry to spend more than Rs9 billion in two months would be unrealistic. "If we do not get the requisite amount, our health indicators will go down," he said. The PAC directed the secretary to monitor all development schemes on monthly basis and submit a report before June.