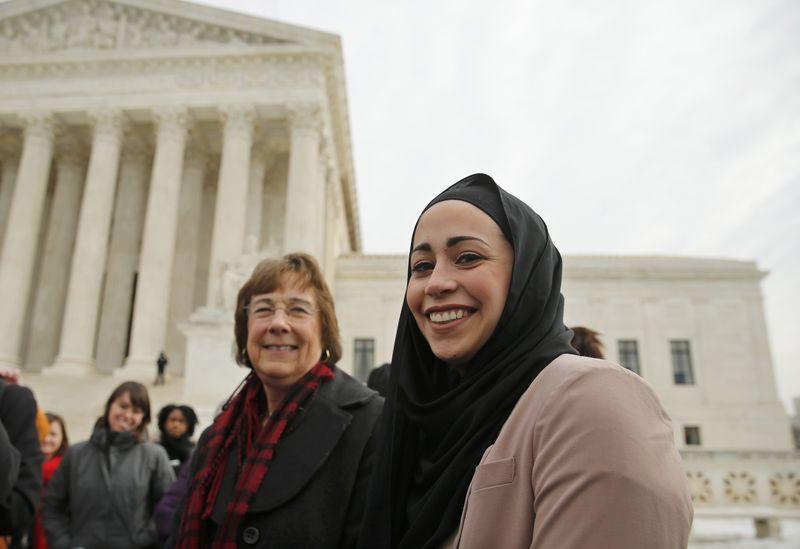 ---
WASHINGTON: A majority of US Supreme Court justices on Wednesday signaled support for a Muslim woman who filed a lawsuit after she was denied a job at an Abercrombie & Fitch Co clothing store in Oklahoma because she wore a head scarf for religious reasons.

The nine justices heard a one-hour argument in an appeal brought by the US Equal Employment Opportunity Commission (EEOC), a federal agency that sued the company on behalf of Samantha Elauf. She was denied a sales job in 2008 at an Abercrombie Kids store in Tulsa when she was 17.

The case involving alleged workplace discrimination against a young Muslim woman in the American heartland comes before the top US court at a time when some Western nations are struggling with culture clashes relating to accommodating local Islamic populations. The United States has not, however, faced the same tensions as some European countries including France.




Samantha Elauf (R) stands with her mother Majda outside the US Supreme Court in Washington, February 25, 2015. PHOTO: REUTERS

The legal question is whether Elauf was required to ask for a religious accommodation in order for the company to be sued under the 1964 Civil Rights Act, which, among other things, bans employment discrimination based on religious beliefs and practices.

Elauf was wearing a head scarf, or hijab, at the job interview but did not specifically say that, as a Muslim, she wanted the company to give her a religious accommodation.

The company denied Elauf the job on the grounds that wearing the scarf violated its "look policy" for members of the sales staff, a policy intended to promote the brand's East Coast collegiate image.

During the oral argument, it appeared the court's four liberal justices are likely to vote in Elauf's favor. At least one of the court's conservatives, Justice Samuel Alito, seems set to follow suit.

Senior liberal Justice Ruth Bader Ginsburg criticised the company's argument that its decision not to hire her was based on the "look policy" and that whether or not Elauf was a Muslim was irrelevant.

Ginsburg said the civil rights law requires certain people to be treated differently to other applicants if they have a religious requirement.

"They don't have to accommodate a baseball cap. They do have to accommodate a yarmulke," Ginsburg said, in a reference to the cap worn by some Jewish men.

Alito said employers like Abercrombie could easily find out if prospective employees need a religious accommodation by simply asking if they are able to abide by work rules.

He noted that Abercrombie had assumed Elauf would wear the head scarf every day simply because she wore it at the interview. "Maybe she just had a bad hair day," Alito said.

Other conservative justices were more skeptical about the government's arguments.

Chief Justice John Roberts speculated that putting the burden on the employee to assess whether a religious accommodation is needed "may promote stereotypes to a far greater degree" by requiring interviewers to inquire about applicants' religious beliefs.

Read: Women rights: Rights campaigners speak up for female workers' protection 

It is for the authorities to weigh the difficulties faced by religious minorities -- in particular, Muslim women who cover their heads in public -- against the rights of employers to avoid "undue hardship."

This narrows down the question to whether the job applicant must request religious accommodation or should the employer recognise the need for it?







PHOTO COURTESY: ALAMY


A decade ago, Abercrombie & Fitch pledged to diversify its hiring, promotion and marketing practices after settling a $40 million lawsuit brought by black, Hispanic and Asian-American college students. Since then, the company says it has gone from fewer than 10% non-white sales associates to more than 50%.

In the recent case against the retailer, the federal government is charging it with discrimination as "it intentionally refused to hire Samantha Elauf because of her hijab, after inferring correctly that Elauf wore the hijab for religious reasons."

Read: Rights of working women: Gender discrimination, low wages irk female labourers

A half-dozen religious groups – ranging from Muslim to Christian, Jewish, Baptist, Evangelical and Sikh – have supported Elauf's case.

"This is an extremely important issue that affects people of many different religious faiths," says Gene Schaerr, a lawyer representing 15 religious and civil rights groups in the case. If the court rules for Elauf, it could benefit job applicants who need time off for religious observances as well as those who wear religious clothing.







PHOTO: TWITTER


Backed by the US Chamber of Commerce and other business groups, Abercrombie & Fitch contends that employers should not be forced to inquire about a job applicant's religion, for fear of appearing to discriminate. In 2008, it was noted that Elauf did not mention that she had to wear the headscarf because of her faith.

"Accommodating religious practices is not always straightforward, in large part because it can be hard to tell who wants or needs accommodation," the company's brief to the court said, adding that "It is generally the employee's or applicant's duty ask for an accommodation – not the employer's job to guess."

Initially, a federal district judge ruled for Elauf; however, an appeals court reversed the order and said it was the job applicant's responsibility to ask for the exception -- just as people with disabilities must do under the Americans with Disabilities Act.







PHOTO COURTESY: ALAMY


 

The company in this case is not just any company. Abercrombie & Fitch described its clothing as "rugged casual wear modeled after the preppy look of the Ivy League." Its abercrombie kids stores, like the one where Elauf applied, cater to pre-teens and middle-schoolers, while its Hollister outlets sell "casual clothing inspired by Southern California" to high-schoolers.

The clothier's "look policy" affects the type of clothing, jewelry and makeup its sales representatives can wear, including atop their heads. But it often grants exceptions upon request, including for head scarves.

"A&F has a longstanding commitment to diversity and inclusion, and consistent with the law, has granted numerous religious accommodations when requested, including hijabs," the company said in a statement.

Since 2008, Elauf's case has sparked a reaction among the Muslim community as well as other minorities. Social media sites were flooded with support for her case while others commented on A&F's "look" policy.




Abercrombie & Fitch was sued in 2003 for workplace discrimination after firing minority employees because they "did not fit the A&F image!"

— Facts In Your Face (@FactsInYourFace) February 25, 2015
This Supreme Court Case Unites Religions Against Abercrombie & Fitch http://t.co/sw7Kg1gFES pic.twitter.com/4VYWTkw7S5

— احمد حسين (@AHA1R) February 25, 2015


https://twitter.com/_BusinessCorner/status/570498751061565440


CNN: Supreme Court to hear religious freedom case http://t.co/Vwtr9QTw7q WHAT A WASTE OF MY TAX PAYER
'S DOLLAR

— Maydainlasvegas (@maydainlasvegas) February 25, 2015
COMMENTS (11)
Comments are moderated and generally will be posted if they are on-topic and not abusive.
For more information, please see our Comments FAQ