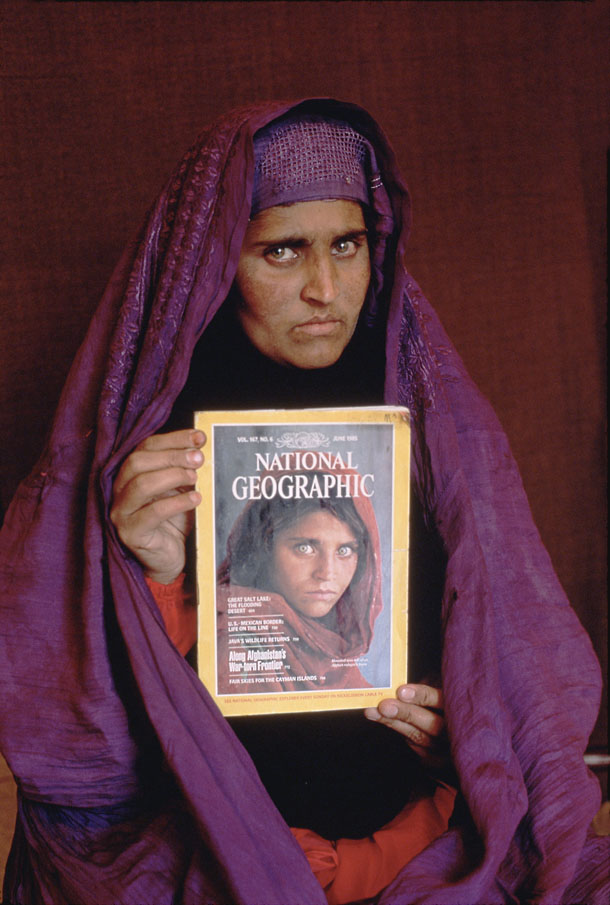 ---
The incharge of the Hayatabad centre of National Database and Registration Authority (NADRA) was suspended after the authority illegally issued Computerised National Identity Cards (CNICs) to National Geographic's famous 'Afghan Girl' - Sharbat Bibi - and her two sons,  Express News reported on Wednesday. 

Bibi became a recognised face world-over when renowned National Geographic photographer Steve McCurry captured her portrait at the Nasir Bagh refugee camp, situated on the edge of Peshawar, in 1984.

Read: National Geographic's 'Afghan Girl' issued Pakistani identity card

Besides Palvisha Afridi, a number of other officials were also suspended in this regard.

Earlier during the day, the agency had also cancelled CNICs of both the Afghan woman and her two sons,  Rauf Khan and Wali Khan.

A senior official in NADRA's Peshawar office, where the cards were issued, confirmed they were investigating after the famous green-eyed "Afghan girl" and told AFP that Sharbat Bibi and her two sons Rauf Khan and Wali Khan were issued cards on the same day.

He said all the documents she used to get the card, which only Pakistani citizens are entitled to, were fake and her "sons" were likely also not related to her.

A meeting was also held by the agency's top officials in this regard.





Sharbat Bibi's CNIC application form. PHOTO: Ahtasham Bashir


Sources at Nadra's Hayatabad office told Dawn that high-ups in the authority issued three CNICs on a single day last year to the 46-year-old Sharbat Bibi, wife of Rehmat Gul, and her two sons in violation of rules and regulations.





Men identified by Nadra as Sharbat Bibi's sons. PHOTO: DAWN


It is unlawful to issue a CNIC to Afghan nationals without adequate documentation and procedure to acquire Pakistani nationality.





Sharbat Bibi pictured on her Nadra form. PHOTO COURTESY: NADRA


Sharbat Bibi gained global recognition when her face was featured on National GeographicMagazine's cover in 1985. She was only 12 years old then and her photo was likened with Leonardo Da Vinci's Mona Lisa.

Officials say that Gula applied for an identity card in Peshawar in April 2014, using the name Sharbat Bibi.

She was one of thousands of Afghan refugees who managed to dodge the computerised system and to get an identity card last year.

Faik Ali Chachar, a spokesperson for the National Database and Registration Authority (Nadra), told AFP the Federal Investigation Agency was probing Gula's case.

"This is one of the thousands of cases which was detected last year and sent to the FIA. We are waiting for the findings of the inquiry," Chachar said.

"Our vigilance department detected (the) Sharbat Bibi case in August 2014 and sent it to FIA for further investigation the same month."

Many Afghan refugees try to get ID cards every day using fake documents, Chachar said.

"Around 23,000 cards of Afghan refugees were detected and blocked" in the 12 years since Nadra was launched, Chachar said.

The magazine also made a short documentary about her life and dubbed her the 'Mona Lisa of the Afghan war'. Sharbat remained anonymous for years after her first photo made it to the cover until she was rediscovered by National Geographic in 2002.

After Sharbat's family granted her permission to meet with the man who photographed her 17 years ago, McCurry knew immediately, even after so many years and many unsuccessful attempts, that he had found her again. "Her eyes are as haunting now as they were then," he had said.

Sharbat moved to Peshawar on 1984 along with her two sons and since then, has been residing in the Nasir Bagh camp established for Afghan refugees. According to the Nadra form, Sharbat is said to be a permanent resident of Peshawar's Nothia Qadeem area.

An inquiry was initiated into Nadra for issuing CNICs to foreign nationals without legitimate documentation.
COMMENTS (3)
Comments are moderated and generally will be posted if they are on-topic and not abusive.
For more information, please see our Comments FAQ