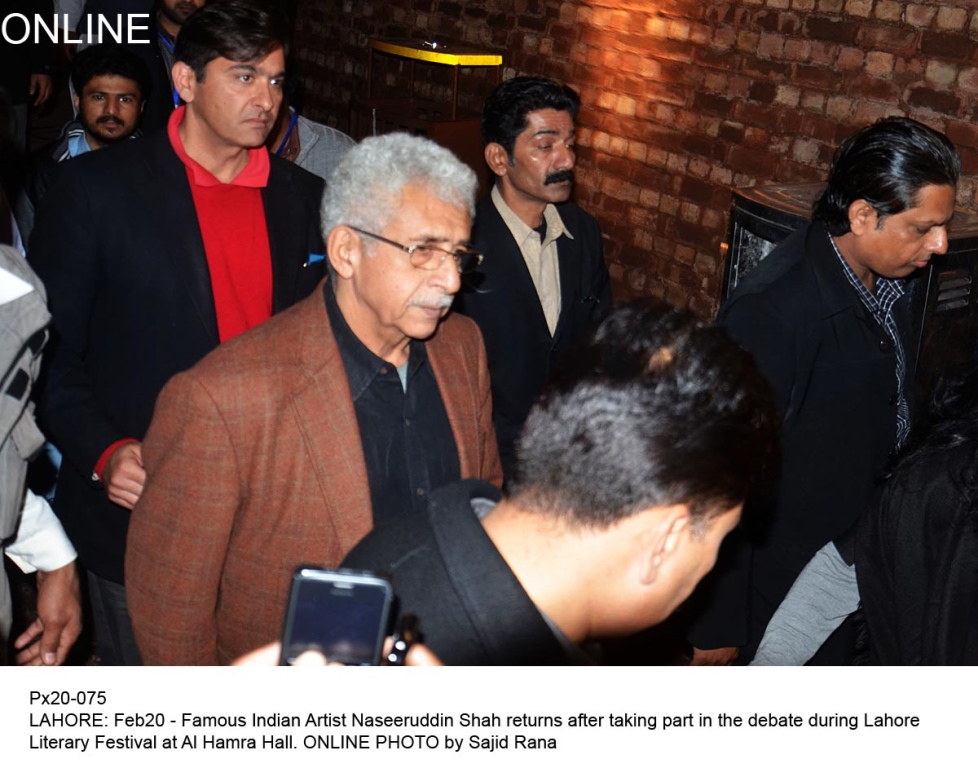 ---
LAHORE:



If you ask the award-winning, 65-year-old actor Naseeruddin Shah to choose between theatre and films, he would most likely opt for the former.




Shah was speaking at one of the last sessions on the first day of the third edition of the Lahore Literary Festival. As fans waited in long queues outside Hall 1 almost an hour before the start of the session, the audience from the previous session managed to stay put to catch the on-screen genius speaking about his autobiography, titled 'And Then One Day….'

"I think the living experience and exchange of energies that one witnesses in theatre is something that cannot be captured," said Shah giving reasons for his preference of theatre over films. "No audience is incidental. They are part of the play."

Theatre, Shah said, was a living medium that camera could never be. As for live audiences, no one comes having written off actors, he said.

"Even a hostile audience can be won with quality work. You have to establish a blissful connection with every single person. Everyone should be able to receive your performance in a similar fashion."

The actor spoke of re-examining relationships, playing Gandhi, his favourite actors and how the song Oye Oye had made his life difficult. Cinema, he said, was a combination of several art forms. He said it should be the responsibility of filmmakers to reflect the times they lived in.

As an actor, he feels it is his responsibility to be part of such films irrespective of where they are made – India or Pakistan.

Failed actors were those who gave up hope, he said. "That is why I advise young actors that there is nothing they can do but improve themselves. They should know what kind of an actor they want to become," Shah said. "The key question to ask is would one rather die then not act. One can do nothing [significant] unless there is an insane belief that you were born to do this. The one thing successful actors have in common is perseverance."

Shah said it was his fate to land the role of the iconic Urdu poet Ghalib, in the biographical television series Mirza Ghalib.

Shah said it had taken him 12 years to write down his book. "It covered the most interesting part of my life. I don't know… I don't think I will be able to write another," he said.

Published in The Express Tribune, February 21st, 2015.
COMMENTS
Comments are moderated and generally will be posted if they are on-topic and not abusive.
For more information, please see our Comments FAQ