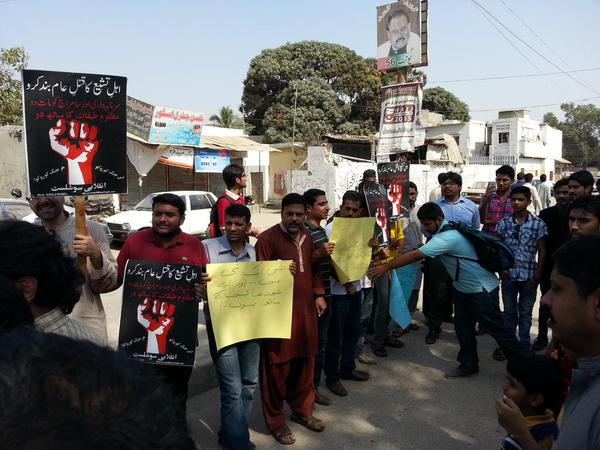 ---
KARACHI: Civil society activists, led by the Pakistan Youth Alliance and National Students Federation, formed a human shield outside an imambargah in Karachi during Friday prayers today.

Speaking to The Express Tribune, Nasir said that about 50-60 people showed up to the imambargah to form the human shield organised by the Pakistan Youth Alliance.

"We will be happy if people in other cities start forming this shield against terrorism," Nasir said. "We encourage people from other sects to join us to protest against these killings so that there is more empathy in society."


PHOTO: MUHAMMAD FURQAN/@MJibranNasir

A member of Pakistan Youth Alliance claimed that the four Shia Imambargah attacks in last five weeks were carried by Ahl-e-Sunnat Wal Jamaat (ASWJ) and Lashkar-e-Jhangvi (LeJ). These attacks in Rawalpindi, Shikarpur, Peshawar and Islamabad have killed around 93 people altogether and injured hundreds of people belonging to the Shia community.

"All Pakistanis are brothers and this is our way of showing solidarity."

The Pakistan Youth Alliance invited everyone to join their solidarity protest on Friday through Facebook.


PHOTO: MUHAMMAD FURQAN /@MJibranNasir

Their Facebook post read:

Sunnis, Shias and people from different religious backgrounds are joining PYA today to form a symbolic human shield in front of Masjid o ImamBargah Shah e Najaf, Martin road near jail Chowrangi, Karachi - 20th Feb, at 12:45pm . Please join us to protect our places of worship in lieu of 4 attacks in past 2 months on Imambargahs.

Watch a video of the protest here:

[/fbvideo]

On February 5, Nasir among 22 activists were taken into custody from near CM House in Karachi for violating the Red Zone, however, the police released them. Nasir and activists have been calling for action against religious outfit Ahl-e-Sunnat-Wal-Jamaat in Karachi and against Laal Masjid's Maulana Abdul Aziz in Islamabad.


PHOTO: MUHAMMAD FURQAN/@MJibranNasir