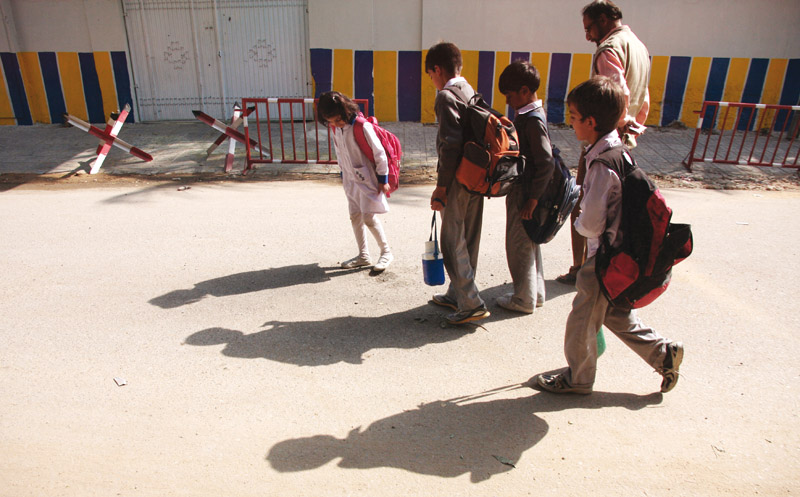 ---
KARACHI: Since the brazen attack on the Peshawar school, every school-going child faces the challenge of combating terrorism. To meet the need of the hour, students of eight government schools were provided an open forum to seek guidance from the law enforcement agencies' representatives on Tuesday.

Karachi Youth Initiative (KYI) joined hands with the Society for the Protection of the Rights of the Child (Sparc) to provide a platform to apprise more than 300 government school students of ways to counter violence at the Provincial Scout Headquarters, Sindh.

Investigation SSP Faizullah Korejo shed light on what terrorism is and how it affects us. "When the environment around you changes and makes you uncomfortable in stepping out of your doorstep, it is terrorism," he said.




He further shed light on how economy is crippled in the aftermath of a terrorist attack. "America is the biggest example because its economy was greatly affected for a particular time period after the 9/11 attacks."

In an attempt to engage the students, Korejo asked why the terrorists wanted to make our nation fearful of them. "They want to make us weak and uneducated because their motive is to ruin our future," said a student of Agro Technical School.

"After the Peshawar school attack, every student should understand that every law enforcement agency is there to protect you and your future," Korejo said.

District Central deputy commissioner Saifur Rehman also answered the queries of students on discrimination in society and its religious and social impacts. "The terrorist groups want us to be divided and they use discrimination to divide people," he said.

The head of the Pakistan Railway bomb disposal squad, Yaseen Bulro, talked to the children about what a bomb looks like and how to handle it. He told them about the five basic parts of a bomb and what preventive measures should be taken while handling a bomb.

"If you see any of the signs of a bomb such as a mobile phone attached to a box, lights blinking or a battery connected through tapes, inform your nearest police station immediately and stay away from it," he said, while giving his multimedia presentation.

Answering a question, ASP Shahla Qureshi said that we need training programmes for school-going children. "Our children, like those of our neighbouring countries, should be aware of basic self-defence techniques."

Published in The Express Tribune, February 18th, 2015.

 
COMMENTS
Comments are moderated and generally will be posted if they are on-topic and not abusive.
For more information, please see our Comments FAQ