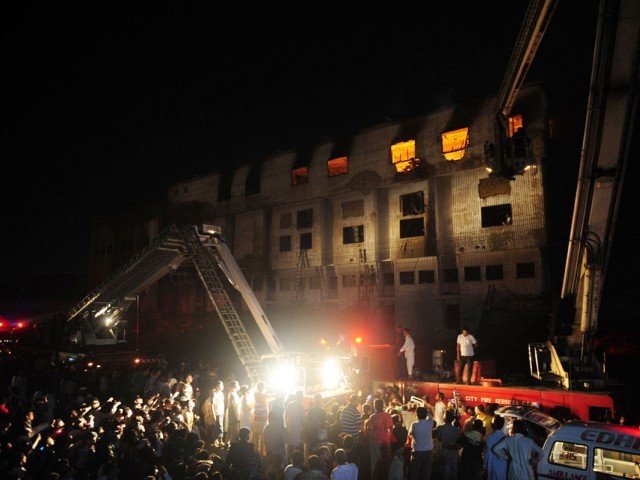 ---
KARACHI: The organisations working to secure compensation for the families of the Baldia factory fire victims feel the joint investigation team (JIT) report shifts the focus of the case.

Speaking at a press conference on Friday, Pakistan Institute of Labour Education and Research (Piler) executive director Karamat Ali said that the focus of their petition was to rally for proper emergency exits and safety equipment for factory workers. He felt that the JIT report, which places the blame of the fire on an activist of the Muttahida Qaumi Movement, shifts the focus of their case.

Piler is a co-petitioner in the Sindh High Court petition on the Baldia factory fire along with the Pakistan Fisherfolk Forum and the Human Rights Commission of Pakistan. Representatives of both these organisations were also present at Friday's press conference.

If, according to the JIT report, the lives of 1,500 people working in the factory were threatened, why was this information not shared with the security agencies or the workers, asked Ali. "We still believe that the owners of Ali Enterprise are responsible for the incident," he said. "The focus should not be deviated. A fair trial should be conducted."

Lawyer Faisal Siddiqui pointed out loopholes in the JIT report. "The report does not hold any authentic and conclusive value unless some evidence is found based on it," he said. Siddiqui also pointed out that the JIT report was not presented in court during the Baldia case hearing.

The suspect, Rizwan Qureshi, disclosed some hearsay evidence based on the information he received from a third party in 2013 while he was in police custody on charges of murder and possession of arms, he added.

Ali added that the JIT report is being used as a political cover-up. "We want the long term compensation plan to continue as we believe that these families will suffer if the real motto of the petition is pushed back behind the contents of the JIT report," he said.

Siddiqui also clarified that all the 255 families of the fire incident have been given compensation of Rs1.8 million each along with pensions from the Sindh government and the Employees Old-age Benefit Institute in the last two years.

Published in The Express Tribune, February 14th, 2015.
COMMENTS (1)
Comments are moderated and generally will be posted if they are on-topic and not abusive.
For more information, please see our Comments FAQ