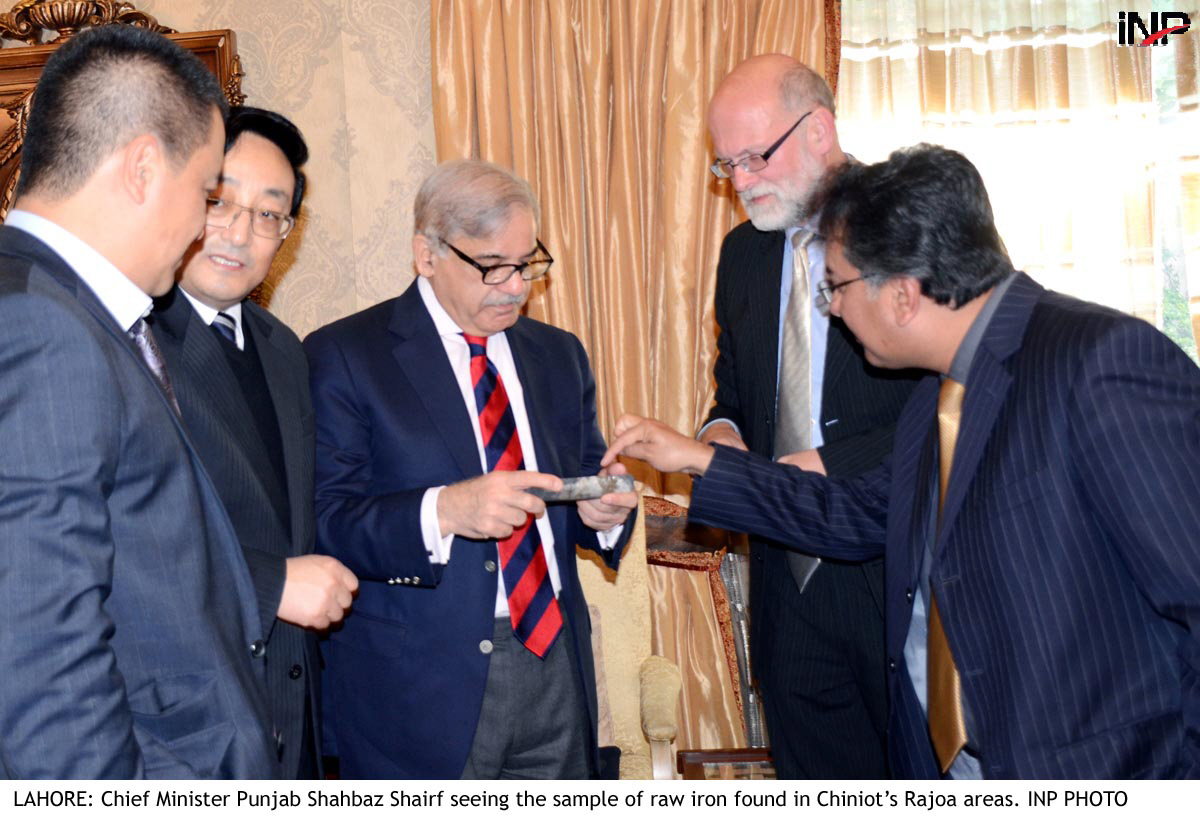 ---
LAHORE: The government is taking steps to utilise mineral resources for economic development, Chief Minister Shahbaz Sharif said on Tuesday.

He was talking to a delegation of Chinese company, Metallurgical Corporation of China (MCC) that is working on exploration of mineral resources at Chiniot-Rajwa.

The chief minister expressed satisfaction with the pace of the project and said that that exploration of mineral resources at Chiniot-Rajwa was of vital importance. "This project is of revolutionary significance for Punjab's economy. Pakistan is rich in mineral wealth. It can be utilised for strengthening the national economy," he said.

"The Pakistan Muslim League-Nawaz (PML-N) government, led by Prime Minister Muhammad Nawaz Sharif, is making efforts to develop the natural resources of the country," the chief minister said.

He said there were vast resources of iron ore at Chiniot-Rajwa. "Progress on the project has been satisfactory. Ore samples from Chiniot-Rajwa were sent to international laboratories. They have detected up to 65 per cent iron in the samples," he said.

"PML-N government acquired the services of international consultants and signed an agreement with the Chinese company. A sound strategy has been adopted by the government for the utilisation of the mineral wealth. There is also a possibility of finding copper from the site. Initial results have been very encouraging," he said.

German expert Dr Jurgen Hartsh briefed the chief minster about the progress on the project and declared the samples of iron ore and copper highly satisfactory. Minerals Minister Sher Ali Khan, MCC chief economist Zhang Mengxing and MCC mining chairman Zou Jianhui were present on the occasion.

Sinohydro team meets CM

A delegation of Chinese energy company, Sinohydro, called on the chief minister and expressed interest in setting up an LNG power generation project.

Sharif said steps were being taken to overcome energy crisis. "The government has adopted an effective strategy for power generation through gas, coal, solar and other means," he said.

He welcomed the interest shown by the Chinese company in setting up LNG-based energy project.

Published in The Express Tribune, February 11th, 2015.