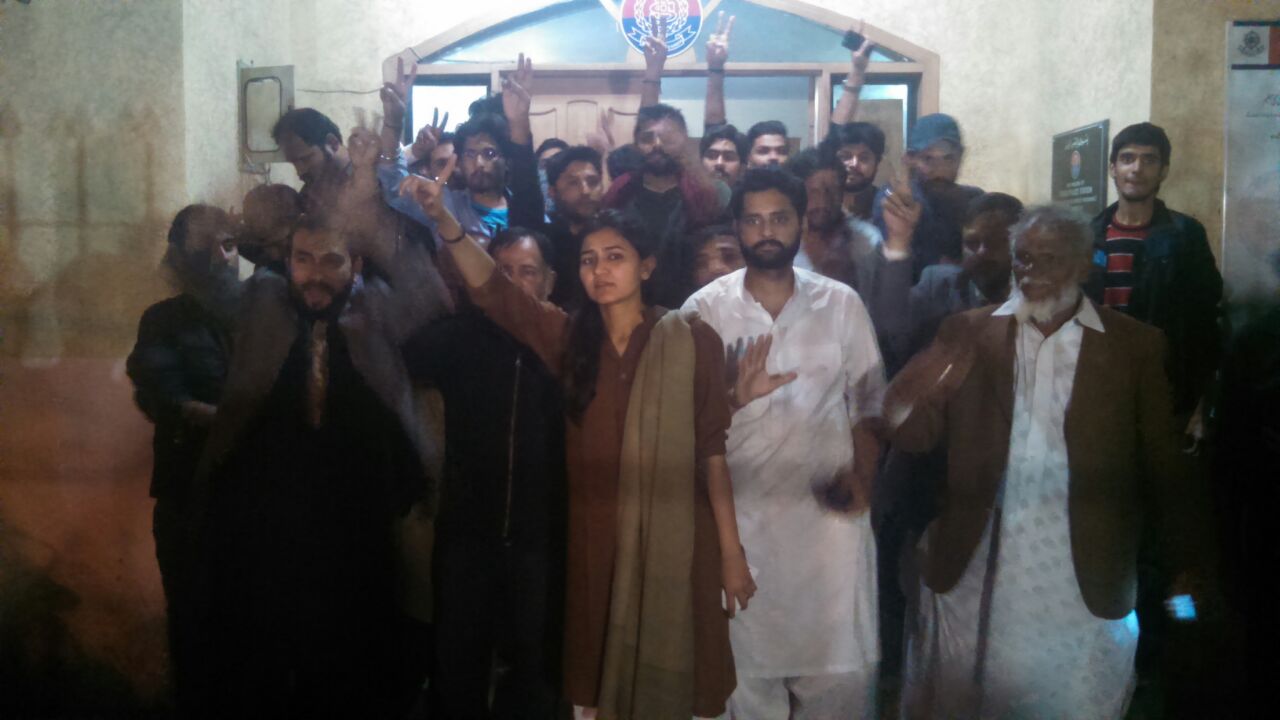 ---
KARACHI:
Hours after civil society activist Jibran Nasir among 22 activists had been taken into custody from near CM House in Karachi for violating the Red Zone, police released them.
We have come out. Govt has refused to follow due process of law & has proved that it can't take action against ASWJ. All respect to citizens

— M. Jibran Nasir 🇵🇸 (@MJibranNasir) February 5, 2015


Following his release, Nasir, addressed protesters gathered outside the station. Before he left, however, he restated his 15-day ultimatum to authorities wherein he called on the government to take action against banned organisations, including the Ahl-e-Sunnat Wal Jamaat (ASWJ).

After his departure, protesters gathered at the station started to disperse.

Earlier, police had said that once family members of activists, detained for violating the Red Zone, filed an undertaking they would be released. Following that announcement, parents and relatives of several activists reached Frere Town Police Station, where most of the activists were being held.

Nasir, along with fellow protesters Khurram Zia and Shahryar Naqvi, who were leading the protest, have denied violating the red zone.


Not a single finger was raised on any Police Official. We volunteered to be arrest when told we broke the law. Why doesnt law apply on ASWJ

— M. Jibran Nasir 🇵🇸 (@MJibranNasir) February 5, 2015


Of the activists taken into custody, four were being held at the Defence Police Station, and two at the Women's Police Station on Shahrahe Faisal.

While Nasir and other activists were being held inside, up to 200 civil society members and activists gathered outside the Frere Town police station where they chanted slogans in favour of the activists and demanded their release. "We are ready to stand in front of the barrier until our comrades come out," said one of the protesters.




Protesters outside Frere Town police station. PHOTO: MUNIRA ABBAS/EXPRESS

Majlis-e-Wahdat-ul Muslimeen's Sadiq Taqvi also joined the protesters outside the Frere Town police station. He clarified that he had come to show support as a Pakistani and not because he was a member of a religious group. "We are against terrorsits."

As the protest continued outside Frere Town police station, Ahl-e-Sunnat Wal Jamaat have announced protests throughout Sindh on Friday to show solidarity with Aurangzaib Farooqui.

Earlier on Thursday, Jibran Nasir and members of the civil society were arrested earlier in the day after resuming the Shikarpur sit-in outside the CM house in Karachi, pressing the government to take swift action against Ahl-e-Sunnat-wal Jamaat's (ASWJ) solidarity rally on Kashmir Day.


We have been arrested

— M. Jibran Nasir 🇵🇸 (@MJibranNasir) February 5, 2015


Earlier in the day, the ASWJ has also started a sit-in outside the CM House, in continuum of their rally from earlier today.


Citizens have started the Dharna near CM House from Karachi Club Side as ASWJ at PIDC #ShikarpurBlastSitin

— M. Jibran Nasir 🇵🇸 (@MJibranNasir) February 5, 2015


At the Kashmir Day rally, ASWJ allegedly threatened members of the civil society as well as the Sindh government for unnecessarily terming them a banned organisation.



The civil society's 31-hour-long protest outside the CM house, from earlier this week, came to an end Tuesday night, after Special Assistant to the Chief Minister on Culture Sharmila Farooqi promised that the provincial government will take stern action against "banned" militant organisations, including ASWJ.

[/fbvideo]

No official notification, however, has been taken out by the home department to outlaw ASWJ.

Speaking to The Express Tribune, "The charter of demands we came with initially has failed. But this time, we won't stop. We will continue our sit-in till justice is served," Nasir said.

"We'll do a hunger strike if we have to. Allowing ASWJ, or any other outfit that incites violence, to carry out political activities openly, is a violation of the law," he added.


Dear CM & IG Sindh this is your effectiveness. This is today in Lasbela Karachi. #ASWJ is banned. Are u fit to rule? pic.twitter.com/kkRY0jmzvw

— M. Jibran Nasir 🇵🇸 (@MJibranNasir) February 5, 2015




Meanwhile, in Lahore, Jamaat-ud-Dawa, a proscribed militant outfit took out a solidarity rally with Kashmir. The organisation's leader, Hafiz Saeed, addressed the crowd present.

Jamaat-ud-Dawa was added to the list of banned organisations by the interior ministry.

https://twitter.com/shumail_z/status/563353098815410176

http://instagram.com/p/yuZFLSHF-y/

https://twitter.com/Muzammalafzal/status/563362796855762944
COMMENTS (33)
Comments are moderated and generally will be posted if they are on-topic and not abusive.
For more information, please see our Comments FAQ