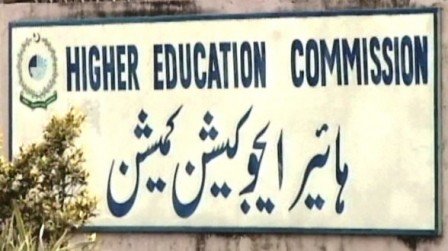 ---
ISLAMABAD: It seems that the top regulatory body for higher education has become ineffectual in probing plagiarism cases as some of the alleged plagiarists have managed to skip its radar.

Interestingly, one of the Higher Education Commission's (HEC's) own official, who was found guilty of plagiarism by an anti-plagiarism committee, has been hinted of promotion to Grade-21 as the official is already occupying the seat on an additional charge basis.

HEC's Department of Learning Innovation (LI) and Sports Division Adviser Shaheen Khan was found guilty of plagiarism by the anti-plagiarism committee after she got her PhD in Political Science from the University of Karachi (KU) in 2009.

Instead of taking action against her, it seems the HEC has 'facilitated' her by giving an additional charge of LI and sports division in clear violation of the anti-plagiarism policy.

In 2010, the HEC sent Khan's case to the KU for a probe but the university did not reply.

On October 26, 2011, an HEC committee comprising university professors and HEC Quality Assurance (QA) Director-General Zia Batool and QA Deputy Director Muneer Ahmed began looking into Khan's doctoral dissertation. The HEC committee, while referring to chapter three and four of Khan's thesis, said in its findings that "the thesis contained substantial portions that were a translation from the ECO Guide Book" --- an Iranian government publication.

In addition, according to the committee's findings, Khan was awarded the degree after her dissertation was evaluated by business and finance experts instead of political science professionals.

Meanwhile, to stop the HEC from taking action against her, Khan has got a stay order from the Islamabad High Court, an HEC official informed The Express Tribune.

"The HEC has written almost 17 letters to the KU on the issue but has received not a single reply because the person in question is too powerful to be brought to book," said an HEC official on the condition of anonymity while taking about the issue.

The official said that questioning Khan's degree at the HEC was considered a taboo as, according to him, Khan was too powerful to touch as she has strong contacts in the bureaucracy and in the political circle.

Another HEC official claimed that the HEC no longer uses doctor with Khan's name as it has officially been notified so.

Interestingly, the HEC website carries names of 'blacklisted scholars and faculty members', who were found guilty of plagiarism, but their respective universities have not taken any action against them. Khan's name is not included in the list of blacklisted scholars.

Moreover, Khan, who also served as chairperson of the Federal Board of Intermediate and Secondary Education on deputation, also led anti-corruption campaigns at different universities on behalf of the HEC.

Similarly, in 2013, an HEC probe committee also found former HEC chairperson Javed Laghari guilty of plagiarism as 30 per cent content of his research paper was plagiarised from a European Union report, but the HEC has failed to take any action against him so far. Laghari denied the allegation terming the paper a co-authored document.

HEC Chairperson Dr Mukhtar Ahmed while talking about the plagiarism issues said the stay order has restrained them from taking action against Khan while Laghari has been sent a letter to report to the HEC after withdrawing his name from the co-authored research paper. "We will again send him a reminder," he said, adding that Khan has been given acting charge as adviser. He said that they have recently held a meeting to adjudicate all pending plagiarism cases and will resolve the matter soon.

Published in The Express Tribune, February 2rd, 2015.

 
COMMENTS (1)
Comments are moderated and generally will be posted if they are on-topic and not abusive.
For more information, please see our Comments FAQ