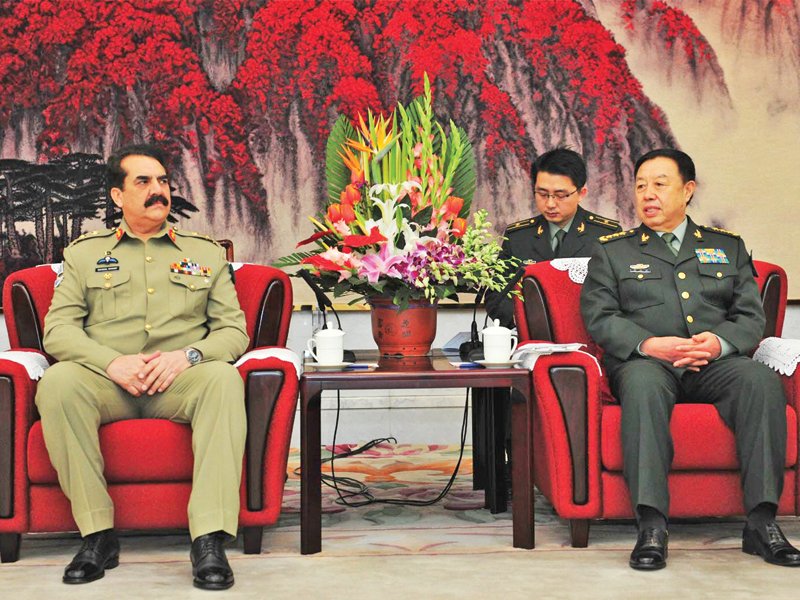 ---
ISLAMABAD:



Pakistan and China agreed on Sunday to enhance their long-term defence relationship as well as counter-terrorism cooperation as army chief General Raheel Sharif held wide-ranging talks with top Chinese military authorities in Beijing.




The pledge by both Islamabad and Beijing coincided with US President Barack Obama's visit to India where he and Indian Prime Minister Narendra Modi vowed to deepen security and defence ties between their countries.

A security official told The Express Tribune that Pakistan-China bilateral relations assumed 'greater significance' in view of the changing regional dynamics.

Although Pakistan has not officially reacted to long-term Indo-US defence deals, the official cautioned that the move could have far-reaching implications.

"The Indian ambition to acquire defence equipment from the United States shows its intent to become a military power and this is something both Pakistan and China cannot overlook," said the official, who requested not to be named.

Without delving into details, the official said Gen Raheel during his talks with China's top military leaders discussed the impending challenges the region may face in the wake of realignment.

Gen Raheel and his Chinese counterpart General Qi Jianguo discussed a full range of regional security and defence-related issues, said the military's media wing, the Inter-Services Public Relations (ISPR), in a statement.

The focus of their discussions was on matters of bilateral cooperation, including enhanced long-term defence collaboration, security and counterterrorism cooperation, intelligence-sharing and training exchanges.

The army chief also held a meeting with China's Central Military Commission Vice Chairman General Fan Changlong in Beijing.

Gen Fan described Pakistan and China as strategic partners, most important neighbour, and iron brothers, according to one of a series of tweets by ISPR's Director General Maj-Gen Asim Saleem Bajwa, who is accompanying the army chief.

The Chinese leader expressed solidarity with Pakistan in fighting terrorism without any discrimination, Maj Gen Bajwa added.

While the West is skeptical of Pakistan's latest push against militancy, Gen Fan praised Pakistan's ongoing military offensive in the tribal areas. He also lauded national consensus against terrorism, and Pakistan's resolve and sacrifices in fighting the menace of terrorism. He assured China's full support to Pakistan in the fight against terrorism.

In his remarks, the army chief said Pakistan would go to any extent to eradicate terrorism.

Gen Raheel has visited important world capitals, including Washington, London and Kabul, over the past few months. His whirlwind tours, officials pointed out, are part of Pakistan's efforts to seek support for its action against terrorists and also to urge them play their part.

During his visit to London, Gen Raheel urged the British government to take action against Hizb-ut-Tahrir and Baloch dissidents who are living in the United Kingdom, for creating unrest in Balochistan.

Published in The Express Tribune, January 26th, 2015.