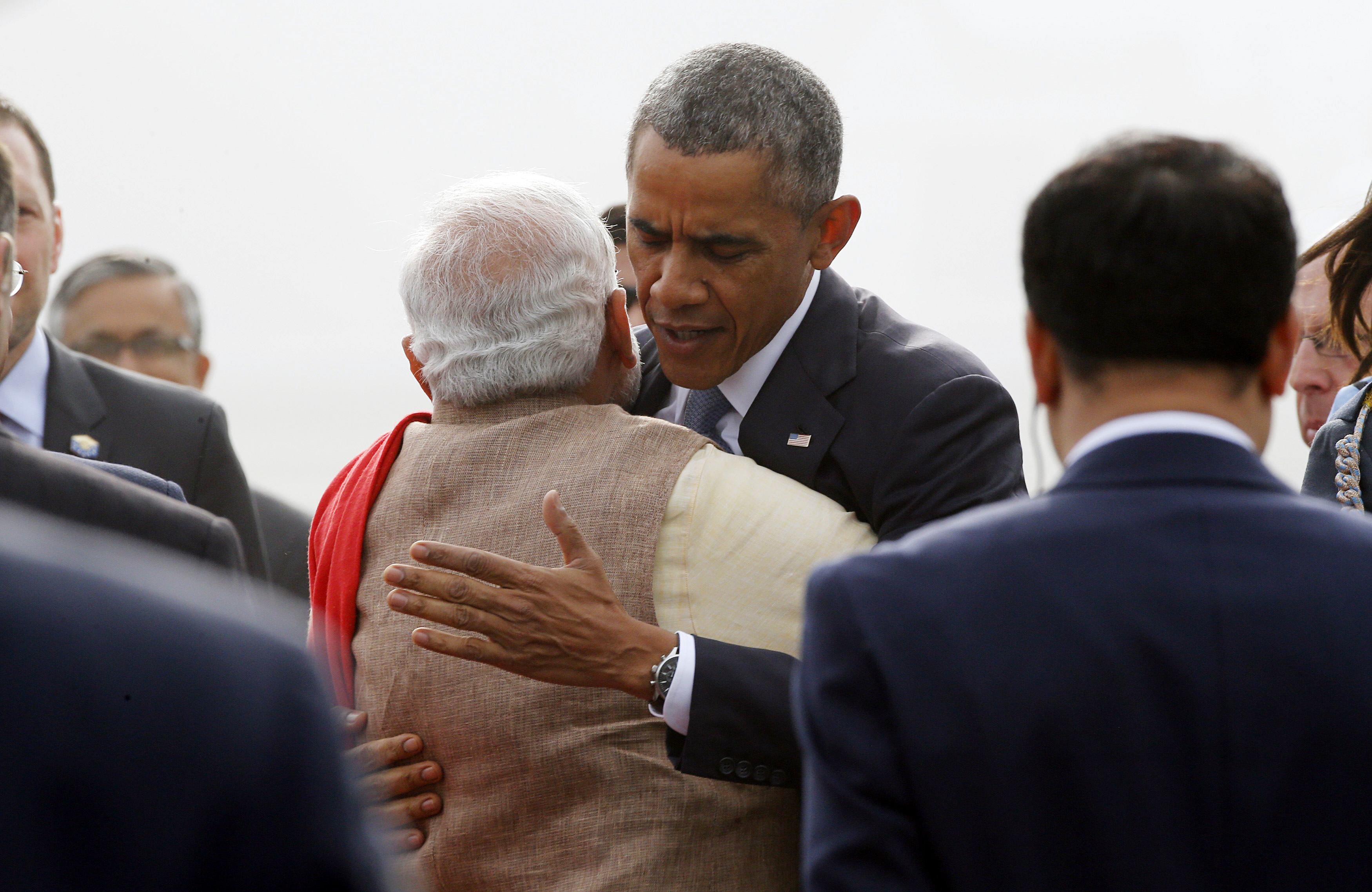 ---
NEW DEHLI: US President Barack Obama and India's Prime Minister Narendra Modi broke the deadlock on a long-stalled nuclear pact Sunday as they hailed a new era of friendship between the world's two largest democracies.

After greeting Obama with a bear hug as he stepped off Air Force One, Modi then trumpeted the "chemistry" with his fellow leader on the first day of a three-day visit to the Indian capital.

Obama, whose administration treated Modi as a pariah until barely a year ago, said their new "friendship" reflected a natural affinity between the two countries. Both are looking for a counter-balance to a rising China.

While there were no major policy announcements apart from the unblocking of the nuclear agreement, Modi said Obama's decision to become the first US president to visit India twice while in office had huge symbolic importance.

"Relations between countries depend less on full stops and commas and more on the relationships between leaders... the chemistry between them," Modi told a joint press conference.

"Barack and I have struck up a strong friendship... this chemistry has not just brought me and Barack closer but also brought Washington and Delhi - and the people of our countries - closer together."

After opening his remarks with a few words in Hindi, Obama also hailed the "personal friendship" with his counterpart, saying the closeness reflected a shared commitment to values such as democracy and entrepreneurship.

"In addition to a personal friendship, we are also reflecting the warmth and affection between the Indian people and American people," said Obama.

"It's not surprising that we have a friendship because hopefully we are reflecting the values of our peoples."

The two men spoke for more than three hours, capping a remarkable turnaround in relations between the two countries after a diplomatic row in late 2013 that saw the Stars and Stripes torched on the streets of Delhi.

Modi's election in May 2014 was a potential headache for the US, which had blacklisted the Hindu nationalist for more than a decade after deadly communal riots in Gujarat when he was state chief minister.

He was only brought in from the cold last February when the then US ambassador Nancy Powell travelled to Gujarat once it appeared Modi was likely to end the centre-left Congress party's 10-year rule.

Since coming to power, Modi has borne no obvious grudge and personally invited Obama to become the first US president to be chief guest at India's Republic Day parade on Monday.

The Indian premier has also invited Obama to co-host a radio phone-in show and is reportedly planning a private dinner for him at his Delhi home.

After flying into an overcast Delhi, Obama received a welcoming ceremony that included a 21-gun salute and full guard of honour. He also laid a wreath at a memorial to Mahatma Gandhi, India's independence hero.

The US president, who is being driven around in his armoured limousine known as the "Beast", said at the ceremony it was "a great honour" to return to India and thanked his hosts for their "extraordinary hospitality".

He and his wife Michelle had been scheduled to visit the Taj Mahal, but their trip has been cut short to allow Obama to travel on to Saudi Arabia and pay respects to new King Salman.

Obama's trip comes just months after Modi's first official visit to the United States, and with so little time to lay the groundwork it was always expected to be stronger on symbolism than on content.

The headline-grabbing announcement was over the nuclear pact, which has faced a series of delays since being signed in 2008.

The agreement should give India access to civilian nuclear technology but has been held up by US concerns over India's strict laws on liability in the event of a nuclear accident.

"I am pleased that six years after we signed our bilateral agreement, we are moving towards commercial cooperation, consistent with our laws (and) international legal obligations," Modi said at the press conference.

While there were no immediate details on how the impasse had been broken, India has reportedly offered to set up an insurance pool to indemnify companies that build reactors.

"Today we achieved a breakthrough understanding on two issues that were holding up our ability to advance our civil nuclear cooperation and we are committed to moving towards full implementation," said Obama.

"This is an important step that shows how we can work together to elevate our relationship."

The two men also discussed climate change, with India seen as one of the main obstacles to a global deal on limiting emissions that should be signed in Paris in December.

In a statement issued by the White House,·both men agreed to enhance bilateral cooperation on climate change "to achieve a successful and ambitious agreement in Paris".

Modi told reporters he did not feel under any "pressure" from Obama over climate change but did feel "pressure when we think about the future generations and what kind of world we will give them".


RELATED POST: Obama cuts short India visit to meet new Saudi King on Tuesday