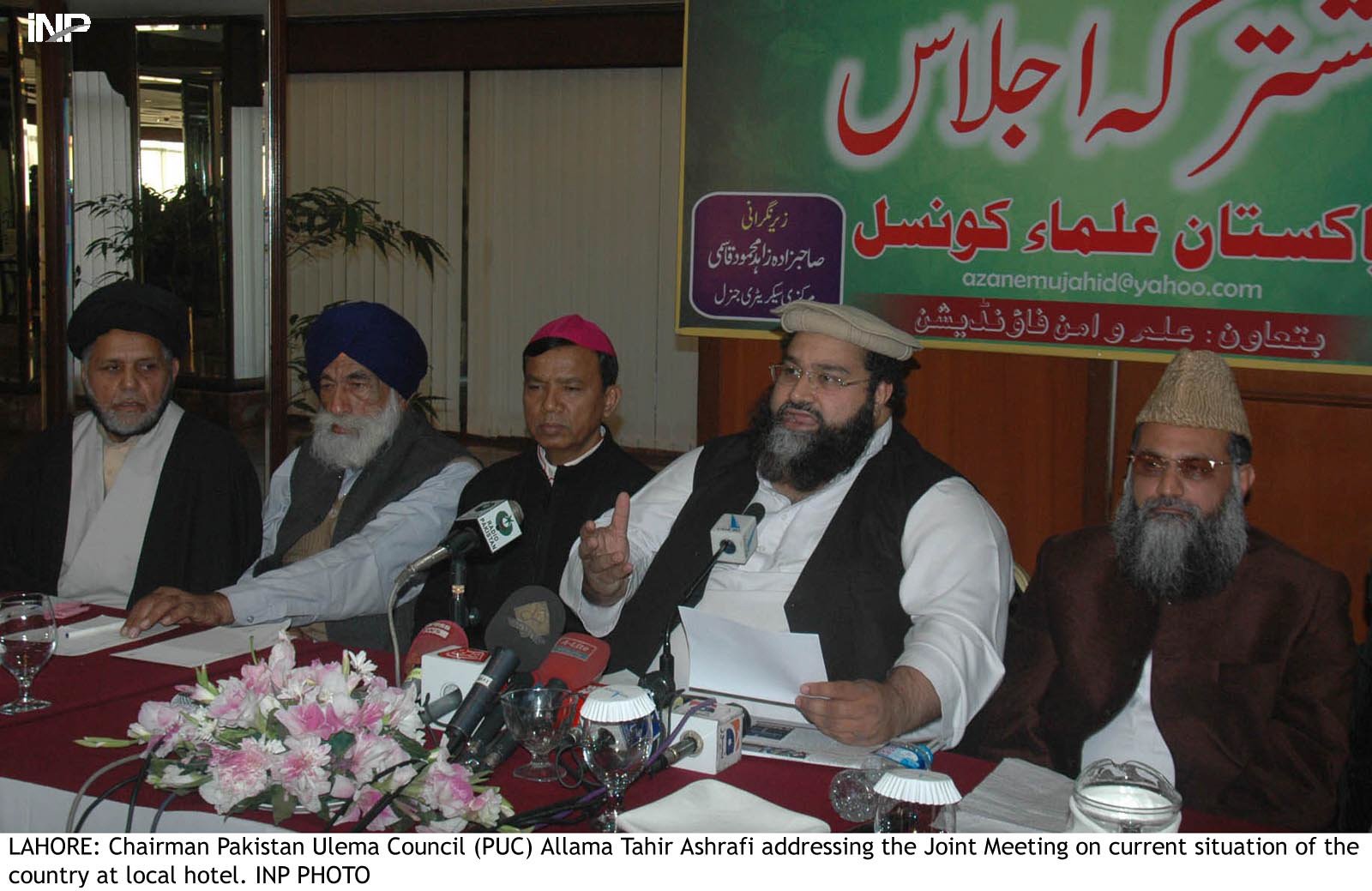 ---
LAHORE: Representatives of Sikh, Hindu, Christian and Muslim communities unanimously passed a resolution on Monday, condemning the Peshawar attack and expressing their support for the government and armed forces in eliminating terrorism.

The meeting praised Pope Francis for his statement against blasphemous caricatures published in France.

The meeting was convened by Pakistan Ulema Council. PUC head Tahir Ashrafi chaired the meeting.

Participants included Maulana Zahid Mahmood Qasmi, Bishop Munawar, Sardar Sham Singh, Dr Munawar Chand, Hafiz Kazim Raza, Dr Abdul Ghafoor Rashid, Hafiz Muhammad Amjad, Maulana Muhammad Mushtaq Lahori, Pastor Shahid Meraj, Father James Chanan, Pastor Emanuel Khokhar, Pir Mahfooz Mashhadi, Maulana Abdul Qayoom, Pastor Enayat Barnard, Bishop Sibtain, Maulana Muhammad Khan Leghari, Maulana Shahbaz Alam Farooqi and Mian Rashid. The meeting called for a protest demonstration on January 23 against the blasphemous caricatures. On January 25, the Christians of the country will protest against the caricatures. The PUC will hold an All Parties Conference in Islamabad on January 26.

The communiqué issued after the meeting expressed grief over the publishing of the caricatures. It appealed that United Nations and European Union ensure legislation defining limits for freedom of expression.

"The participants consider the teachings of the Holy Prophet (PBUH) a source of peace and love. The publication of caricatures is an attempt to sabotage world peace," the statement said.

The meeting also appealed to the protesters around the world to remain peaceful. The participants appealed to Prime Minister Nawaz Sharif, the Saudi king, rulers of other Islamic countries, European countries, China and America to play their role in ensuring legislation against hurting religious sentiments.

Published in The Express Tribune, January 20th, 2015.
COMMENTS (1)
Comments are moderated and generally will be posted if they are on-topic and not abusive.
For more information, please see our Comments FAQ