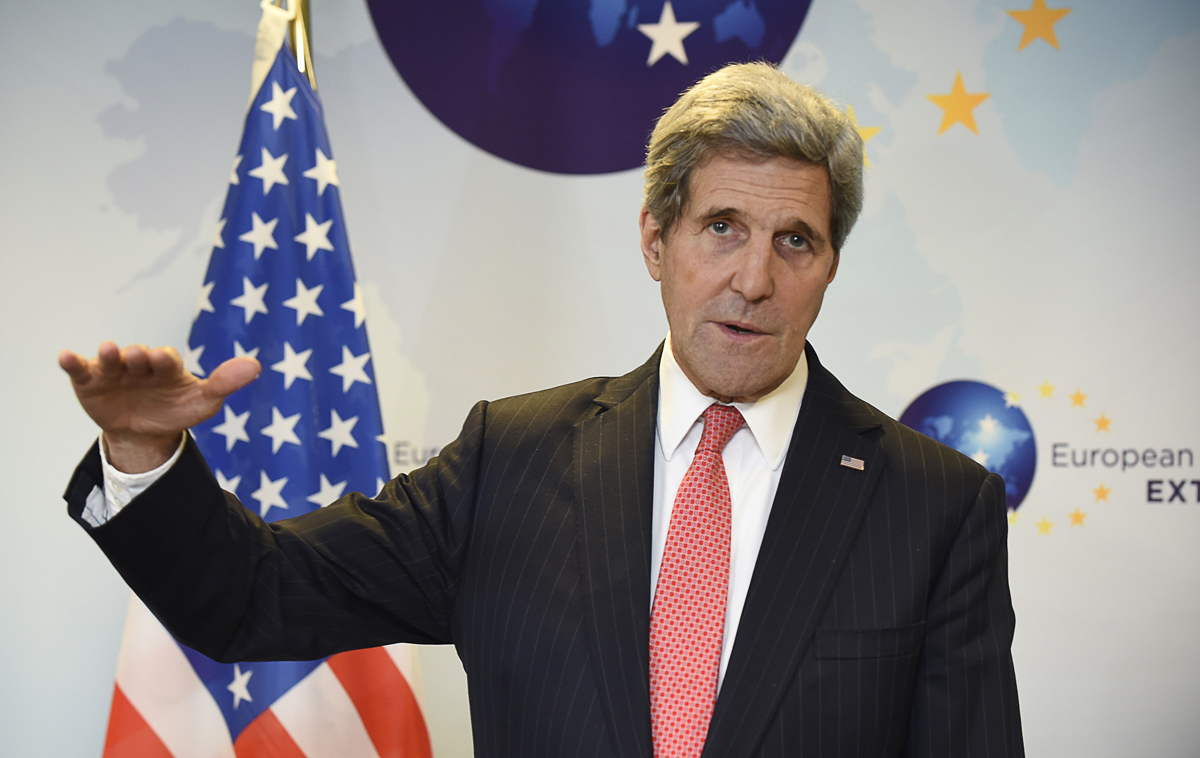 ---
ISLAMABAD: The United States is set to boost its security and intelligence cooperation with Pakistan to step up its offensive against militants, Secretary of State John Kerry said Tuesday.

Kerry is in Islamabad to hold strategic dialogue with Pakistani officials on the direction of future ties. In a joint press conference with Advisor of Prime Minister on Foreign Affairs and National Security Sartaj Aziz, Kerry said the US was committed to deepening its security relationship with Pakistan in order to eliminate threats in the border area and elsewhere.

He said Pakistan must fight militant groups that threaten Afghan, Indian and US interests.

Kerry later met senior military commanders, including Army chief General Raheel Sharif, at their headquarters in Rawalpindi to discuss joint military efforts and plans for greater intelligence-sharing.

DG ISPR Asim Bajwa tweeted Kerry and the army chief discussed wide ranging issues, including regional security and stability.


Secy #Kerry called on #COAS in office,later delegation level mtng.Discussed wide ranging issues incl regional security,stability,Afgn-1/2

— Gen(R) Asim Saleem Bajwa (@AsimBajwaISPR) January 13, 2015
Secy #Kerry in #GHQ:Lauded Pak's commitment to fight terrorism,appreciated Pak Army's achievements in Op ZarbeAzb-2/2 pic.twitter.com/sFoKQyXCWa

— Gen(R) Asim Saleem Bajwa (@AsimBajwaISPR) January 13, 2015


"The tragedy of December 16 is really a reminder of the serious risk of allowing extremists to find space, and be able to command that space and operate within it," Kerry said.

He said all militant groups such as the Pakistani and Afghan Taliban, the Haqqani network and Lashkar-e-Taiba "continue to pose a threat not just to Pakistan and its neighbours but also to the United States and the world."

"Make no mistake the task is a difficult one and it is not done," Kerry said.

"We all have a responsibility to ensure that these extremists are no longer able to secure a foothold in this country or elsewhere."

The US Secretary of State lauded the efforts of Prime Minister Nawaz Sharif for Pakistan's fight against terrorists in operation Zarb-e-Azb and said that "PM Nawaz Sharif deserves a lot of credit for his work and efforts in their current operation in North Waziristan."

However, there was growing consternation in Washington about continuing with the same level of assistance unless Pakistan provided evidence if was using the funds effectively to eliminate militants holed up on its soil.

Kerry said however Washington would provide an additional $250 million in food, shelter and other assistance to help people displaced by conflict in tribal areas. Aziz made a plea for the United States to keep giving Pakistan money to help rebuild the regions where the Pakistani military has been fighting militant groups.

"We expect our defence forces to remain engaged in counterterrorism operations for some time in the foreseeable future," Aziz said adding that "continuation of coalition support fund reimbursements are therefore a valuable support that must continue in the interests of both countries."

Peshawar attack

Strongly condemning the brutal massacre of schoolchildren, Kerry say the terrorists who executed children and women will be isolated and deserted.

"Every family in the US sympathises with Pakistan; the December 16 attack strengthened our shared resolve and the people of US will continue to stand with the people of Pakistan but the commitment is required from each one of us," said Kerry.

Border violence

Commenting on the recent violence on Pakistan and India's border, Kerry called upon the neighbours to find a diplomatic solution.

"We continue to be deeply concerned by the recent spate of increased violence along the working boundary and the line of control," Kerry said, adding that "it is profoundly in the interests of Pakistan and India to move this relationship forward."

During his visit, US Secretary of State also met the Chief of Army Staff General Raheel Sharif at the Pakistan Army's General Headquarters (GHQ) in Rawalpindi. Kerry also received a guard of honor.
COMMENTS (38)
Comments are moderated and generally will be posted if they are on-topic and not abusive.
For more information, please see our Comments FAQ